Sometimes it can take a force of imagination to connect with the storybook images of Christmas here in New Orleans, where we're far more likely to get a sheen of sweat than a dusting of flurries. But then, sometimes all it takes to transport us is a drink in the right setting. Or maybe two.
Tiki always has been in that line of work. Gloriously garnished cocktails, the island ambience and even the soundtrack are all intended to conjure a tropical fantasy, no matter what reality is waiting beyond the thatch threshold.
This month, though, the top tiki bar in New Orleans is stamping passports to Polynesia via the North Pole.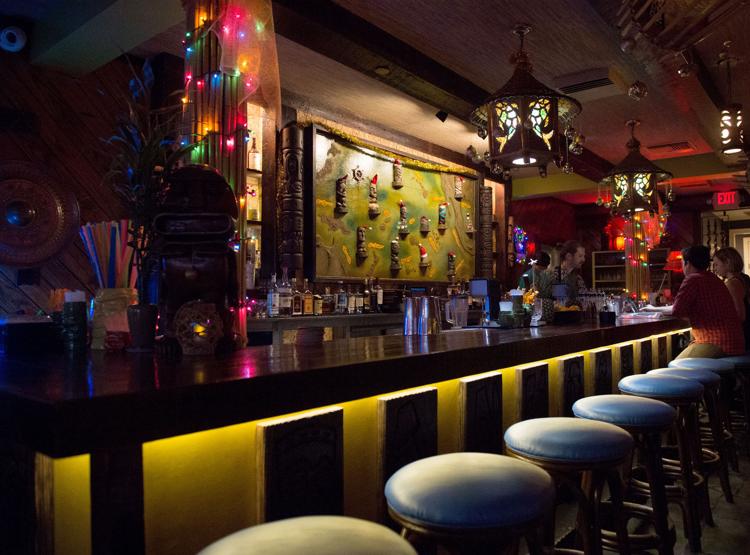 Beachbum Berry's Latitude 29 in the French Quarter has undergone a somewhat surreal seasonal makeover. Through Dec. 24, the intricately detailed tiki lounge and restaurant assumes an alter ego dubbed Sippin' Santa's Surf Shack. It brings a bellyful of Christmas kitsch, and yet it still feels somehow in sync with the island style here rather than just covering it up.
It's not just the nutmeg-spiced drink served up in a Santa mug. It's not just the ornaments and tinsel on the bamboo lanterns over the bar. And it's not just the Christmas tunes from Tammy Wynette or The Supremes drifting over the straw-hut booths in the dining room. It's all of this together, against a backdrop of island illusion.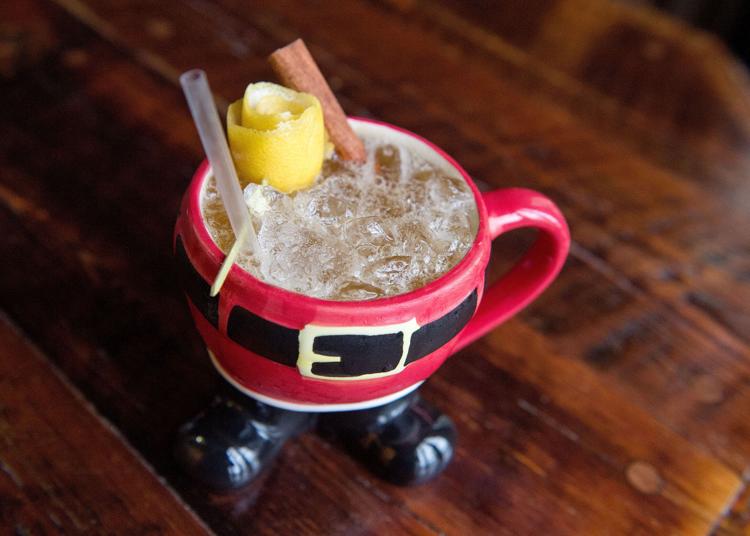 Part in-house pop-up, part holiday installation, the concept is in line with a trend rolling out around the country as bars dress up for the holidays and outfit their drink list for the occasion.
This particular surfer Santa version comes direct from a tight circuit of tiki true believers. That includes Jeff "Beachbum" Berry, the author and tiki authority who in 2014 opened Latitude 29 with his wife, Annene Kaye-Berry. Their friends and fellow tiki travelers in New York started the first Sippin' Santa's Surf Shack in the East Village bar Boilermaker. This year, the idea expanded to the Chicago bar Lost Lake and to Latitude 29, which is in the Bienville House Hotel.
Just about every aspect of Latitude 29 is meant to evoke the exotic. Yet at the same time, t…
Latitude 29 still serves its "regular" list of original, traditional and even archival tiki drinks (some revived by Berry himself, the Alan Lomax of tiki researchers). The kitchen, now led by chef Daniel Dowdy, still turns out its menu of dumpling burgers, rumaki and a singular salad of smoked abalone jerky.
But running alongside the house standards is a special roster of Christmas drinks. It is a collaboration, with cocktails devised by the three participating bars in New Orleans, New York and Chicago.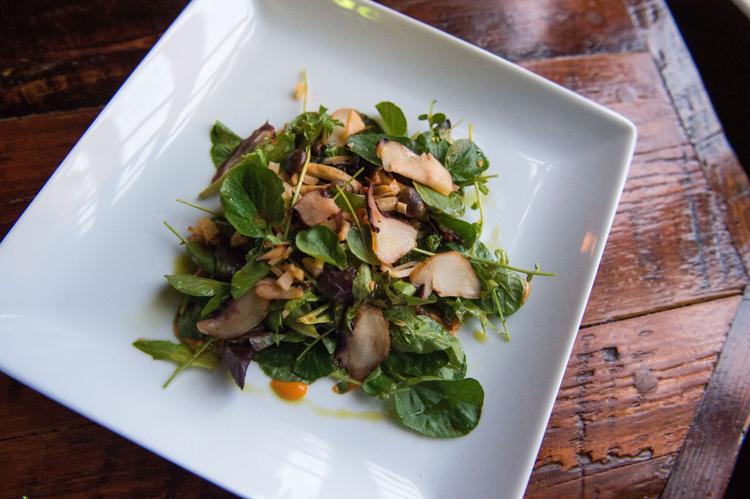 Latitude 29 head bartender Brad Smith came up with what might be the flagship holiday cocktail here — the Don & Victor, a hot rum drink under a creamy cap of spiced batter served in a winking Santa mug (it's a tiki spin on the Tom & Jerry, a vintage Christmas cocktail locally brought back to life at Arnaud's French 75 bar).
Smith also added a Hawaiian Milk Punch, with bourbon and cream and chai flavors. Berry's own contribution to the list is the Nantucket Sleigh Ride, a tall pour of various rums, apricot brandy, allspice dram, lime, grapefruit and syrup.
These cocktails show the hand of modern mixology, with top-shelf booze, back-of-the-bar exotica, fresh juices and culinary cues. But they also have a sense of humor.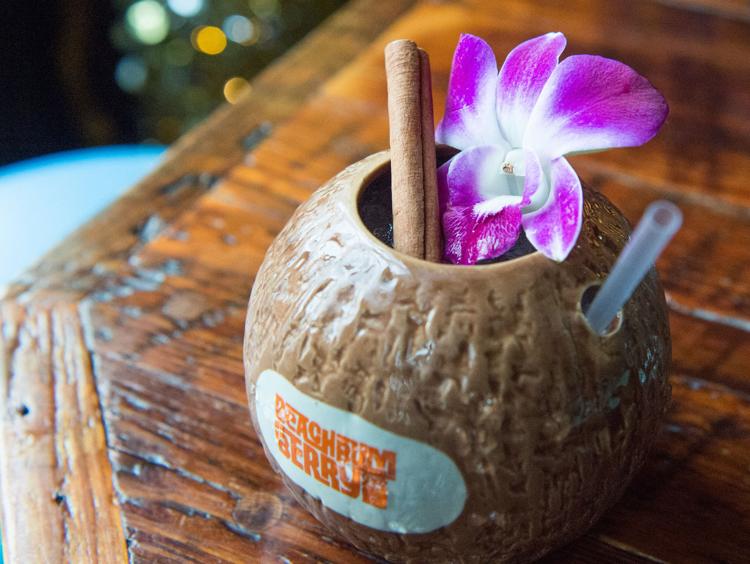 One is called "I Saw Mommy…," which should stir its own bar-top, finish-the-caption contest. It has vodka, the minty, herbal Italian liqueur Branca Menta and also a shot of Hershey's chocolate syrup. It tastes like a sweet childhood memory of Christmas, spiked.
In spirit, Sippin' Santa's Surf Shack channels the tradition of grand hotel lobbies decked for the season with lights and gingerbread house constructions and other fairy tale set dressing. Here, though, there's a wink and a tiki twist at every turn.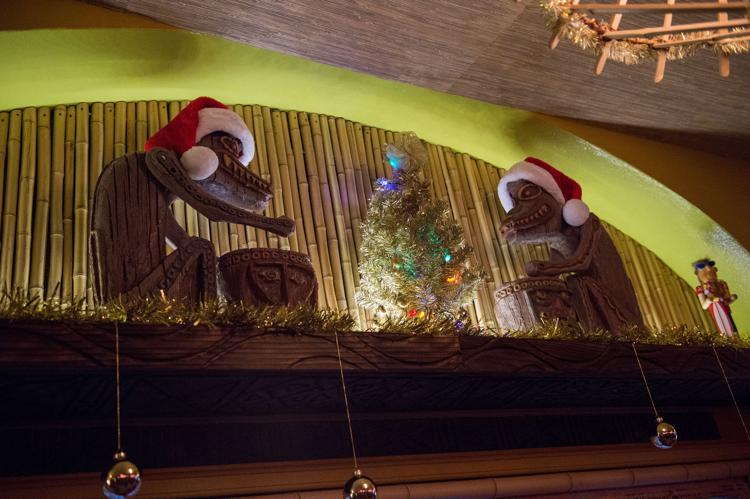 It's Santa in surf shorts instead of snow boots, uniformed nutcrackers posed next to tiki gods, statues of crocodiles playing bongos now adorned with fur-rimmed red hats.
Maybe it works because tiki has never been about keeping a straight face. Part of its fun is where it pushes plausibility, while staying within the lines of its own style. Diving in isn't about a suspension of disbelief but a willing, even gleeful embrace of the fabrication at hand, with a dose of nostalgia and plenty of booze. That sounds like a pretty reliable recipe for a Christmas party, too.
321 N. Peters St., (504) 609-3811
Sun.-Thu. 3 p.m.-11 p.m,, Fri.-Sat., noon-11 p.m. Happy hour, 3-6 p.m. daily.
(note: 21+ only in the bar and lounge)
Authenticity can be a fraught notion in the dining world, with so many different and subject…
Dining in New Orleans always has been big, but these days, it's been growing and changing li…