I was wandering around Kitchen Witch, the exquisitely unusual vintage culinary bookstore off Bayou Road. I wasn't looking for a particular book (though, of course, I left with one anyway).
Instead I was looking for answers. With another holiday season upon us, and the perennial tide of new cookbooks with it, what makes one particular title stand out as the right pick?
Proprietors Debbie Lindsey and Philipe LaMancusa have seen every reason under the sun as people search through their kaleidoscopic shop.
Some people are collectors and want a rare find. Plenty are trying to reunite with books lost in floods, divorces and other calamities.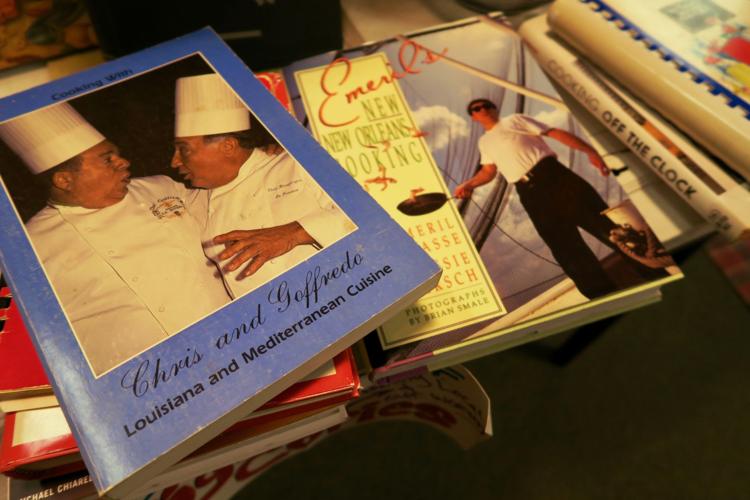 They've seen people who simply want old books as décor, and others who burst into tears upon spotting an important book from their past. When it comes to second-hand books, some are even fixated on the inscriptions left behind by previous owners.
The decision matrix on a cookbook gift mixes the universal and peculiar, which seems fitting where the topics of books, food and New Orleans intersect.
Over the years, I've adopted my own approach, and it starts in my kitchen cabinet. I look for inspiration to the books stacked there at arm's reach, the ones with creased spines, dog-eared pages and further recipe clippings tucked between their covers.
Through time and frequent use, these are books that are imbued with my own stories. Giving another copy as a gift is not exactly like passing along an heirloom, but the personal connection does add a different value to the gift.
Books like this don't have to be vintage, but they tend to have a few years on them, and maybe some sauce stains.
A few examples from my own shelf:
"La Bouche Creole," by Leon Soniat Jr., the late New Orleans food columnist, first published in 1981. A friend recommended this book when I was new to New Orleans, after I showed my appreciation for the gumbo she prepared from its pages by ladling up a third helping. I read it cover to cover and got an education on calas and daube glace, chicken bonne femme and gumbo z'herbes. Just as valuable are the intimate tales of old New Orleans that Soniat weaves between the recipes, the stories of his mémère (or grandmother) and his mother in the kitchen and at the market. It's a primer on how much of the famous food of our city runs through family.
"Real Cajun," local chef Donald Link's first cookbook from 2009. It's a romp through regional Acadiana cooking, not restaurant cooking, and much of it is food for gatherings and celebrations. Its jambalaya recipe is now such a part of my effort to feed Endymion crowds at my house each Mardi Gras, I should probably just mark the page with a doubloon. When I've gifted this book, it's to people who love to host.
"Cajun Men Cook," published in 1994 by the Beaver Club of Lafayette, a civic group. It belongs to the spiral bound school of community cookbooks, and I turn to it as much for anthropology as instruction. Compiled by Louisiana outdoorsmen, it assumes access to game (the teal and oyster gumbo), makes no bones in calling for canned soup (for Shockley's crawfish dip) and includes tips for homemade hooch, like cherry bounce and corn meal "wine." I received this book as a gift after giving a talk to the Beaver Club during my own book tour some years back, and whenever I break it out, it's a reminder of those times rambling around Louisiana.
"Moosewood Cookbook," Mollie Katzen's vegetarian classic from 1977. As a child, this book always seemed to be open when my mother was cooking for guests. She gave an updated edition to my (predominantly vegetarian) wife on the Christmas before we married. It is a source of endless meatless dishes for family gatherings now, and even in its distinct hand-lettered font, I find a link to the first kitchen I knew.
If a new cookbook is calling you, get it. If someone on your gift list has already dropped hints about a certain new release, then that's the gift of gift advice, wrapped in a bow.
But when your own stories are between the pages you're giving something more than a product. And if one day your recipient cooks for you from it, the circle will be complete.
Kitchen Witch
1452 N. Broad St., (504) 528-8382
If you're read­ing this and you still don't know what dish you'll bring to the Thanks­giv­ing table this year, well, you're like me.
I was in a Kenner restaurant that had clearly once been a Pizza Hut but now is called Little Chinatown. I was eating lamb stir-fried with leek…