Expressions of Italian heritage this time of year are usually not subtle. It's the heaping helping of pasta and sauce, the zooma-zooma music of Louis Prima, the St. Joseph's Day parade filling the streets.
In such bold and bodacious company, the traditional Italian cookie that's so much a part of the season can seem plain, humble and maybe even homely.
These are cookies, after all, flavored with clove and fennel, figs and dates. Many are crumbly and dry by design. They're worlds apart from the delicate creations of the French patisserie or the carefully engineered indulgences of the modern candy industry.
For those who love the old-fashioned Italian cookie, however, none of that matters. For them, traditional Italian cookies hit a sweet spot that goes beyond sugar, and they come with their own particular rituals and rewards.
"They're not fancy-looking. I overhear people saying they don't want them because they don't look exciting. But that's not the point," said Arthur Brocato, proprietor of Angelo Brocato's Ice Cream & Confectionary (214 N. Carrollton Ave., 504-486-0078), the Mid-City font for Italian desserts.
"It's not a cookie that's going to burst in your mouth with all these chocolatey flavors, and it's not really something to have on its own," he said. "You want something to accompany it, your coffee, your wine — you want to dip."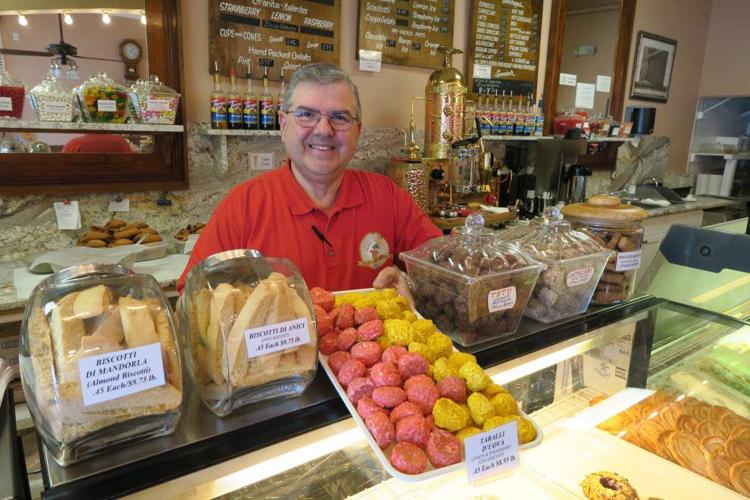 Dip that biscotti Regina into your coffee in the morning and this sesame seed cookie instantly absorbs the liquid for a soft, toasty-flavored bite. Dunk the little clove-and-cinnamon flavored dollop of Catalani cookie in your Marsalla and you have a two-bite digestif to finish off a hearty meal. Some of Brocato's older customers dip their cookies into granita, the seasonal Italian ices his shop has made for more than a century.
"Back in Sicily, there's a way to do every little thing, just like these cookies," said Brocato.
Most of the Italian cookies that New Orleanians recognize as symbols of the season come from Sicily, and the cookies themselves tell tales of the Sicilian homeland. Pignoli cookies are made with the pine nuts and almonds for which Sicily is renowned. Sesame seed cookies are often linked to Middle Eastern flavors brought during the Arab conquest of the island, along with the North African staples of figs and dates and clove.
Today, they're part of Christmas celebrations, weddings and christenings, and they're so entwined with the St. Joseph's Altar customs that they're sometimes called "altar cookies." The altars make the baking and sharing of these cookies a family tradition with a uniquely public outlet.
Nick Scramuzza grew up eating Italian cookies, and not just at the holidays. He once lived blocks away from Angelo Brocato's original location on Ursulines Street in the French Quarter, and cucidati fig cookies and biscotti were regular nickel-and-dime treats.
Scramuzza now builds his own altar in the back room of the Marigny bar the Lost Love Lounge (2529 Dauphine St., 504-949-2009). He used to own the bar, but since selling it Scramuzza still maintains its altar tradition (for 2018, the viewing begins Monday, March 19 at noon with a blessing at 5 p.m. and the feast to follow).
Of course there are cookies on the altar, and bagged bunches of cookies for visitors t  bring home. Most of these are contributed by relatives and friends, part of the interwoven network of mothers, sisters, aunts and grandmothers driving the cookie-making craft across New Orleans.
"When people bring you Italian cookies, you know exactly what to expect," Scramuzza said. "On the altar, you have all the cakes, the pasta, the fish, and yeah, those cookies are just sitting there, not too exciting. But it's a style. They're always there, and they always disappear because people expect them. Without the cookies, the altar would be naked."
In the past, some of those cookies came from the kitchen of Lisa Saia, who for years has led cookie-making sessions. Now Saia prepares cookies for her own family St. Joseph's Altar installed at the restaurant of her son, Nick Lama.
Lama opened the Sicilian restaurant Avo (5908 Magazine St., 504-509-6550) in 2016, and its altar has become an annual tradition (the 2018 edition will be on public display Monday, March 19, from 11 a.m. to 2 p.m. with a blessing at 11:45am).
Saia's baking sessions started by gathering her friends and family around kitchen tables, working through piles of sesame seeds, anise and clove, and partaking in a process that is every bit as important as the cookies it produces.
"To me, the cookies are delicious, but it really is all about the community," Saia said. "We bake cookies together, we're rolling cookies, we're telling stories about the old people, sharing our memories. It gets loud. It's like quilting bees, but Sicilians make cookies. It's about being together. I don't think I've ever made cookies on my own."
On a flawless Saturday morning, a small group of students and alumnae from St. Mary's Dominican High School came together with a common goal: …
Every year since 2006, David Greco has journeyed to New Orleans to participate in the Italian American St. Joseph Society's annual celebration…
St. Joseph's Day is not unique to New Orleans, but the way the city celebrates the feast day — with Mardi Gras Indians and altars at bars — mo…