The New Orleans love affair with the oyster reaches its perennial peak in the cooler months, and it finds its fullest expression at the raw bar. But the return of summer doesn't put this into hiberation. It just reframes things a bit as attention shifts to cooked oyster dishes — the fried and grilled, the smoked and broiled.
Some are New Orleans classics – like oysters Rockefeller or oysters en brochette. More recent renditions have achieved modern classic status — Drago's charbroiled oysters or Clancy's fried oysters with Brie and spinach.
As long as New Orleans loves its oysters, chefs and restaurants will keep coming up with more recipes.
What follows are a dozen newer dishes I've been scouting around the area. None are more than a few years on the scene. All are cooked. Some are elegant; others are over the top. And all are highly recommended. Anytime you need a fix for your oyster craving, the dozen answers below await.
Oysters Pontchartrain
Bistro Orleans, 3216 W. Esplanade Ave, Metairie, 504-304-1469
This Metairie restaurant opened in 2015, taking over the former Chad's Bistro, and a few more adventurous dishes now dot the menu amid the seafood platters and the Creole-Italian standbys. Charbroiled oysters topped with mango salsa and crabmeat qualifies in that category. It also works, as the juicy sweetness of the salsa and the marine sweetness of the crab combine over the hot oysters.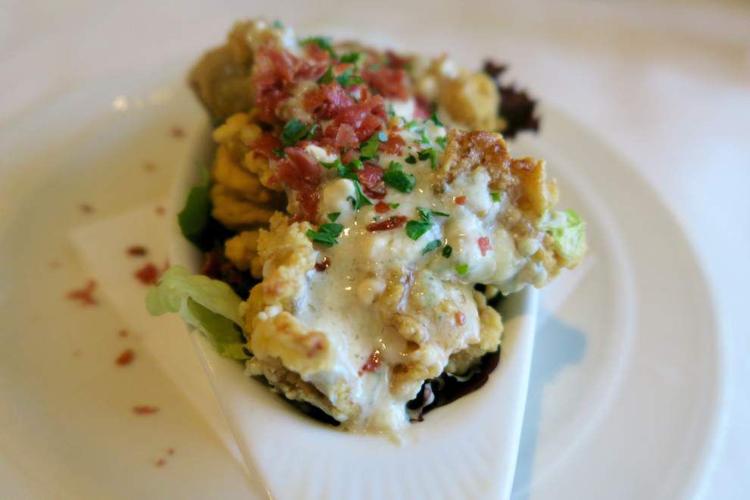 Blue Cheese and Prosciutto Crusted Oysters
Café Lynn, 2600 Florida Ave., Mandeville, 985-624-9007
Chef Joey Najolia came up with this dish as an hors d'oeuvre for a party celebrating a new location for his Mandeville bistro. It was so popular he bumped it up to a recurring special and, after proving a persistent hit, it's now a regular menu item. The appeal is sharpest for those who truly love blue cheese — which is made into a dressing that coats the fried oysters and bits of prosciutto and also bursts in chunks of cheese strewn over the top.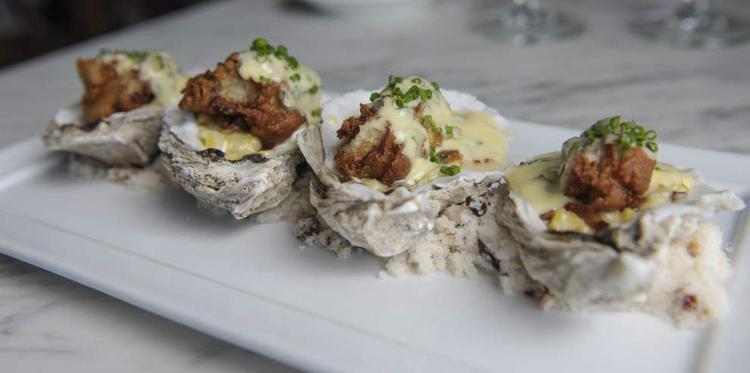 Oysters Goodenough
Carrollton Market, 8132 Hampson St., 504-252-9928
At first glance the name might seem to undersell this dish. But oysters Goodenough are proudly named for their creator, chef Jason Goodenough, and they're a flagship dish at his Riverbend bistro. The oysters are fried and placed back in their shells, which serve as small, individual pots of bacon and creamed leeks under velvety, lemony Béarnaise. They're decadently rich. At brunch, the dish returns as the oyster Goodenough French omelet (without shells of course).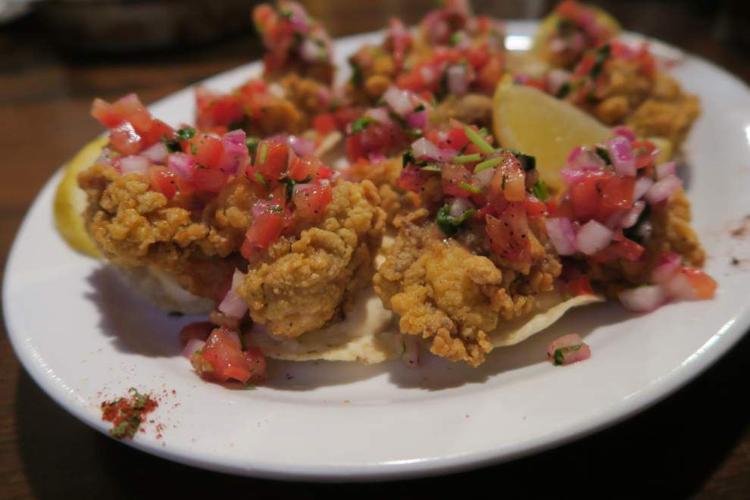 Oyster Nachos
Frankie & Johnny's, 321 Arabella St., 504-243-1234
This vintage joint is known as the deep Uptown spot for boiled seafood. But lately oysters have been a serious specialty too. Witness the oyster nachos: fried oysters each on its own corn chip, tostada style, with very fresh pico de gallo and a dab of spicy remoulade. This is Creole-Mex at its best.
Wood Fired Oysters
Kenton's, 5757 Magazine St., 504-891-1177
The motif of smoke and char traced across chef Kyle Knall's menu at this impressive Uptown newcomer is well represented in the wood fired oysters, though subtly. Under a toasty panko crust there are tiny flavor bursts of ham, and also the unusual addition of smoked potato purée that melts across barely cooked, juice-filled oysters. It adds a smoky creaminess without a trace of grease.
Crispy Fried P&J Oysters
Maypop, 611 O'Keefe Ave., 504-518-6345
This new CBD restaurant from chef Michael Gulotta and the crew behind MoPho and Tana is a bold, impressive addition, one where the kitchen that starts with a fusion of Southeast Asia and Southeast Louisiana and only expands from there. This oyster dish sets the pace. The plate is painted with a storm pattern swirl of aioli turned ink black from an unusually smoky soy sauce, while over the top goes shaved manchego and cucumbers pulsing with chile heat. 
Bangkok Oysters
MeMe's Bar & Grille, 712 W. Judge Perez Dr., Chalmette, 504-644-4992
MeMe's serves excellent versions of broiled oysters in ways you've had before (Rockefeller, garlic and Parmesan, bacon and blue cheese), and one I've not seen anywhere else. The Bangkok oysters are cooked under a fire engine-red cap of sambal oelek, a Southeast Asian sauce. It tastes right at home over the oyster as a thick, chunky glaze with sweet heat.
Oysters Almondine
Mr. Ed's Oyster Bar & Fish House, 3117 21st St., Metairie, 504-833-6310
Cooked oyster dishes get a whole menu section at Ed McIntyre's dyed-in-the-wool local seafood eatery, and this one is unique. Fried oysters are served back in their shells and bathing in a dark, lemony, luscious meuniere, under flurries of almonds. It looks modern and tastes classically Creole. Note that of the three Mr. Ed's oyster bars, the original Metairie location (the former Bozo's seafood) is the only one with oysters almondine regularly available.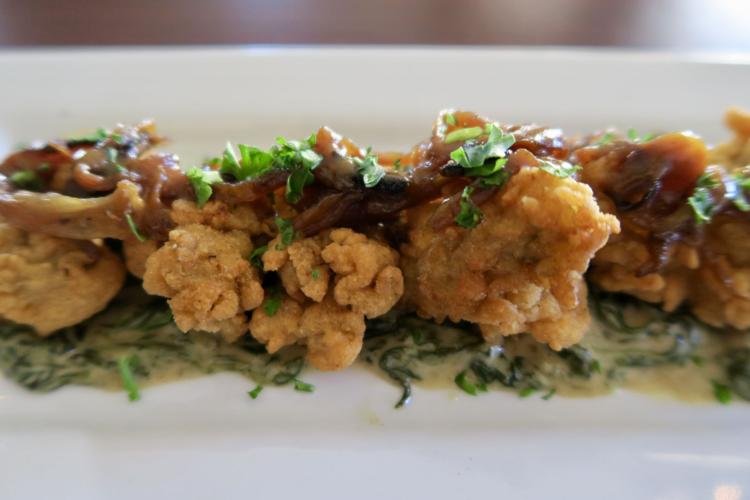 Oysters Gentilly
The Munch Factory, 1901 Sophie Wright Pl., 504-324-5372
This next generation version of the Creole neighborhood restaurant found a new home in the Lower Garden District earlier this year, but one of its signature dishes still advertises its roots. Oysters Gentilly, named for the neighborhood where proprietors Alexis and Jordan Ruiz grew up, combine a number of local compulsions - namely fried oysters and creamed spinach. The crown of caramelized onions on top ties it all together.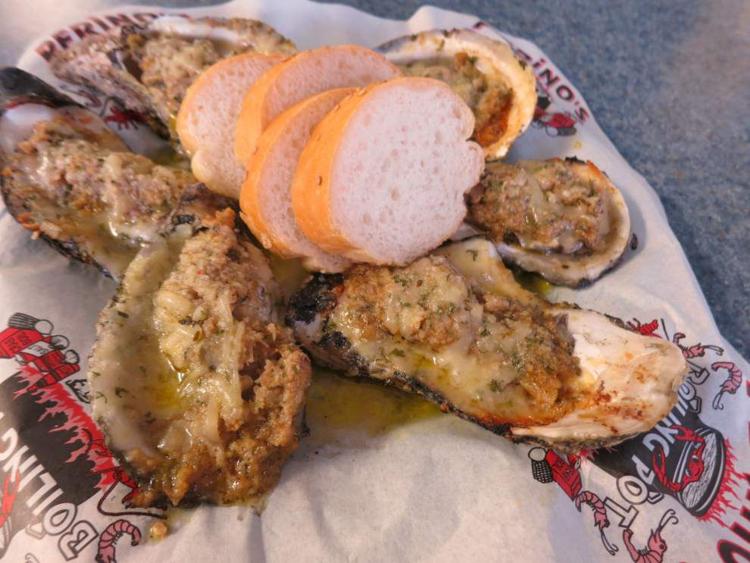 Seafood Charbroiled Oysters
Perino's Boiling Pot, 3754 Westbank Expressway, Harvey, 504-340-5560
Some dishes stand out by combining two familiar ideas, and this boiled seafood hall out by the Harvey Canal concocted a hit by topping charbroiled oysters with a spoonful of seafood stuffing. Rich with flecks of crabmeat and shrimp and paved with Italian cheeses (the precise blend is secret), it's very hearty and tastes smooth and creamy. The fact that it's based on breading stops no one from sopping the buttery shells with still more bread.
Plaquemines Oyster Bread
Sun Ray Grill, 2600 Belle Chasse Hwy., Gretna, 504-391-0053
Oyster bread is a twist on a crawfish bread recipe that chef Tom Hinyup inherited when he took over this eclectic West Bank café. It starts with chopped oysters cooked into a creamy sauce of artichokes and sun dried tomato and garlic that coats crusty po-boy bread, which is then topped with fried oysters, Parmesan and bacon. It's a hearty starter brings to mind hunting camp bruschetta.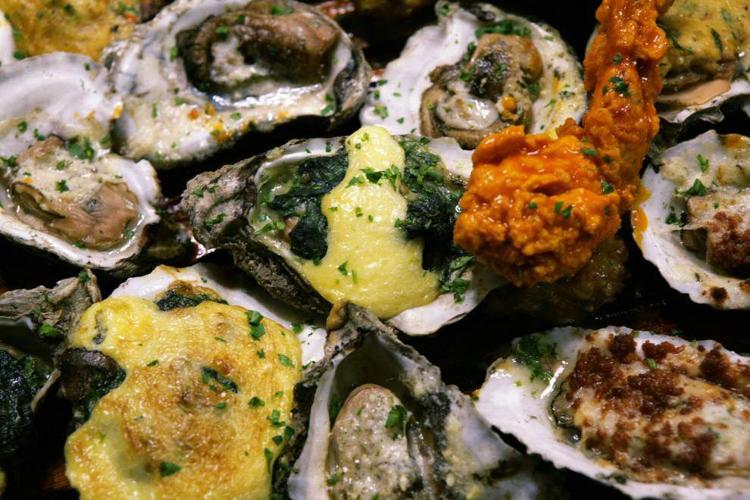 Oyster Log
Trenasse, 444 St. Charles Ave., 504-680-7000
An impressive-looking oyster dish can stop the conversation. The oyster log at Trenasse looks like it could stop traffic. The "log" is a lacquered slab of cypress that arrives with an edible diorama of variously prepared oysters — three dozen of them, some sizzling with garlic butter, some done as Bienville or Rockefeller, others bubbling under caps of smoked cheese and pancetta, plus a half-dozen fried oysters casually scattered between them like lagniappe.
Follow Ian McNulty on Twitter @IanMcNultyNOLA.