It's a rite of relaxing weekends, but brunch can present a dilemma to die-hard football fans. Go to the casual, popular brunch spots around town and you'll likely have to wait for a table. While that may be an accepted part of the procedure at other times, when the clock is ticking toward kickoff the wait can be fraught.
For more upscale brunch destinations, you can often make a reservation. But that sort of advance planning isn't always in play when the need for brunch arises, and even with a reservation you may still find a wait at the most popular places.
There is another way, however, and it starts with huevos.
One football Sunday a few years ago, I stumbled on a solution while hungry and unwilling to join a waiting list. Can you say "desayuno"?
Mexican-style breakfast dishes have become mainstays on brunch menus (think huevos rancheros or migas). But they are also common at some of the area's traditional (and not so traditional) Mexican and Central American eateries. These spots have their followings too, though they usually don't percolate to the top of brunch lists. That makes them ideal for a quick meal without a queue.
If you're willing to trade your syrup for salsa, your toast for tortillas (or maybe tostones) and your Bloody Mary for a michelada, you can get a highly satisfying brunch and get back in game mode without the sign-up sheet.
Here are some options around town, and across styles. All are open on Sundays.
El Pavo Real, 4401 S. Broad St., (504) 266-2022
Everything at this little outpost on the edge of Broadmoor has a handmade feel. That starts with the tortillas, carries across the deeply flavored salsas and sauces, and extends to the list of breakfast dishes. Carnitas fill the breakfast burrito, along with potato and egg, and chorizo from the Mid-City grocery/butcher shop Terranova's joins the simple egg plate. I'm fond of the chilaquiles, which is like a Mexican breakfast casserole of salsa-smothered corn chips, mellow Chihuahua cheese and poached eggs.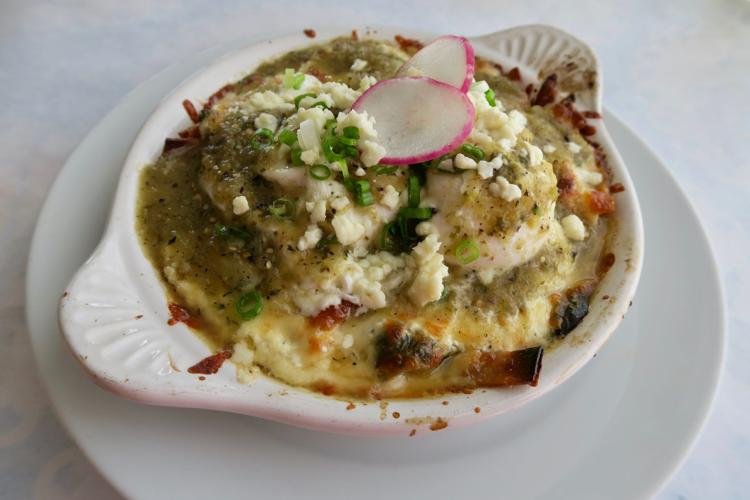 Pupuseria La Macarena, 8120 Hampson St., (504) 862-5252
As small, bright and cheerful as a juice bar, Pupuseria La Macarena has been slinging Salvadoran classics for many years. The pupusa is, of course, the starting point here, and these golden-crisp, cheese-filled corn cakes make breakfast and brunch appearances too. The Central American breakfast combo looks like a one-plate buffet, with dueling discs of huevos rancheros on tostada and a cheese and bean pupusa, toasts topped with sausage and avocado, a side of sweet plantains and a little cup of creamy black beans. It's BYOB.
Panchita's Mexican Criolla Cuisine, 1334 S. Carrollton Ave., (504) 281-4127
On this all-day breakfast menu, the huevos rancheros are served as individual tostadas topped with an egg, sauce, cheese, avocado and Crema. It works like breakfast nachos as you take it all apart. Panchita's is also where I first encountered entomadas, a dish that's on the dinner menu but hits all the hallmarks of a well-rounded brunch platter. It's built on a foundation of folded corn tortilla cakes drenched with a mild red sauce, drizzled with Crema and joined by a thin, griddle-crisp steak and a pair of eggs over easy.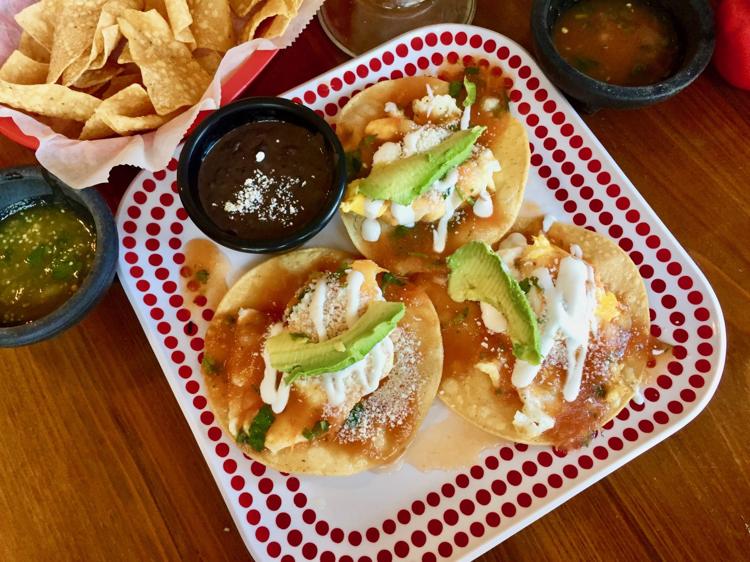 La Mansion, 724 Dublin St.,. (504) 249-5830
The epitome of the Mexican mom and pop, La Mansion is a homey restaurant in a Riverbend cottage that feels as straightforward as a diner at breakfast time. Here though, your omelet is lined with avocado and the hash is a spicy blend of eggs, crumbled chorizo and jalapeños.
Taqueria Guerrero, 208 N. Carrollton Ave., (504) 484-6959
The illustrated, bilingual menu at this colorful Mid-City taqueria unfolds in a spiral-bound volume with a section devoted to desayuno. Presentations are basic and portions are large, for no-nonsense combinations of eggs, rice, beans and tortillas, hunks of crumbly cheese and cuts of avocado, with chorizo or ham or ranchero sauce. It is also BYOB.
Fiesta Latina, 1924 Airline Dr., Kenner, (504) 468-2384
Fiesta Latina brings a lot of different flavors to the party, from pupusas to oysters. There's also room for a big breakfast menu, with bargain renditions of eggs with chorizo and tortillas and eggs with black beans, rice and plantains.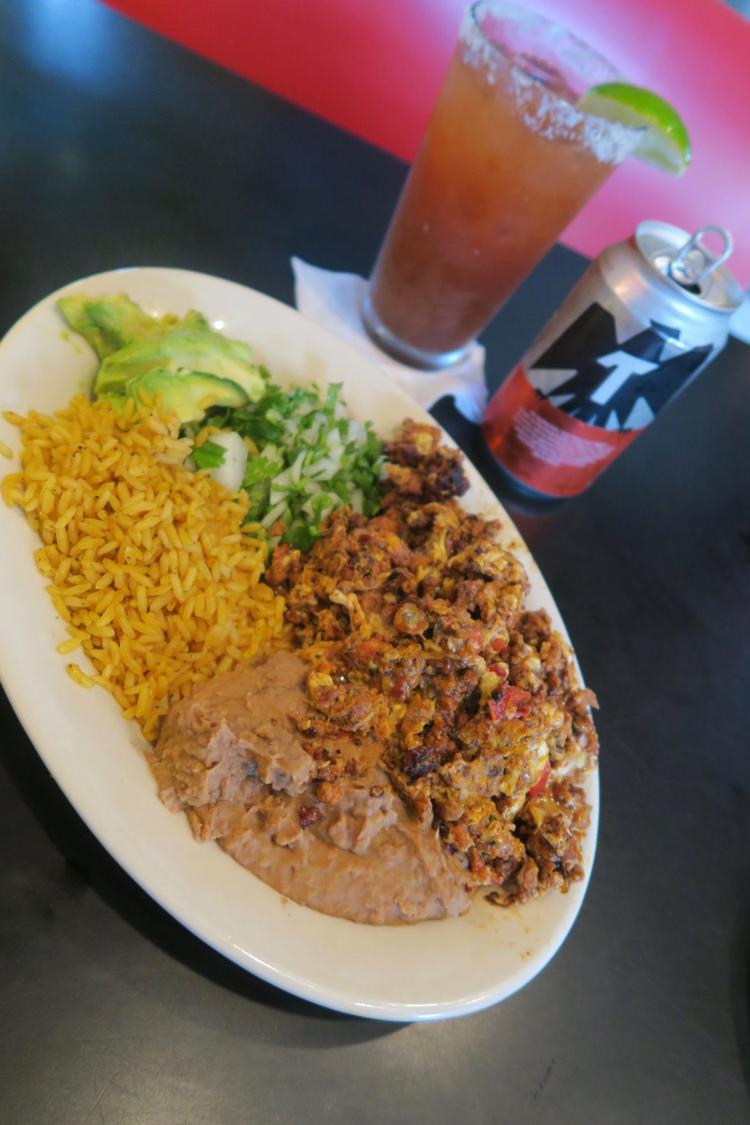 Juan's Flying Burrito, 4724 S. Carrollton Ave., 2018 Magazine St., 5538 Magazine St., 515 Baronne St.
Juan's has grown to four locations around town, and on the weekends the menu adds a roster of breakfast tacos and Mexican egg dishes. 
In Juan's kitchen, migas translates to eggs scrambled with about equal parts chorizo, plus avocado, chopped onions and cilantro, with tortillas on the side. In practice, it becomes a build-your-own breakfast taco platter, and there's a lot of it. The pop-top Tecate michelada washes it all down.
Juan's tends to be busy for early dinner, and a wait is common. But when I arrived at the Mid-City location just after they opened the doors one game day Sunday, I had my choice of booths, and migas came out almost as fast as the pace of the heavy-metal guitar whirling over the sound system.
In deepest summer, there is a certain mindset in New Orleans that regards the outdoors as enemy territory. Maybe you've succumbed to this once…
Getting back into a New Orleans garden in early autumn means planting and weeding and repairing the ravages of summer. At Paradigm Gardens thi…
Across the realm of college sports, devoted fans will do anything to support their teams. In Louisiana these days, though, more schools are as…