It didn't take long for Sandra and Wally Barr to become enmeshed in a love affair with the hibiscus after the Rev. Robert Gerlich gathered a group of fanciers two decades ago.
Her late husband had heard about Father Gerlich through some people in Baton Rouge, Sandra Barr said.
"So we met with him and some others who wanted to start a local chapter of the American Hibiscus Society," she said.
Judging from the glorious blooms in her garden, it's evident that the meeting sparked a passion that the Barrs shared until Wally passed away earlier this year.
The fruits of their labors and those of other club members will be on display Sunday from 1 p.m. to 4:30 p.m. at the New Orleans Chapter's 20th annual hibiscus show and sale at Grace King High School, 4301 Grace King Place, in Metairie.
Admission is free and some plants will be for sale.
Sandra Barr is shameless in her enthusiasm for the luscious tropical plants.
"I can't find one that I don't love," she confessed. "Once you start being able to see the beauty in a hibiscus, you can really appreciate Mother Nature, because the range of colors is so vast.
"Some are a couple of inches wide and some are the size of a dinner plate. You can have one layer of petals or you can have dense petals. Once you've been growing them for a while, you want to create your own."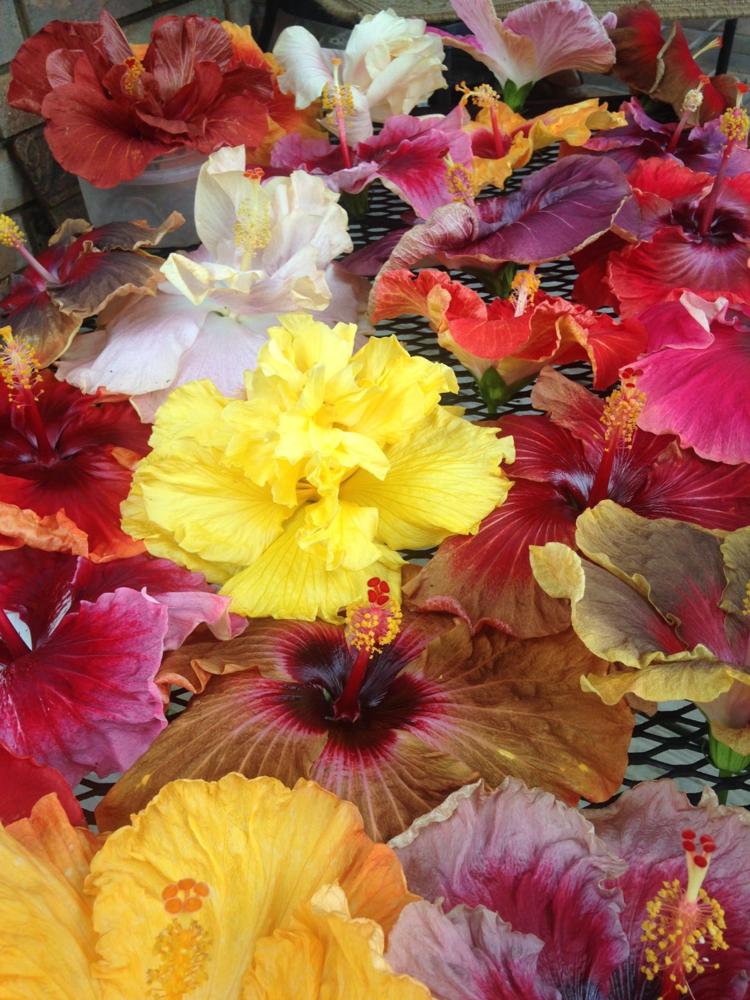 That explains the astonishing variety of the 75 or 80 full-grown hibiscus plants that occupy the 7,200-square-foot lot in Metairie where the Barr home is located (and that does not include the 50 seedlings Sandra has potted up).
All but one of the plants are in terracotta-colored plastic pots (real terracotta allows water to evaporate too quickly, the gardener notes). A greenhouse on the lot makes it possible for her to pull her plants inside on nights to protect them from the sort of destructive freezes the area experienced this past winter.
"A lot of our members lost plants on those cold nights," Barr said. "Below 32 degrees, you may as well forget about it."
The potted plants form a row across the back fence, along with palms and a crape myrtle. Others are "behind the greenhouse, next to the greenhouse, in front of the greenhouse" — anywhere she can squeeze them in.
Almost none are the "garden variety" types found at big box stores.
"Most of them are hybrids. I like to cross varieties with one another and see what I come up with. I wait until the plant blooms to decide if it's a keeper," she said. "Some are crosses with the Cajun hibiscus from Dupont Nursery on Bayou Plaquemine."
The Cajun hibiscus has large blooms, substantial petals and handsome foliage.
Blooms are very large and the plants are shaped well so they don't require pruning, Barr said. They are the result of a breeding program undertaken by Bobby Dupont and Gerlich.
Said Gerlich: "Flowers are very iffy. Some days, one has a good number in bloom and on other days they make themselves scarce. Sandra has a beautiful display on a more or less regular basis."  
A heavy rain can knock off prize blooms, though rain in general is welcome because water is critical to success in growing hibiscus.
"You don't want them to stand in water because that can kill them by depriving their roots of oxygen," Barr said. "But they like moisture, and a lot of my plants have automatic systems that water them twice a day in summer."
Hibiscus can be rooted from tip cuttings and propagated that way, but the gardener said grafting is best.
"Our chapter has two grafting parties a year, and it's something you have to get good at it if you want to make your own varieties," Barr said. "We use the stock of Pride of Hankins to graft onto because it has really strong roots."
As the pots and varieties have multiplied, her granddaughter, Elise Segura, has lent a hand when it came time to name newly minted varieties.
"She's 9, almost 10, and she loves planting things," Barr said.
Names like Soleil, Southern Lights, Color Me Lovely and Ann Howell (named for a late beloved club member) are just some of the many to come out of the pair's imaginations.
The exotic flowers are a far cry from the first two that Barr tended many years ago before she fell head over heels in love.
"I bought an Anderson's Double Yellow Red and an Orange King," she recalled. "I remember watering those two while I waited for the school bus with my daughter when she was still in school at Ursuline. Now she's in her 40s."
************
Hibiscus Show and Sale
When: 1 p.m. to 4:30 p.m., Sunday
Where: Grace King High School
4301 Grace King Place, Metairie
Admission: Free
Info: (504) 865-2570 or 
loyno.edu/~gerlich/NOHS/Annual_Show.html