In early 2016, a delegation of New Orleans officials traveled to Worldwide Wrestling Entertainment headquarters in Stamford, Connecticut.
Their mission: Convince the WWE brass, including ever-colorful Chairman Vince McMahon, to stage WrestleMania 34, professional wrestling's marquee extravaganza, in New Orleans in 2018.
Their unconventional pitch included a video of Saints quarterback Drew Brees wrestling with his kids and a Krewe of Muses shoe custom-made for McMahon's daughter Stephanie, who is WWE's chief brand officer and a "villain" in wrestling storylines.
In honor of their audience, the New Orleanians also assumed wrestling nicknames.
Mayor Mitch Landrieu was, naturally, His Honor. Deputy mayor Ryan Berni was The Deputy. The team included "Funky" Fay Nedd of the New Orleans Convention & Visitors Bureau and Sam "The Silent Assassin" Joffray of the Greater New Orleans Sports Foundation, the nonprofit group that coordinates the city's bids for major sporting events.
"We had a little fun with it, but this was a serious business pitch," recalled Sports Foundation President/CEO Jay Cicero, who, as the presentation's emcee, was exempt from a nickname.
Vince McMahon and his staff "are the masters of entertainment and nicknames," Cicero said. "We wondered what they were thinking. But we got some chuckles."
They got more than chuckles. Thanks in part to an incentive package that reportedly included no direct payments from the city or state, the WWE eventually selected New Orleans to host WrestleMania 34 on April 8, 2018, at the Mercedes-Benz Superdome.
A parade of politicians, WWE executives and wrestlers officially announced WrestleMania's return during a high-octane news conference Tuesday morning in a Superdome lounge.
It was that rare event where Gov. John Bel Edwards occupied the undercard far below The Undertaker, one of wrestling's most enduring superstars.
With its video walls, booming concert sound, faux fog and wrestlers — New Day, The Miz, Triple H, Charlotte Flair, Roman Reigns and The Undertaker, whose glowering appearance surprised even some WWE officials — the press event offered a small taste of what's to come at WrestleMania.
When New Orleans hosted WrestleMania 30 in 2014, more than 75,000 fans filled the Superdome to capacity, buying $10.5 million in tickets, the highest gross ever for a non-sports entertainment event at the Dome.
According to the WWE, 79 percent of the attendees came from outside the New Orleans region. Many stayed for several days to enjoy the preliminary WWE-related festivities. They spent more than $10 million in restaurants and more than twice that amount on accommodations.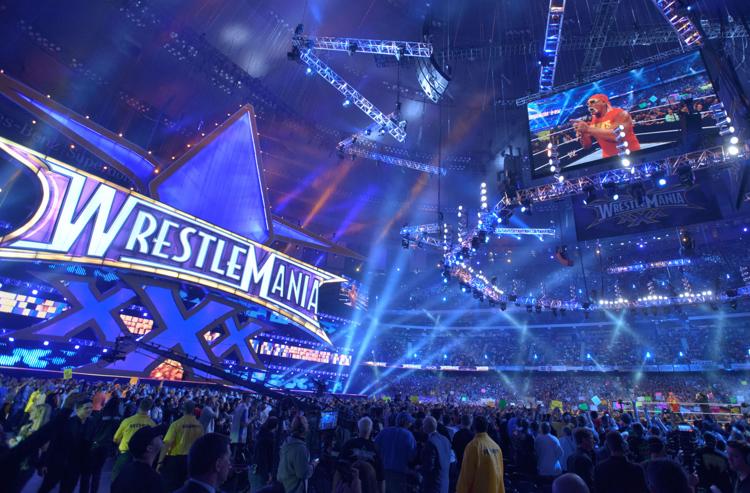 The regional economic impact was an estimated $142 million, generating more than $24 million in local, state and federal taxes.
Given those numbers, the city was eager to entice the WWE to return.
"The chance to host these mega-events really gets our juices flowing," Superdome General Manager Alan Freeman said.
To the Greater New Orleans Sports Foundation, WrestleMania is a high-priority, "tier one" event like the Super Bowl, the NBA All-Star Game and the Men's Final Four of college basketball.
"WrestleMania ranks right there," Cicero said. "It's a big prize."
And they were willing to put on a show to score it.
*****
The WWE oversees a hugely lucrative global "sports entertainment" empire. In 2016, Forbes ranked WrestleMania as the fifth most valuable sports event brand in the world, behind the Super Bowl, the Summer and Winter Olympics and the FIFA World Cup. WrestleMania airs in 180 countries and is translated into 25 languages.
The WWE's YouTube channel has nearly 14 million subscribers, compared with fewer than 2 million for the NFL and 709,000 for Major League Baseball.
The WWE markets itself via three distinct brands: Raw, Smackdown and NXT.
"WWE Raw," aka "Monday Night Raw," currently airing on the USA Network, has been a weekly TV fixture since 1993. This past Monday, "Raw" originated from the Smoothie King Center to coincide with Tuesday's WrestleMania announcement.
WWE wrestlers are trained and molded into carefully crafted characters. They are pitted against one another in a complex, constantly shifting array of alliances and often outrageous scripted storylines and stunts, rising and falling as heroes, heels, underdogs and champions.
Paul "Triple H" Levesque is a villain in the ring, but in real life, he is married to Stephanie McMahon and is the WWE's executive vice president of talent, live events and creative. Wrestlers spend years "honing their craft and perfecting their art form," Levesque said Tuesday. "And trust me, this is an art form."
The stars atop the WWE food chain boast massive social media followings. Levesque has more than 4 million Twitter followers. Dwayne "The Rock" Johnson and John Cena parlayed wrestling stardom into movie stardom.
Such unlikely figures as comedian/TV host Jon Stewart, "Golden Girl" Betty White and baseball great Pete Rose have participated in WWE events.
In 2007, President-elect Donald Trump engaged in a scripted feud with Vince McMahon, ultimately shaving McMahon's head at WrestleMania 23 in Detroit. In 2013, Trump was inducted into the WWE Hall of Fame.
Once relegated to "ring girl" status, or prizes to be "won" by male wrestlers, women now compete prominently. At Tuesday's news conference, Charlotte Flair, the reigning WWE women's champion, said she and other female wrestlers "inspire and empower women. We encourage little girls to be more confident and strong."
The crown jewel of WWE's 500 annual live events is the stadium-sized WrestleMania. Levesque described it as "part rock concert, part theater, part Broadway spectacle, a pyrotechnic extravaganza and world-class athleticism."
Not long after hugely popular underdog Daniel Bryan triumphed at 2014's WrestleMania 30 in the Superdome, Cicero and other New Orleans stakeholders initiated a behind-the-scenes dialogue with the WWE about bringing the event back to the Big Easy.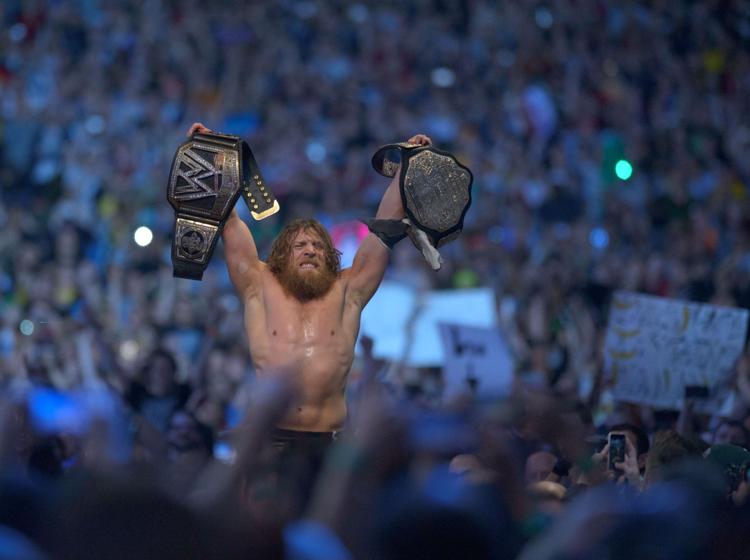 It generally doesn't return to the same city for at least five years. But New Orleans' pursuit of 2018 came with a special reason: including WrestleMania in the city's tricentennial celebration.
That got the WWE's attention.
Setting its sights on 2018, the Greater New Orleans Sports Foundation assembled a host committee drawn from the New Orleans Convention & Visitors Bureau; the New Orleans Tourism Marketing Corp.; the Ernest N. Morial Convention Center; SMG, the company that manages the Superdome and Smoothie King Center; and city officials.
A similar host committee pursues Super Bowls. But the logistics of a Super Bowl pitch and a WrestleMania pitch are very different.
A year or more of work on a Super Bowl bid boils down to a rigidly formatted, high-pressure, 15-minute presentation to the owners and senior executives of all 32 NFL teams. Only five members of a city's pitch team are allowed in the room when the presentation is made; of those, only two can speak. None likely uses a nickname.
By contrast, the WrestleMania process was "a little more face-to-face," Cicero said.
The eight members of the New Orleans delegation spent an hour in a small room at WWE headquarters with Vince and Stephanie McMahon, Levesque, Executive Vice President of Special Events John Saboor and four other WWE decision-makers.
The pitch opened with a video featuring newly installed Gov. Edwards. Using their wrestling nicknames, Cicero introduced the team's other speakers. Stephanie McMahon said Tuesday that she was especially impressed by the "passion" of Landrieu's appeal.
She also really liked the Muses shoe.
The incentive package offered to the WWE was "in the millions" of dollars, Cicero said, declining to provide a specific amount. Super Bowl bids generally include money from the state and/or city, but the WrestleMania bid did not.
"No public funds went toward this event," Cicero said.
Instead, the incentive package consists of private funding, the donation of in-kind services and the waiver or reduction of fees. "You have to give a lot to host any major event," Cicero said. "This one is a good business proposition for both sides."
"We put together a package that made great sense not just for the city, but for WrestleMania," Landrieu said.
At present, WrestleMania is the highest-profile event, with the largest potential international audience, on the calendar for New Orleans' tricentennial year.
With WWE broadcasts from the Smoothie King Center and the Convention Center leading up to the finale in the Superdome, Cicero anticipates a publicity bonanza for New Orleans.
"The positive media exposure from five days of live broadcasts to millions of viewers is worth way more than the economic impact," Cicero said. "These guys are very good at promoting the cities they're in."
And very good at promoting their own brand. On Tuesday, Levesque, speaking as both an executive and a wrestler, recalled how Daniel Bryan's hard-luck, underdog storyline finally came to a triumphant conclusion at the Superdome in 2014.
As 75,000 fans stood and chanted Bryan's signature "Yes! Yes! Yes!," Levesque "had goose bumps all over my body. For me, as I'm sure it was for anybody that had the privilege of being inside that building that night, it was a moment that touched them inside. It was a moment that made them feel something that they will never forget.
"That is what WrestleMania does. That is what the WWE does. That is what we do better than anybody else on the planet.
"At WrestleMania 34 in New Orleans, we will create memories that will last a lifetime. So the question is: Are you ready?"