The focus of Stevie Nicks' current solo tour, she explained Wednesday at a nearly full Smoothie King Center, is "songs that I love to sing, not that I have to sing." With that intention, she did herself, and her fans, a favor.
Her most fervent fans cheer whenever she so much as twirls around; they do not need to be force-fed a program of hits. Thus, her nearly two-and-a-half hour trip down memory lane, which included lengthy but charming and revealing stories, drew heavily from a cache of compositions that lingered for years in her "box of lost songs."
Most of them deserved to be let out, especially by her full-bodied band led by Waddy Wachtel, the go-to session guitarist for the likes of James Taylor, Jackson Browne, Linda Ronstadt, Keith Richards, Warren Zevon, and, in the early 1970s, a then-unknown duo called Buckingham Nicks.
Nicks may well have been the beautiful, doe-eyed hippie-witch that every '70s male rock star wanted to date, but she was also relentlessly ambitious, determined to build a solo career independent of Fleetwood Mac. She wrote songs while on tour with the band; when her Mac-mates went on vacation, she went into a recording studio.
Unable to actually join Tom Petty & the Heartbreakers, she settled for working with Heartbreakers producer Jimmy Iovine. The result was her multi-million-selling 1981 solo debut, "Bella Donna."
That album's lead single was the Petty duet "Stop Draggin' My Heart Around," which he wrote with his guitarist, Mike Campbell. On Wednesday, Chrissie Hynde returned to the stage following her thrilling opening set with the Pretenders to share "Stop Draggin' My Heart Around" with Nicks. Their connection and mutual respect felt genuine.
While making the follow-up to "Bella Donna," Nicks was "more famous, a little more spoiled, not as focused." Still, she was determined not to be a one-hit-wonder. The success of "The Wild Heart" confirmed she wasn't. She recounted how that album's hit "Stand Back" is based on the melody of Prince's "Little Red Corvette"; he came to the studio to approve her innovation and play on it.
Toward the end of his two-hour-and-20-minute concert at a full Orpheum Theater on Tuesday, R…
Her lesser-known songs were a revelation. She showcased "Starshine," "If You Were My Love" and "Belle Fleur" from "24 Karat Gold: Songs from the Vault," her 2014 resurrection of "lost" tracks. She exulted that "Crying in the Night," from "Buckingham Nicks," her failed, self-titled, pre-Fleetwood Mac duo album with Lindsey Buckingham, is "back in the world." (She also made one guy in the front row ecstatic by autographing his vinyl copy of "Buckingham Nicks.")
She paid special attention to "New Orleans," which she composed in Hurricane Katrina's wake. She didn't want to write a dirge, so focused instead on the city's resiliency. Lyrics rely a bit too heavily on the usual clichés — Bourbon Street, Mardi Gras, French Quarter, etc. — but her heart was obviously in the right place.
Only four Fleetwood Mac songs made the set list, but all are essential to her body of work. "Gold Dust Woman" needed no introduction; she described how it invariably takes on a life of its own and "does its own thing."
In the encore, she and the band lofted the Mac classic "Rhiannon." She followed with a story about sitting down one evening in Aspen, Colorado, at a point when her music career was in jeopardy, and writing a song while staring at the mountains. That song was "Landslide," the breakthrough ballad from Fleetwood Mac's self-titled 1975 album.
At the arena, she lofted a lovely, spine-tingling "Landslide" over the hushed accompaniment of Wachtel's nimble acoustic guitar and Darrell Smith's piano. Nicks has to sing that song — but clearly still loves to.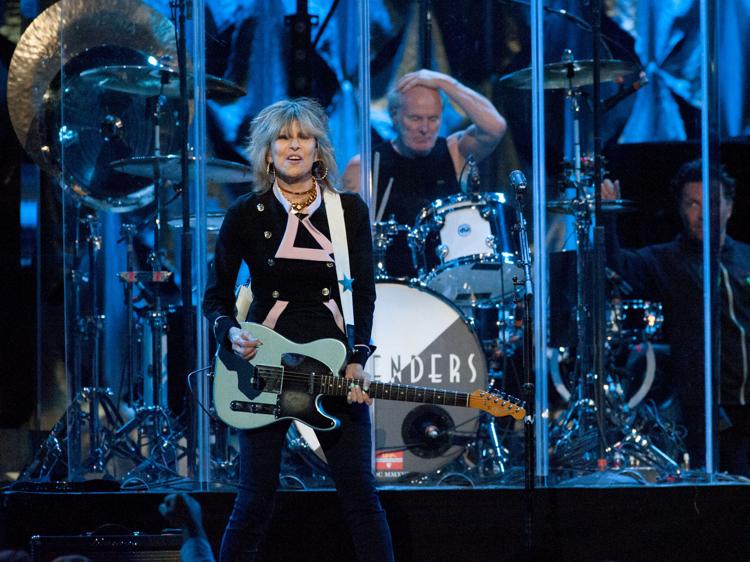 Thirty years ago, my student committee at Texas A&M University produced a Pretenders concert on campus. Those of us who spent time around Chrissie Hynde that day quickly learned to fear her withering sarcasm and glares.
Fast forward three decades, and Hynde's sarcasm and glares are still withering, her I-don't-give-a-damn attitude undiminished. On Wednesday, audience members using their phones at the Smoothie King Center drew her ire. "I guess we're not that exciting," she snarled. "Maybe if I take my shirt off it might help."
Fortunately, her voice, songs and band are also just as sharp as in the 1980s. Drummer Martin Chambers, the only remaining original Pretender other than Hynde, is still a potent force. Ace guitarist James Walbourne replicated the Pretenders' signature jangle. The players tore into the likes of "Middle of the Road" and "Talk of the Town" with gusto.
As Hynde made abundantly clear, she was in charge. Stopping the band at one point, she said, "See, they do exactly what I want them to do. Why can't guys be like that in real life?"
She was herself a masculine presence, as evidenced by her appreciation of certain fans. "Call me sexist," she said, "but it's always great to see a pretty girl dancing."
Her pleading in "I'll Stand By You" served as a showcase for her vocal prowess. She also nailed all the nuance of "Brass in Pocket." In just under an hour, the Pretenders packed in most of their essential tracks, and demonstrated that they — and Hynde especially — are still capable of rattling cages.