The title of Dr. John's Grammy-winning 1992 album asserted that he was "Goin' Back to New Orleans." He's following a similar philosophy with his band.
For the first time in four years, Mac "Dr. John" Rebennack is surrounded exclusively by veteran New Orleans musicians onstage, even on tour.
The core band that joined him for recent concerts in Atlanta, West Palm Beach, Florida, and Nashville consisted of bassist Roland Guerin, guitarist Eric Struthers and drummer Herlin Riley, plus trumpeter Leon "Kid Chocolate" Brown.
As of early January, trombonist Sarah Morrow, Dr. John's music director since 2012, was no longer in the band. Guerin has replaced her as music director.
Morrow's tenure, especially early on, was rocky. She arrived with little experience in, or connection to, New Orleans music. She grew up in Ohio, where she launched her career. Her resume included two years in Ray Charles' orchestra, 12 years as a jazz trombonist and bandleader based in Paris, and several albums of jazz fusion; Rebennack was an executive producer of her 2012 album, "Elektric Air."
She joined the Lower 911 in 2012. By the end of the year, Rebennack had fired the other members of the Lower 911, as well as his longtime managers.
As Dr. John's music director, Morrow recruited musicians who were not necessarily familiar with, or fluent in, the subtleties of New Orleans music in general, and Dr. John in particular. She also tended to feature herself prominently during his concerts, soloing on trombone and acting like the female equivalent of a "hype man" onstage. For many longtime fans, it was a jarring transformation in the tone and tenor of his presentation.
Reviews were not kind, including one by this writer, for Morrow's first major local appearance with Dr. John, at the 2013 New Orleans Jazz & Heritage Festival presented by Shell.
She responded defensively to criticism. Weeks after veteran music journalist John Swenson's negative Jazz Fest review appeared in OffBeat magazine, Morrow berated him backstage at the Montreal International Jazz Festival. Swenson had his tape recorder on at the time; OffBeat published an account of the dressing-down.
By then, several musicians who had been onstage with Dr. John at the New Orleans Jazz Fest had already been replaced. There would be more changes over the next three years; the band, christened the Nite Trippers, got better. During the all-star "Musical Mojo of Dr. John: A Tribute to Mac and His Music" concert at the Saenger Theatre during the 2014 Jazz Fest, Morrow inserted an appropriately ominous, growling trombone solo into a spooky rendition of "Walk on Gilded Splinters."
As his primary creative partner, she co-produced and arranged Rebennack's 2014 album "Ske-Dat-De-Dat: The Spirit of Satch," his long-planned homage to the music of Louis Armstrong.
Asked via email to comment on her recent departure from Dr. John's band, Morrow responded:
"From the time Dr. John first pursued me to collaborate with him 9 years ago, to eventually becoming his arranger, music director and producer, it's been an interesting artistic journey. Ultimately winning the hearts of Nola fans has meant a great deal to me. As Music Director last fall, I put together an awesome Nola based band — Herlin Riley, Roland Guerin and Eric Struthers— so I know Doc and the Nola fans are in good hands! I'm back to pursuing my own artistic path and my year is off to a good start … Fans can look forward to future projects that Dr. John and I collaborated on so stay tuned!"
The Big Easy bonafides of the new band are beyond dispute. Struthers spent years with the Neville Brothers and is featured on multiple Nevilles albums. Riley ranks among the most respected and versatile drummers in New Orleans; his credits include a long stint with Wynton Marsalis and the Jazz at Lincoln Center Orchestra.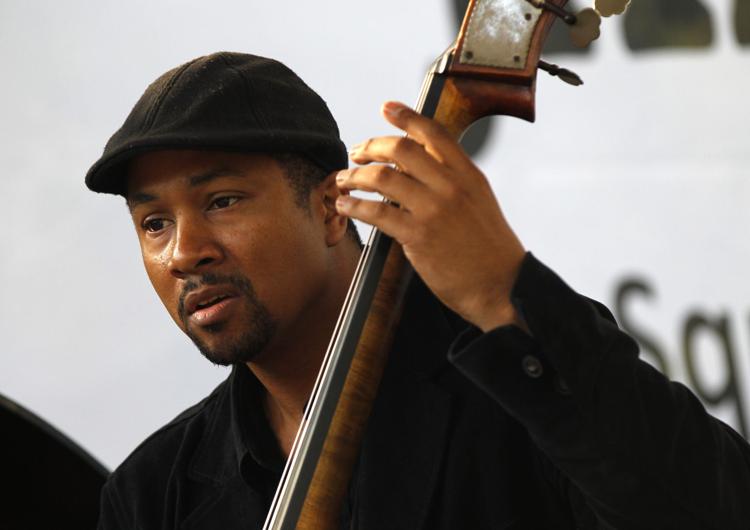 Guerin enjoyed a 15-year collaboration with jazz pianist Marcus Roberts, and a 20-year affiliation with Allen Toussaint. He played bass on several tracks from Toussaint's 1996 album "Connected." Around 2008, he joined Toussaint's band as its bassist, a position he held until Toussaint's death in 2015.
In a recent interview, Guerin said that he was asked to join Rebennack's band not long after Toussaint's passing. "I didn't right away," he said. "I needed a minute. (Toussaint) was my mentor."
He eventually accepted Rebennack's offer. He appears on Rebennack's recording of "The Bare Necessities" from the soundtrack of Disney's 2016 remake of "The Jungle Book."
At the time, Morrow was still the band's music director. Now that Rebennack has tapped Guerin for that role, his duties include compiling the set list for shows and writing the musical arrangements for the other musicians. He recruited trumpeter Leon Brown, and helped acclimate drummer Doug Belote, who substituted for Riley on two recent gigs, as well as the guest singers who joined the band in Nashville.
Essentially, Guerin is now the middleman between Rebennack and the rest of the band. He "helps translate and relate things from Dr. John to the band. The main thing is that we're all on the same page, and that that page spells F-U-N." The goal is to "have fun, and hopefully be what people love about him, which is an extension of what they love about New Orleans."
Throughout the various changes to his band over the past four years, Dr. John's own idiosyncratic style and sound – the gravelly growl, the deceptively leisurely phrasing, the hipster patois, the hybrid Big Easy piano – have held steady, always pointed in the same direction.
His new band of New Orleanians represents a "different environment to support his direction," Guerin said. "It's more in line with his direction."