For jazz trumpeter Irvin Mayfield and his swinging 18-piece band, the departure of Mayor C. Ray Nagin from office in May 2010 lowered the curtain on a lucrative gig.
Nagin did more for the brash young bandleader than anoint Mayfield as the city's "cultural ambassador." In just two years, the mayor funneled more than $1.6 million to Mayfield's artistic spawn, the New Orleans Jazz Orchestra, in grants from a charitable trust administered by the city.
And then it was gone. The new mayor, Mitch Landrieu, cut off the spigot, declining to give any more money from the Edward Wisner Donation to NOJO, among other arts organizations that lost their Wisner funding.
But Mayfield had another note to play — also courtesy of Nagin — as he worked to sop up the jazz orchestra's bleeding finances and bankroll his musical ambitions and lavish appetites, according to a 19-count federal indictment handed up last week.
Nagin had seated Mayfield on the boards of the city's public library and its fundraising arm, the New Orleans Public Library Foundation, which boasted a $3.9 million investment kitty when the trumpeter took over as board chairman in November 2010.
The indictment claims Mayfield and fellow foundation board member Ronald Markham — his childhood friend and now co-defendant — soon went to town.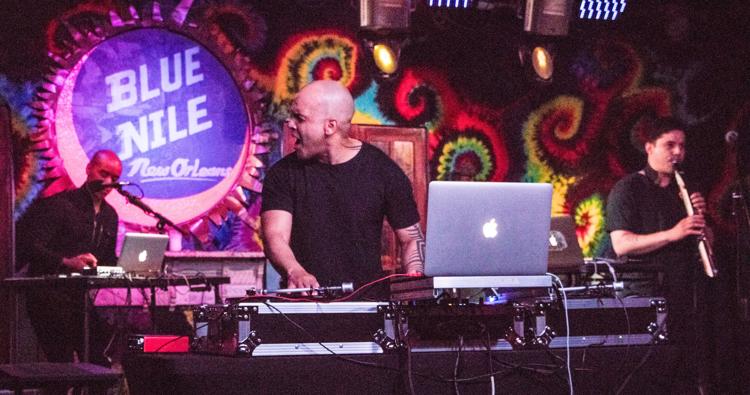 Nine months after Mayfield took over as board chairman, he and Markham moved $100,000 from the foundation to NOJO, the indictment claims.
It was the first in what the federal indictment alleges were 17 fraudulent money transfers from the foundation or the nonprofit Youth Rescue Initiative, a group that itself received funds from the Library Foundation. For most of 2012, Mayfield served on YRI's board.
All told, the indictment alleges that Mayfield and Markham took in $1.4 million in ill-gotten funds to maintain their six-figure salaries and more from August 2011 to January 2013.
Mayfield is accused of using Library Foundation funds for, among other things, providing $64,000 toward a show Mayfield produced for himself at New York's famed Carnegie Hall; a $20,000 shopping spree at Saks Fifth Avenue; multiple stays in swanky New York hotels totaling more than $55,000; and a $2,000 visit to Harrah's Casino.
More than $20,000 went to a company he controlled, Mayfield Productions, the indictment alleges.
The spending and the charged cover-up — allegedly including deceptive memos to other foundation board members, false statements to auditors and doctored board meeting minutes — go beyond the revelations from a series of WWL-TV investigative reports that began in 2015.
A phony justification?
Notably, the indictment suggests that the justification that Markham offered for the use of the Library Foundation dollars — that they helped pay for building the gleaming New Orleans Jazz Market in Central City — was phony.
The indictment makes no mention of the new cultural center on Oretha Castle Haley Boulevard. Instead, it details money transfers that allegedly went largely to NOJO operating expenses and to pay the salaries of Mayfield and Markham, who was NOJO's president and CEO.
Mayfield and Markham later sent emails and other "materially false and misleading correspondence" to various Library Foundation board members, auditors, investment account managers and jazz orchestra board members to mislead them about the transfers, the indictment alleges.
The indictment specifically accuses Mayfield and Markham of an overarching conspiracy, four counts of wire fraud, a money-laundering conspiracy, 11 counts of money laundering and an obstruction count for allegedly falsifying Library Foundation board minutes to impede an FBI probe. The indictment does not say how prosecutors believe those minutes were altered.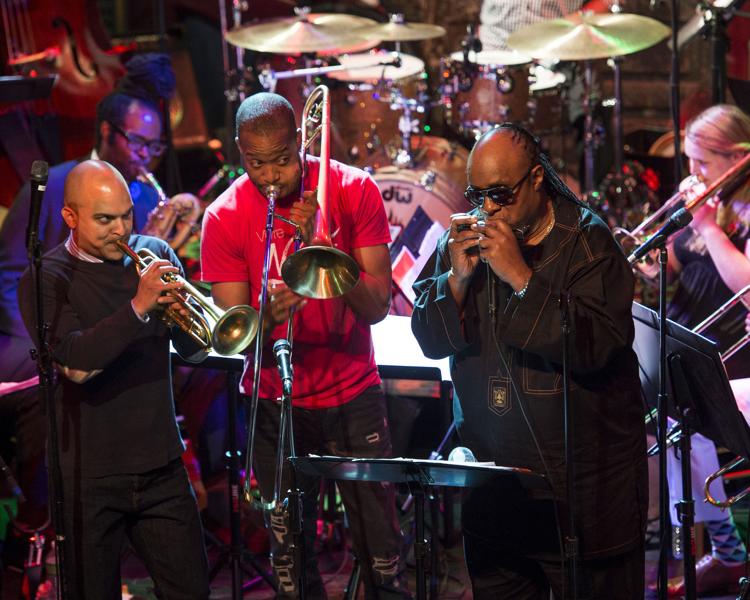 Mayfield faces an additional mail fraud count for ordering the delivery of a 24-karat gold-plated trumpet, which itself was allegedly paid for with $15,000 in Library Foundation funds routed through the Youth Rescue Initiative.
Mayfield founded the nonprofit NOJO in 2002. It would use more than $1 million in state tax money, other public grants from the New Orleans Redevelopment Authority, and private loans and corporate donations to build and open the New Orleans Jazz Market in early 2015.
Yet a few months after the opening, Markham told WWL-TV that the Library Foundation's money was used legitimately to build the Jazz Market and make it a new kind of music branch of the New Orleans Public Library system — as well as a concert venue and bar.
"Those dollars went into this facility," Markham told the station. "You look into the computer screens that are going to come in here. And this wood. It looks reclaimed and like it's cheap. It's not. ... The seats, the lighting, the air conditioning. I mean, this is real stuff."
Others at the Jazz Orchestra echoed that claim. NOJO Board Chairman Ron Forman was among them. "The documents say the money was spent properly," Forman said last year. He did not respond to a request for comment Friday.
Mayfield, 40, and Markham, 39, are due to make their first public appearances in federal court on Jan. 4.
Markham's attorney, Sara Johnson, declined to comment on the allegations. "I intend to try this case in a court of law and not in the court of public opinion," Johnson said.
Mayfield's attorney, Chief Federal Public Defender Claude Kelly, similarly declined to comment on the specifics of the indictment.
Some observers were surprised to see a public defender appointed to represent Mayfield, who once drove a Maserati and sold his Fontainebleau neighborhood home for $553,000 on Oct. 31. But Kelly confirmed that Mayfield was declared indigent by the court.
Mayfield recently released an album with Kermit Ruffins, "A Beautiful World," that last month topped the Billboard jazz charts.
Criminal defendants, or those who have received grand jury subpoenas or FBI "target letters," can ask for a public defender but must submit a sworn affidavit stating their assets, liabilities and other financial information to prove their poverty. It appears that a judge deemed Mayfield indigent prior to Thursday's indictment.
The fact that Mayfield has been ruled indigent could prevent library donors from collecting restitution in the event he's convicted, said Pat Fanning, a former federal prosecutor and veteran white-collar defense attorney.
"If the man's qualifying for the public defender, I don't think the man's got the ability to write a check for hundreds of thousands or whatever the number is," Fanning said.
The amount of money involved means Mayfield and Markham could face years in prison if convicted, he added.
"It's not going to be any slap-on-the-wrist type of thing," Fanning said.
Propelled to prominence
Mayfield's star was headed in a different direction with the help of Nagin, who is now serving a 10-year federal prison sentence on corruption charges.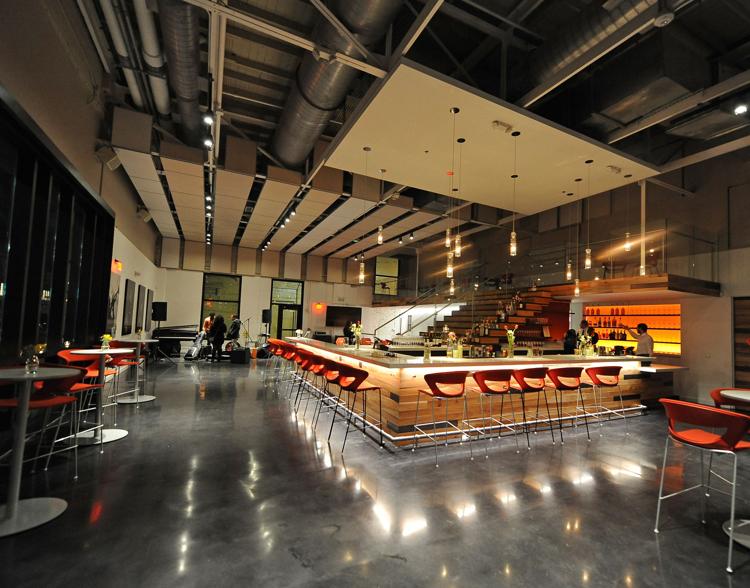 It was Nagin who helped propel Mayfield to prominence, naming him the city's cultural ambassador in 2003. The former mayor also named Mayfield chairman of the New Orleans Public Library board, which made him a member of the Library Foundation board too.
Nagin even tried to hand Mayfield a no-bid contract to redevelop the gutted Municipal Auditorium after Hurricane Katrina, but the deal was called "improper" and scuttled by Inspector General Ed Quatrevaux in 2009.
In 2008, the former mayor began sending more than $1.2 million to NOJO through the Wisner grants. Under the terms of the late Edward Wisner's annual bequest to the city, the sitting mayor had almost unfettered control over where the money would be spent, as long as it supported a cultural or community-minded group.
Nagin's first Wisner payment to NOJO came in December 2008. NOJO asked for $100,000 to coordinate ceremonies for the reopening of the Mahalia Jackson Theater of the Performing Arts, right next to the Municipal Auditorium in Armstrong Park.
The Nagin administration then increased the award to $125,000, though it turned out NOJO needed only $101,731 to pay performers, staff and fees for the early 2009 ceremony. The remaining $23,269 was used for unrelated NOJO expenses, including paying musicians to record a CD called "Book One," WWL-TV reported in 2015. That album won Mayfield a 2010 Grammy Award.
The committee that oversees the Wisner Trust denied Markham's retroactive request to use the remaining funds in other ways, but the city never tried to claw back the money.
The largest grant Nagin sent to NOJO was $1.21 million to oversee the building of a sculpture garden in Armstrong Park featuring statues honoring Louis Armstrong, Big Chief "Tootie" Montana, Congo Square and other New Orleans music icons.
That project too was rife with controversy. Nagin awarded the construction contract to a convicted felon's firm and unveiled the Roots of Music Cultural Sculpture Garden just five days before he left office in May 2010. The Landrieu administration later found a litany of construction errors and had to hire a new contractor to redo parts of the project.
NOJO claimed all of that $1.21 million went to the artists.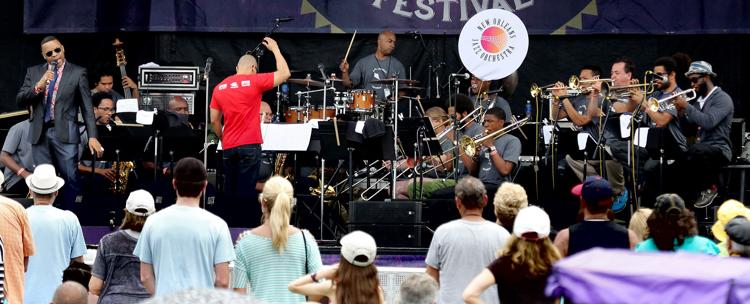 Yet Thursday's indictment alleges the Wisner grant payments were not just passing through NOJO's hands, but rather were crucial to paying its expenses. Audits show more than half of NOJO's revenues in 2009 came from the Wisner grants.
"If that orchestra doesn't have those funds, it may not survive, which means their salaries cannot be paid," said Rafael Goyeneche, president of the Metropolitan Crime Commission, which first referred the Mayfield investigation to the FBI in 2013. "We reviewed their tax returns from 2007, '08, '09 and '10, and they were operating at a deficit, until the library monies started to be accessed and funneled into the Jazz Orchestra."
The indictment also alleges Mayfield sent $150,000 in library donations to the Youth Rescue Initiative. It claims he routed that money to the Jazz Orchestra, and himself, throughout 2012. One payment from the YRI, for $77,000, came in December 2012, the feds allege, after Mayfield had officially left the YRI board.
The president of the YRI at the time was Jim Bernazzani, former FBI special agent in charge of the bureau's local office. After Mayfield served on the YRI board, he made Bernazzani an advisory board member for the Public Library Foundation without official board approval, according to comments made last year by the current Library Foundation chairman, Bob Brown.
WWL-TV asked Bernazzani last year about Mayfield's transfers and his use of an "Irvin Account." Bernazzani insisted the federal investigation would show "there's nothing there."
The station called Bernazzani about the latest indictment and did not hear back.