Party Packs
Lionizing Levity
Big cats will be back! Such was the thrill when folks assembled at the Audubon Tea Room for the event announcing the generous $5 million gift from Joy and Boysie Bollinger to support a new African lion exhibit at Audubon Zoo. No on-site roars have occurred for three years. The reroar and the lions' new home are planned for 2018.
Billed "A Roaring Announcement," the reception with cocktails and hors d'oeuvres encouraged safari attire. Taking that as a decorative cue, The Tea Room was transformed into an African safari lodge, complete with tenting, fire pits, couches and chairs for lounging, lush foliage, carved wooden animal statues and glass lanterns, evoking lodges where the kingly beasts roam in parts of sub-Saharan Africa. Guests were given "passport" name tags, pith helmets, novelty binoculars and animal-print scarves to complete the lodge "look."
Thanks aplenty tapped New Orleans Event Rentals, Pyramid Audio, Paper Doll Productions, Trinity Episcopal School, Foliage Systems, Kim Starr Wise Floral Events, and Hennessy Automobile Companies for creative contributions. Africa Brass provided the main event music, and Ivoire Spectacle, the African drummers and dancers. Audubon Catering and Audubon's executive chef Alan Ehrich came up with such tasty treats as plantain fritters, bhajias, crostini, African gumbo, pulled pork over African corn cakes and, among the beverages, a ginger and lemon grass iced tea from Sierra Leone.
From the table to talk. For remarks, the figurative spotlight turned to L. Ronald "Ron" Forman, president and CEO of the Audubon Nature Institute; the Bollingers – Boysie, whose given name is Donald, is the Audubon Commission's second vice president; Commission President J. Kelly Duncan; and ANI board Chairman Joseph A. Jaeger Jr.
More within the Leo legions were Boysie's sister, Charlotte Bollinger; John Georges, Advocate owner; 2017 Whitney Zoo-To-Do Chairwoman Caroline Reily and husband Bo; Audubon Commissioner Danny Conwill; Colleen and John Kotts; John Simpson and Pili Couceiro-Simpson; Lori and Bobby Savoie; and Frog, Terry, Hunter and Jane White. Also, Kevin Reilly, John and Machelle Payne, Leslie Gottsegen, and Audubon board members Hunter Cazes with wife Erin Romney-Cazes, Anne Long with Paul, and Wil Jacobs with Ingrid.
Throughout the evening, the "Roaring" roster congratulated and thanked the Bollingers, who are frequent travelers to Africa. Pride -- both what the Audubon Zoo will enjoy with the completed project and also the name for a leonine group -- was the operative word.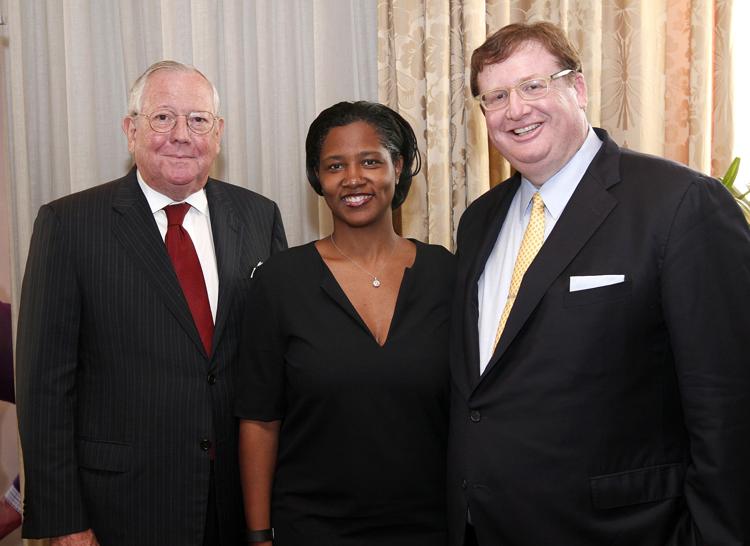 Presidents' Award
Within the past decade, Judge Carl J. Barbier, Perry R. Straub Jr., Stanley J. Cohn, Patricia A. Krebs, Brian P. Quirk, R. Patrick Vance, Timothy F. Daniels, Mark C. Surprenant, Walter J. Leger Jr. and Judy Y. Barrasso have been presidents of the New Orleans Bar Association, representing "the Highest Ideals of Leadership and Community Service." At the recent NOBA Presidents' Award reception at the Windsor Court Hotel, one of them was acknowledged in a dual role: the event's honoree. Take a bow, Patrick Vance.
A 24-page booklet covered highlights of his life, starting with his secret recipe of "a gumbo of family (spouse Judge Sarah and their son, Bobby), hard work (he's known as "one of the country's pre-eminent corporate bankruptcy lawyers and commercial litigators"), humor, and humanity with a dash of religion (a former seminarian), politics, and the occasional glass of fine wine." A crowd-pleasing photo of him in the booklet was as a successful angler. The caption read, "A rainbow trout outsmarted by Pat in Colorado."
A native son of Birmingham, Alabama, he graduated from LSU and started work at Jones Walker LLP, the "firm he would help grow into a corporate litigation powerhouse for the next 40 years." Among those extolling him and his professional prowess in statements in the booklet were Bill Hines, David Rubin, Ronald Trost, Judge Stanwood R. Duval Jr., Judge Jay Zainey (who added that Pat "always dresses like he stepped out of GQ magazine), Judge Carolyn King, Tim Eagan, and Judy Barrasso, who, as the NOBA president, delivered welcoming remarks during the ceremony.
Past presidents were then recognized. The Presidents' Award, the highest level of recognition from the Association, was then conferred and, moments later, Patrick Vance received the golden Fleur-de-Lis, whose three plumes stand for leadership, service and concern for the social and cultural well-being. He expressed his appreciation in the closing words of the ceremony.
Among those applauding him were spouse Sarah, Brent Barriere (husband of Judy Barrasso), NOBA President-elect Chris Ralston, Harry Hardin with Ellen, Russ Herman (the 2014 recipient) with Sandra, Richard House, David Marcello with wife Jane Johnson, Jack Weiss, NOBA executive director Helena Henderson, and Judges Lance Africk, Jerry Brown (a past NOBA president), Stan Duval with Janet, Jane Milazzo with John, and Jay Zainey.
Adding visual levity to the impressive gathering were the cutouts of Pat Vance, who sported a wrestler's belt. And a big smile.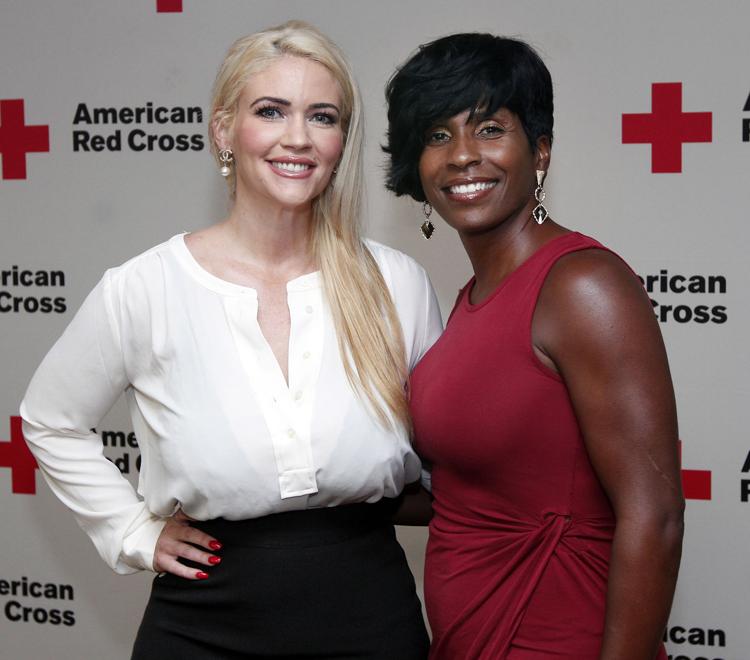 Distaff Power
"Celebrating the Power of Women," the Red Cross ("A Century of Serving Southeast Louisiana") held a luncheon in the Grand Ballroom of the Sheraton New Orleans Hotel. It was hosted by the Red Cross and its Tiffany Circle, a society of women leaders and philanthropists who invest $10,000 annually to their local American Red Cross chapter. Hailed as the 2016 Power of Women honorees for their significant contributions to the community were Kim Bergeron, Lynne Burkart, Tanya Harris-Glasow, Col. Cindy Haygood, Sandra Herman, Teresa Lawrence, McKenzie Lovelace, Diane B. Lyons, Marjorie McKeithen and Ingrid Rinck. Author ("The Southern Education of a Jersey Girl") and Bravo TV star Jaime Primak Sullivan was the keynote speaker. Teamed to chair the luncheon were Amanda and Justin Seale.
Launching "Power" was a 10:30 a.m. meet-and-greet, which allowed board members, honorees and Red Cross leadership to interact before the main event to which they, and Tiffany Circle cohorts, second-lined.
Among the features of the luncheon were rose table arrangements by Fancy Face Décor, a $100 Jewelry Grab by Kendra Scott, a brace of photo booths, chocolate confections by Mynnye Chocolates, Corporate Lighting and Audio's presentation and lighting, and a virtual demo showcasing the Red Cross' response to the Louisiana floods provided by R & D Design. Gumbo was the first of the three luncheon courses that finished with bronzed redfish and doberge cake.
More than 400 attendees made "Power" their midday concern. Noted were Red Cross board member Robert "Bob" Merrick with Sheryl, and from the Tiffany Circle, the above Sheryl, Elizabeth Boh with mom Katherine, Christine Briede with Otto, Patricia Brinson, Susan Currie, Jodi Eaton, Amanda Seale, and Kay Wilkins.