David Doiron surveyed the inside of the sanctuary at Savannah Branch Church of God on Monday afternoon. Fans had been set up to dry out the interior, and volunteers had cut away soggy drywall, ruined by the 2 feet of floodwater that came through early Saturday.
Doiron, the church's pastor, had gone to sleep in the sanctuary Friday evening with a wary eye on the nearby stream that gives his church its name. When he woke up in the middle of the night, the water was already rising inside the building.
"I felt like I'd been punched in the gut," he said.
It was the second time in less than six months that flooding wrecked the church and other buildings along La. 1078 near Folsom. 
Although Baton Rouge and surrounding communities took the brunt of the latest torrential rains and flooding, some of the hardest-hit areas in St. Tammany Parish this time around were among those that also had taken on water in March, when swollen rivers caused unprecedented flooding in the parish. 
And for some, the second half of that one-two punch came just as repairs from the spring flood were finally getting finished.
St. Tammany Parish braced Friday for expected record flooding on several rivers in the weste…
Savannah Branch Church of God didn't have flood insurance, Doiron said. Drawing on donations and volunteer help, the small congregation of about 35 members had nearly finished rehabbing the damaged sanctuary. It had new carpeting, doors and even new chairs that had arrived about a month ago.
In the parsonage, where Doiron and his wife live, a stack of new drywall and insulation that had been ready to install lay sodden on the floor Monday. The couple has been staying with their daughter's family in Ponchatoula for the past five months.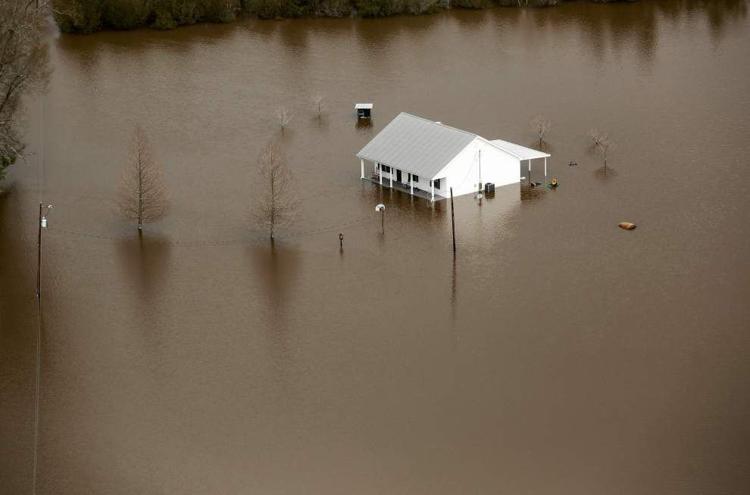 Inside the church's gym, volunteers were hauling out soaked furniture and clothing that had been donated by a church in South Carolina after the March flood.
A family that attends the church had been a week away from moving back into their home across the street, Doiron said. Now, they'll have to start over.
Chrisie Early was out at her family's horse farm off Bennett Bridge Road north of Covington on Monday afternoon, checking new damage to the home that originally belonged to her father-in-law. Her son had been living there when it was flooded in March, but because it is a second home, the family couldn't get help from FEMA, she said.
They've been slowly renovating it themselves, with help from First Baptist Church of Covington, she said.
The weekend flooding fell short of the March event, although she had to bring feed to their horses in a flatboat. Early was relieved that the horses, some of whom had young foals, were fine.
But the house is another matter. All the seams on the wooden subflooring are damp, and she's not sure what that will mean for the structure.
Other hard-hit areas were spared this time. Julie Ricketts said that all the homes in Covington Point subdivision, where she lives, took on water in March. The water came up quickly and without warning about 10 p.m. one night, she said, and no one had evacuated.
This time around, she said, neighbors sandbagged their homes, and many left. Ricketts stayed, however, and while she passed a nervous night Friday, "praying and drinking a lot of wine,'' the feared flooding never materialized.
Five months after the March flood, her renovation work is all but done, with only painting and new floorboards left to finish. The storage units that popped up in front of most homes in the neighborhood after the spring flood are mostly gone, which Ricketts sees as a sign that people are recovering.
She credits FEMA with helping quickly to provide upfront money, and she also got a loan from the Small Business Administration, which she described as "quite easy.''
But people who were dealing with their insurance companies seem to be having a harder time, she said, with long waits for adjusters and other headaches.
Classes, which were canceled Friday, resumed Monday at St. Tammany Parish schools, and the lone shelter that the parish had opened on Saturday was closed Sunday, after having housed only one person, parish spokesman Ronnie Simpson said.
Parish President Pat Brister has waived the permit fees for rebuilding flood-damaged homes and is asking residents who had damage this time to contact the parish at enforcement@stpgov.org or by calling (985) 898-2700.