After news circulated that a Saints season-ticket holder filed a lawsuit to recoup money spent due to NFL player protests, running back Mark Ingram had a simple response. 
"Good luck dude," read the end of a tweet from Ingram on Tuesday evening.
Lee Dragna, of Morgan City, filed the lawsuit Monday in 24th Judicial District Court in Gretna. The lawsuit is seeking a refund for the tickets as well as attorney's fees, claiming the protest by some players against police brutality and racial injustice has prevented him and his family from enjoying the games.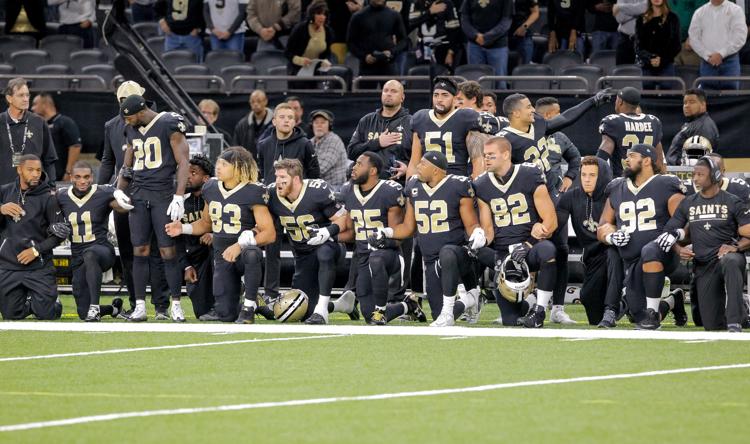 Dragna said he hasn't attended a game since the first home game of the 2017 season against the New England Patriots, on Sept. 17, when he said some of the players did not come out for the singing of the national anthem.
When they did come out, the suit says, "They passed directly in front of where the petitioner and his guests were seated. Many of the fans in that area booed and cursed at the Saints players."
Ingram also countered by pointing out the team hasn't demonstrated during the anthem since a Week 3 game against the Carolina Panthers. 
"The one time we protested an anthem was an away game. After a team meeting we decided to kneel as one BEFORE the anthem was played and STAND united as one DURING the anthem," Ingram wrote.
Dragna said Tuesday that the rowdy, angry reaction of the people around his seats has made the tickets unusable by him and his family, as well as customers he would otherwise give the tickets to.
A Morgan City man is suing the New Orleans Saints for a refund on his season tickets because some players have disrespected the national anthe…
He said the behavior of some fans upset by the protests — cursing, spilling beer — is "borderline dangerous," though he said he thinks the responsibility for that behavior ultimately rests not with the fans but with owner Tom Benson.
"The Saints created that behavior by condoning it," he said.
"It's my thought pattern that (players) should not be allowed (to protest)," he said. "If you sell tickets to a gaming event for entertainment, you should not be allowed to turn it political."
Dragna said he spent about $8,000 on the tickets, which are about 25 rows back on the 20-yard line. He asked the Saints for a refund and was turned down, he said.
Due to months of controversy over players kneeling or sitting during the national anthem before NFL games, a Navy veteran has said would not b…
"They don't even want to talk about this, but I don't care," he said. "One way or another they'll pay."
On Tuesday, Saints spokesman Greg Bensel said Dragna's lawsuit has been forwarded to the team's legal department and the organization would have no comment.