A state judge dismissed a lawsuit Wednesday that accused St. Charles Parish Sheriff Greg Champagne of refusing to release public records related to trips he and some of his deputies took to North Dakota to observe the Dakota Access Pipeline protests.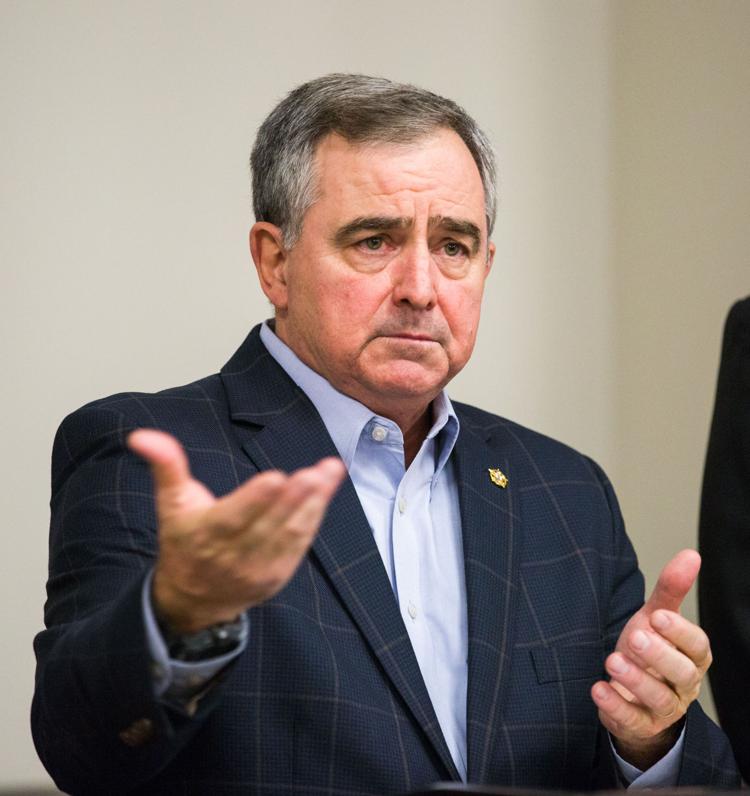 St. Charles Parish Judge Emile St. Pierre tossed the complaint, filed by the Center for Constitutional Rights, a nonprofit legal advocacy group, following a two-hour hearing in which Champagne was questioned at length about his response to a records request that sought a wide-ranging list of documents relating to the sheriff's 2016 travel.
The request also sought any communications between the sheriff and companies involved in the proposed Bayou Bridge pipeline in Louisiana, a controversial crude oil line that would stretch through the heart of the Atchafalaya Basin.
Champagne produced dozens of pages of records in response to the request, but his office did not address certain parts of it, prompting the New York-based advocacy group to file suit last month in 29th Judicial District Court.
The sheriff was president of the National Sheriffs' Association when he traveled to North Dakota, and he emphasized Wednesday that none of the travel was billed to St. Charles Parish taxpayers.  
The plaintiffs, however, took issue with the thoroughness of the sheriff's response, suggesting there could be electronic records related to his trip that his office made little or no effort to locate.
Their attorneys filed a similar lawsuit last month against Gov. John Bel Edwards' administration, seeking records of any communications between staffers and oil companies, among other documents. 
"We saw a dangerous blurring of the lines between law enforcement and private corporations at Standing Rock," Pamela Spees, an attorney for the plaintiffs, said in a news release, referring to the Indian reservation where thousands gathered to protest the installation of an oil pipeline. "Louisiana residents have a right to know what role local officials played in that situation and how it relates to events playing out closer to home."
St. Pierre ruled that Champagne complied with the state's public records law, ordering the plaintiffs to pay court costs. But Bill Quigley, a New Orleans civil rights lawyer who also represents the plaintiffs, said the Center for Constitutional Rights will appeal the ruling. 
"We're not accusing the sheriff of any criminal conduct or unethical conduct, but he has an obligation to show these materials to the public," Quigley said, adding it was clear from Wednesday's testimony "that there are other records out there." 
Champagne said after the hearing that the plaintiffs were trying to advance a "false narrative" that law enforcement "is in the pocket of oil companies."
He said a couple of deputies, including Capt. Pat Yoes, a longtime Sheriff's Office spokesman, traveled to North Dakota in part to combat the "political propaganda" protesters had been spreading about law enforcement agencies' response to the protests.  
"I still don't really know what the plaintiffs were looking for, but there's no smoking gun," the sheriff said, referring to the records request. "Is there a piece of paper or two out there that we may have missed? Yes. But we made a substantial effort to comply, and we get a lot of public records requests."