Starting March 13, New Orleans residents can submit applications for short-term rental licenses in advance of the April 1 deadline, according to the city.
Applications will be accepted at the Department of Safety and Permits in City Hall and through onestopapp.nola.gov.
The site at nola.gov/short-term-rentals outlines the regulations for those renting out rooms or entire homes to tourists through sites like Airbnb and provides the dates when the ordinances passed by the City Council will go into effect.
Under the new rules, short-term rentals will be allowed almost everywhere in New Orleans. Property owners will be able to rent a room in their homes, or an entire half-double if they live in the other half of the building, an unlimited number of times each year.
Entire properties in residential areas can be rented out for up to 90 days each year, and units in commercial or mixed-use properties can be rented out without time limits.
Short-term rentals will be banned in the majority of the French Quarter, where new hotels are prohibited, except for several blocks along Bourbon Street.
City officials have argued that new enforcement mechanisms — which start with fines and can escalate to cutting off the power to properties that violate the rules — will ensure that those renting out properties will follow the rules.
Those enforcement efforts, expected to cost about $920,000 in the first year, will be funded with the money collected from the rentals.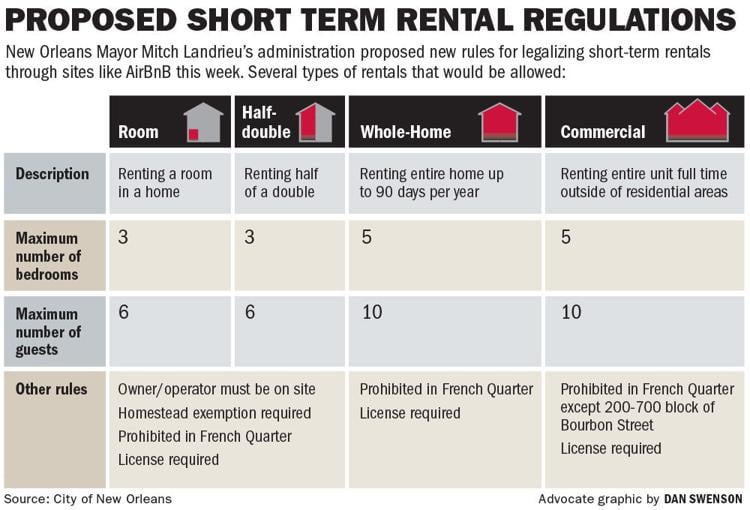 Related
As it prepares for the legalization of short-term rentals in New Orleans in the spring, the …