Plans to expand the National World War II Museum to add two new buildings, including a three-story Hall of Democracy Pavilion, received unanimous approval Thursday from the New Orleans City Council.
The project, part of a multi-phase expansion of the Warehouse District museum, will include exhibition space, classrooms, a library, offices and retail.
The council voted 6-0 in favor of the project, which is in Councilwoman LaToya Cantrell's district. Councilwoman Susan Guidry was absent.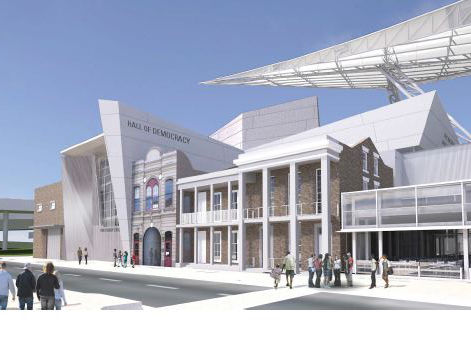 Council members praised the museum and its expansion plans.
Cantrell called it "a global asset for our community," and Councilman Jason Williams said the museum "puts New Orleans in very rare air in the country and internationally as well."
The more than 30,000-square-foot expansion is part of a $370 million project that will leave the museum at four times its original size. Thursday's approval was needed because of some changes to previously approved plans, including the addition of a third story.
The City Planning Commission recommended the changes last month.
In addition to the five waivers and 28 provisos recommended by the Planning Commission, the City Council also approved two changes that will reduce the amount of bicycle parking the project is required to have on the street and allow it to have more signage.