The former Capri Motel, a 1950s-style motor lodge, is a glaring example of what Tulane Avenue has become over the past half-century: a crumbling ruin that neighbors have suspected of being a hub for drugs and prostitution.
Now the Capri is coming down. Kevin Frischhertz, who bought the property in May for $3.3 million, started razing it last week and plans to throw up a slick new 200-unit apartment building in its place at 2424 Tulane Ave.
Frischhertz is not the only one scooping up property in the area. Developers with big renovation plans have purchased four dilapidated motels on Tulane Avenue this year.
Taken together, they represent another major bet on the future of a corridor that's been seen as up-and-coming for years, thanks to the construction of two enormous hospitals between Tulane and Canal Street.
These new projects will be among the most visible signs of a neighborhood finally turning the corner, bolstered by a freshly installed neutral ground being laid by the city and a crop of new bars and restaurants.
During Tulane Avenue's heyday more than a half-century ago, the busy corridor was lined with motor lodges like the Capri. It was the main artery into New Orleans from Jefferson Parish and Baton Rouge and marked one end of U.S. 61, a highway running north to Memphis, St. Louis and beyond. But that all changed after Interstate 10 and the Pontchartrain Expressway were built in the early 1970s.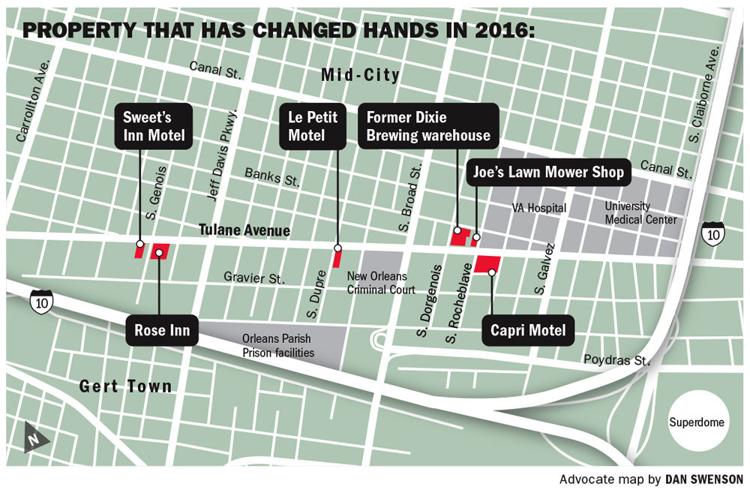 After that, most visitors to New Orleans abandoned the avenue, causing the motels to struggle before most eventually shut down.
Recently, though, Tulane's fortunes have turned, thanks largely to the construction of the $1.1 billion University Medical Center, which opened last year, and the $1 billion Veterans Affairs Medical Center that's slated to open in stages later this year and in 2017.
New jobs from the health care facilities have propped up demand in the surrounding area, said Sherif Ebrahim, a professor of strategy and innovation at Tulane University.
"Tulane Avenue seems to be an area of opportunity for development because it offers proximity and ease of access to many areas of the city for professionals, residents and other businesses," he said.
Already, developers have noticed. In quick succession, four of the few remaining Tulane Avenue motels — including the Capri — have changed hands this year. The flurry of activity has made neighbors optimistic that the area has turned a corner after years of dealing with graffiti, blight and prostitution.
"We didn't want to get on their backs, hassling them in any kind of way," said Roux Merlo, a board member of the Greater Mid-City Business Association. "My philosophy was that this was going to go away. It's a decades-old problem with the prostitution. It's nothing new. All along, we were just waiting on the hospitals."
Roadway improvements
Though the torn-up roadway has scared off some customers, local business owners credit some of the turnaround to an $11 million project underway to improve the avenue, including adding bike lanes and new landscaping, as well as a median with left turn lanes. For the first time in memory, drivers will be able to make left turns all along Tulane Avenue.
The project, a combination of work paid for by the city and the state, is slated to be finished by August, although some locals are skeptical about that date.
"That's the light at the end of the tunnel," said Keith Magruder, the owner of SideBar, a cocktail lounge that opened last year at 611 S. White St., a few steps off the avenue. "Hopefully, once everything really gets moving, you get more foot traffic, but right now people are still kind of leery about walking down Tulane."
Bullish on Tulane's revival, the latest motel buyers are both local and from out of the state, and a couple are entering the hospitality business for the first time. They're setting their sights on a few segments of travelers: those in town for the medical facilities, for example, or millennials interested in exploring the city beyond the French Quarter but still eager to be near the action.
At the Capri site, Frischhertz plans to offer market-rate apartments catering to nearby health care workers. "If the hospital wasn't there, we wouldn't have purchased the property," he said.
Buffalo, New York, native Ben Kulick, who purchased the former Sweets Inn Motel at 3610 Tulane Ave. in June for $550,000, is intrigued by the prospect of owning a small motel.
Kulick isn't a total novice: He has bought and rehabbed apartment buildings elsewhere. He plans to renovate the Sweets Inn into The Benjamin, a 19-room motel that he described as "a boutique that's kind of funky."
"I think it will be kind of fun to run a motel and to make a place where people want to come and stay," explained Kulick, who said he has lined up financing and hopes to open this year. "Everyone needs an apartment. Not everyone needs a motel; only when they're going to be on vacation, which is a fun experience."
Lifting all boats
Meanwhile, Zach Kupperman, a local lawyer and developer, is renovating the Rose Inn Motel, a 20-room, two-story property at 3522 Tulane Ave. An adjacent three-bedroom building may become a small bar.
"There's a tremendous amount of promise," he said of Tulane Avenue. "A rising tide lifts all boats."
Kupperman bought the Rose in February for $675,000. He liked its size and location, and he said it's in relatively good shape for a historic building. After a complete renovation, he hopes to open by the end of the year.
"It'll be bringing it back to what it looked like," he said of his design plans. "Some changes to modern elements, but part of what we want to do is bring it back to what it looked like at the time it was built."
Another now-shuttered Tulane Avenue motel, the Le Petit, at 2836 Tulane Ave., was sold in April for $725,000 to San Francisco restaurateur Nicholas Fasanella and Devin Vermeulen, an architect-designer in New York.
The two men, longtime friends who are jumping into the motel business, plan to restore the Le Petit to its heyday appearance. "We're going to (put back) the big neon signs out front," said Vermeulen, whose wife lived in New Orleans post-Katrina.
When it reopens -- possibly by early next year -- the motel will have 26 rooms and a 50-seat restaurant, run by Fasanella, that is expected to stay open 24 hours. The menu will offer "elevated diner food," Vermeulen said, as well as alcohol, representing a late-night option for nearby workers and travelers and adding a new presence to an otherwise desolate stretch after dark. 
"We want to be the place that (New Orleanians) tell all their friends to stay at when they come into town," said Vermeulen, who hopes the renovation will cost less than $2 million.
Other nearby properties also have changed hands recently.
In April, New York developer Jeffrey Feil purchased a former Dixie Brewing Co. warehouse at 2537 Tulane Ave. for $5.6 million. Feil is chief executive officer of the Feil Organization, a real estate management and investment company with several retail, residential and office space holdings in the New Orleans area, including Lakeside Shopping Center in Metairie.
This year, Feil also purchased the former Joe's Lawn Mower Shop at 2501 Tulane Ave. for $740,000.
A matter of time?
As New Orleans continues to thrive as a tourist destination and as interest in living in the heart of the city has been driving lots of residential construction in and near the Central Business District, some city officials say it was only a matter of time before Tulane Avenue would benefit from a ripple effect.
"Even if the two hospitals didn't exist, I think we would be seeing the pressure for Tulane Avenue to come back," said Rebecca Conwell, Mayor Mitch Landrieu's senior adviser on economic development, who described it as "a natural progression."
Tulane Avenue business owners who banked on the new medical facilities and opened in the past year also credit a few early urban pioneers, including Trèo, a bar at 3835 Tulane Ave., and Avery's Po-Boys at 2510 Tulane Ave.
Pauline Patterson, Treo's co-owner, said she's noticed fewer obvious signs of prostitution since the cocktail bar opened in early 2014.
The ongoing street work has slowed business, she said, and she'll be thankful when it's finally over. By then, she said, Tulane Avenue could take on a new life, just as Freret Street has taken on new activity in recent years.
"I think the perception is just going to skyrocket, because you can only look at brown and gray for so long," she said. "Once we get the grass in there and a few trees and a nice shiny road, that's going to have a bigger impact psychologically."
Co-owner Christy Pitard also has seen improvement since Avery's opened in 2012. Having the motels cleaned up, she expects, will fast-track that progress.
"There's a lot of places that have come and gone since we've been here," she said. "We're hard-headed and determined, and everything that we have is poured into this, so it's important. But it's definitely gotten to the point now where we're hoping that there will be some relief soon."
It'll be a welcome addition if all the new developments breathe new life into the avenue, especially in the evening hours, when it once felt like a ghost town.
"There's going to be more mouths to feed, more people," Pitard said. "Regardless of it being Tulane Avenue, after dark there's nothing going on besides us, so it'll be nice to have other people here with us so people will be less afraid to walk down the street. It won't be just us with two blocks of empty space."