After three days in winter's icy grip, southeast Louisiana began to thaw out on Thursday, leaving behind busted pipes and broken mains that could leave many throughout the New Orleans region with so little water pressure that simple necessities such as drinking unboiled water or even flushing the toilet may not be possible for days.
That left hospitals struggling to keep water flowing for patients, travelers stuck without restrooms in airport terminals, schools unable to open, and residents and tourists alike unable to make use of basic facilities.
New Orleans and Jefferson Parish called for wide-ranging boil-water advisories as pressure dropped on Thursday, and they were just two of the 28 parishes where keeping the taps running proved difficult or impossible in the wake of the week's frigid temperatures.
Thursday's thaw may only have exposed more problems with the various water systems, as melting ice revealed the extent of the gushing wounds they suffered during the freeze.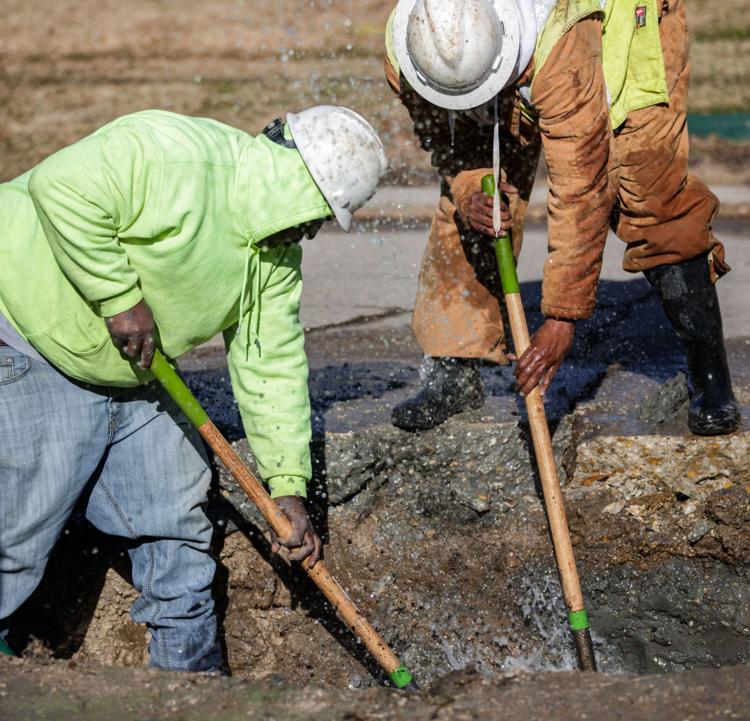 While Jefferson Parish President Mike Yenni said officials hoped to have the parish system back to normal pressure by Friday evening and to lift the boil-water advisory on Saturday, New Orleans officials said they wouldn't even be able to estimate the damage until Friday morning.
"We've got a difficult couple days ahead of us," Mayor Mitch Landrieu said.
In the meantime, city and parish officials asked residents lucky enough to have running water to use it sparingly and avoid running appliances like washing machines and dishwashers that could further tax the system.
While New Orleans is no stranger to boil-water orders, Jefferson hasn't issued a widespread advisory since before Hurricane Katrina.
But the current crisis is a different beast from the advisories caused by brief power outages or water main breaks. In previous events, pressure was typically restored almost immediately and warnings to boil water lasted just a day.
Now, the city faces the prospect of several days in which many homes and businesses will see only a trickle coming from their faucets and may essentially lack a working water system altogether.
Problems with low water pressure began in both parishes Wednesday evening. New Orleans East dipped below 15 pounds per square inch, the threshold that triggers a boil-water advisory because it can allow contaminants into the water system. Also that night, Jefferson Parish warned that its system was being overtaxed and pressure was beginning to drop.
By Thursday morning, the full east banks of both parishes were under advisories that urged residents to boil water for a full minute before consuming it. Those without health issues can still shower, bathe or brush their teeth, but they are urged to avoid swallowing any unboiled water.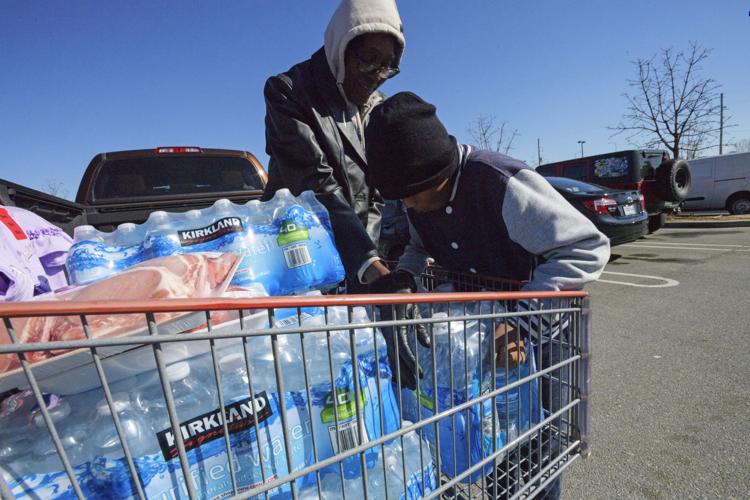 The main problems facing both water systems are oddly connected: residents running their taps to avoid having their pipes burst and the inevitable leaks and gushers on both private and public property that occurred anyway when pipes broke.
With the below-freezing temperatures gone south of the lake, officials in both parishes urged residents and businesses to shut off the taps and focus on reporting any leaks they see.
Jefferson Parish crews repaired 72 broken water pipes on the east bank on Thursday, Yenni said.
The New Orleans Sewerage & Water Board was dealing with plenty of its own, including five broken water mains, though their status Thursday evening was not clear.
The S&WB also dealt with several large commercial properties with significant leaks overnight Wednesday, a process that was complicated because many of those businesses had shut down for the evening, said Interim Executive Director Marcie Edwards.
The S&WB's Carrollton water plant pumped 177 million gallons of water on Thursday, 42 million more than normal, Edwards said. While the plant itself was able to keep up with that demand, water gushing from broken pipes throughout the system — which already loses 40 percent of the water it transports on a typical day — created the problems, she said.
Such issues were not limited to the metro area.
About 858,500 people in 28 parishes were under a boil-water advisory by the end of the day Thursday, roughly 62 percent of them in Orleans or Jefferson, according to the Louisiana Department of Health.
The agency received 55 notices of boil-water advisories during the day, five times more than normal, communications director Robert Johannessen said.
For the most part, those warnings covered only specific water systems within a parish and were less extensive than the advisories issued in the New Orleans area.
Officials were also preparing for more problems as pipes continue to thaw out around the state, Johannessen said.
While New Orleans area businesses have become accustomed to boil-water advisories, the system failure comes at a major cost and inconvenience, especially for large institutions like LCMC Health, which manages several hospitals, including Children's, Touro, University Medical Center and West Jefferson Medical Center.
LCMC spokeswoman Mary Beth Romig said the hospitals have strict emergency protocols, which include bringing bottled water to each patient's bedside for drinking and brushing teeth. They also take food safety precautions, including purchasing ice from outside the affected area, using disposable plates and utensils, and providing waterless soap and sanitizing cloths for washing.
Ochsner's main campus on Jefferson Highway and East Jefferson General Hospital both had to switch to well and bottled water at various points during the day, Yenni said.
At Tulane University, officials had a similarly difficult task, with 4,200 students living on campus and no potable water for them.
"I hate to laugh, but we've done this enough times that we have a process," said Rob Hailey, the senior associate vice president for campus services.
The university, which canceled classes and kept employees at home to minimize problems, had stockpiled about 15 pallets of bottled water at its stadium, which were mostly used up by Thursday. Hailey said he placed an order with Coca-Cola for another 15 pallets, which were set to be delivered Thursday afternoon.
The university ranks high on the company's list for emergency water deliveries. "We are right in line behind the hospitals," he said.
Hailey said Tulane was not experiencing problems with flushing toilets or working showers, but other entities weren't so lucky.
Edgar Lazaro, president of Event Restroom in Gretna, said he was overwhelmed with calls for portable restrooms and toilets. By the end of the day, he was out of stock, as were his competitors. 
"We've gotten calls from shopping centers, restaurants, movie sets ... you name it. I think every type of business has called," he said. "Everyone has exhausted their resources now. People are having to call companies in Gulfport, Baton Rouge, Lafayette, to find what they need."
The freeze also shut down many roadways including highways, though state crews were able to open the interstates throughout the New Orleans area on Thursday.
At Louis Armstrong International Airport, the water pressure was so low that restrooms were taken out of service and food options were limited. Officials also said they were worried about the building's heating system, which relies on boilers.
As for schools, all public and some Catholic campuses in Orleans, Jefferson and St. John the Baptist parishes will be closed Friday for the third day in a row. The University of New Orleans, Southern University at New Orleans and Delgado Community College also canceled classes for Friday.
Staff writers Martha Carr, Jessica Williams and Ian McNulty contributed to this report.