In a city that prides itself on its tree-lined streetscapes, residents and business owners in the Central Business District are wondering what would compel someone to drill holes in the trunks of eight pistachio trees in the 800 block of Baronne Street and poison them with herbicide.
"It's a mystery," said Danae Columbus, who lives above her Baronne Street shop, Nola Pearl Girls. "Who would want to poison a tree? And why?"
The city confirmed the poisonings Thursday, but further details were scarce.
City Hall spokesman Hayne Rainey could not say what kind of trees were left unharmed in the 800 block, which might shed some light on whether the arboreal assassin wanted all trees dead or just the ones he or she got to.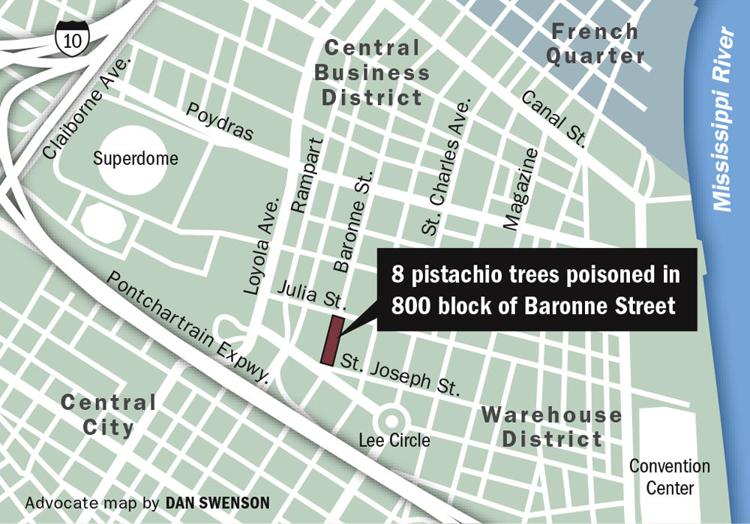 It's not clear when the poisonings occurred, but Baronne Street resident Jan Bertman and some other neighbors last week noticed some bare pistachio trees with little holes — less than an inch in diameter — drilled at an angle into their trunks.
She emailed the city's Parks and Parkways Department, saying she feared someone might have done so to poison them. Earlier this week, an arborist came out and confirmed her fears: Someone had indeed drilled the holes and poured in herbicide.
"Unfortunately, the trees are dying, and there is nothing we can do to reverse the effects of the herbicide at this point," the city said in an email to Bertman. "We have provided this information to the Downtown Development District and intend to discuss the removal and replacement of the trees with them at a later date."
The city would say only that officials are investigating with the DDD and the LSU Agricultural Center to find out who did it.
DDD spokeswoman Devona Dolliole said interviews with nearby merchants and residents and a review of security camera footage could provide the clues to crack the case.
The city's code of ordinances prohibits the damaging of trees in public places. Each count could carry a penalty of up to six months in prison and a $500 fine.
Follow Chad Calder on Twitter, @Chad_Calder.