Fluffy flakes and slushy drifts, mixed with icy rain and sleet, fell across the New Orleans area Friday, with areas of the north shore and Baton Rouge seeing a significant accumulation of snow for the first time in nearly a decade.
Northern St. Tammany Parish saw several inches of snow build up over the course of the day as predictions of a wintry mix gave way to freezing temperatures.
The rare South Louisiana snowfall was accompanied by the usual problems and annoyances — power outages, minor car wrecks and flight delays — though no major problems had been reported by mid-afternoon.
One of areas that saw a significant accumulation was the village of Folsom, in northern St. Tammany, where snow started falling in the early morning. It didn't let up.
Cheri Williams said she spent the day there with her daughter, Amanda, and two grandchildren, who were off from school and at her house because their Loranger home lost power.
"I think it's beautiful," she said. "We'd go outside and play, then back inside, then back outside to play. We've done that all day." 
Up to 4 inches of snow fell in northern St. Tammany, with 1 to 3 inches falling near Covington and farther south near the lake, said Alek Krautmann, a meteorologist with the National Weather Service office in Slidell.
But with temperatures expected to continue falling overnight, Krautmann warned that motorists should take care in the event that ice forms on roadways. A freeze warning is in effect.
At Louis Armstrong International Airport, 69 flights were delayed and 53 were canceled as the bad weather rolled through. Most of the flights affected were on Southwest and Delta airlines.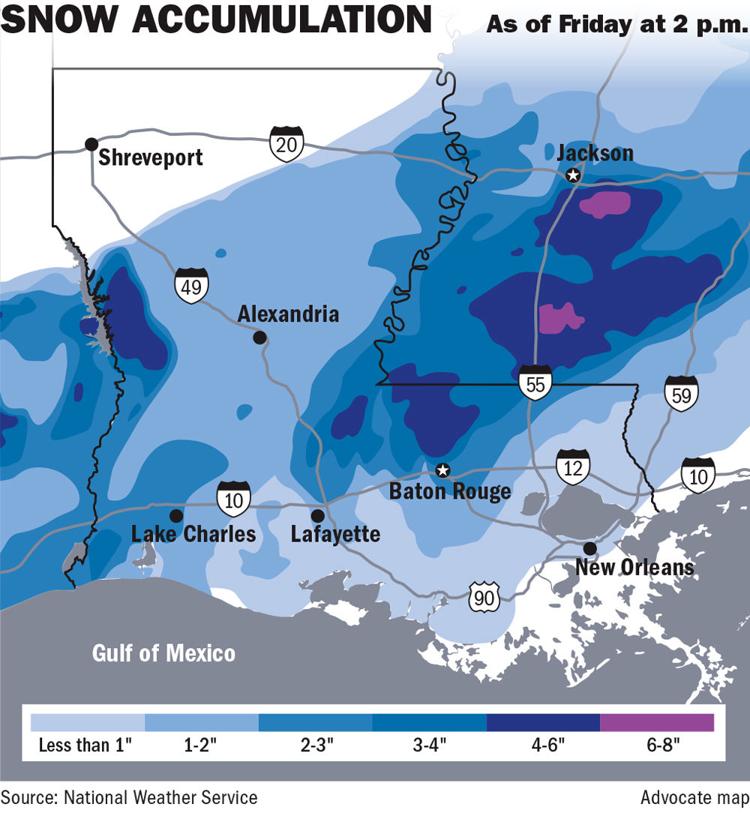 The last time snow was recorded at Armstrong International was in December 2009, but the last significant snowfall was in 2008, when several inches fell across the area, with a high of 8 inches recorded in Kentwood in Tangipahoa Parish.
With more snowfall expected through the afternoon, Friday's storm seemed to be on track for similar totals, Krautmann said. About 6.5 inches had fallen in Kentwood by 1 p.m., he said.
Friday's storm stretched across the South, with flurries or more reported in parts of Louisiana, Alabama, Mississippi and Georgia. Baton Rouge and nearby parishes saw between 2 and 3 inches of snow during the day. 
A spokesman for Louisiana State Police Troop L said its troopers had worked 63 weather-related crashes since 5 a.m. Friday, though none involved serious injuries. Troop L includes St. Tammany, Tangipahoa, Washington and St. Helena parishes.
Troopers led convoys of vehicles across the Lake Pontchartrain Causeway and the Bonnet Carre Spillway throughout the day in an attempt to minimize crashes.
The south shore and the River Parishes got just a tease of snow, with large flakes falling in flurries between showers of freezing rain.
The weather had not caused any major problems in those areas by mid-afternoon, though officials said dump trucks with sand remained on standby in case ice formed on bridges or elevated roadways.
Mike the Snow Tiger? Has a nice ring to it. 
It was a different story on the north shore.
Along Mandeville's lakefront, knots of people gathered to roll snowballs big enough for snowmen. At the harbor playground, Jonathan Frost and Beth Readhead had brought their 5-year old son, Noah, out to play on the snow-covered equipment.
"It's crunchy and tasty," Noah exclaimed, sticking out his tongue and stomping his feet.
A few miles away, in the Quail Creek subdivision, five boys ranging in age from 11 to 16 were scraping snow off cars and hurling it at each other in an escalating snowball fight. 
Near Folsom, tree branches were coated with ice, causing some to lean and and hit power lines. Cleco reported 1,000 customers lost electricity during the storm.
Elizabeth Stelz, who owns Stelz Nursery near Barker's Corner, was one of the few north shore residents who didn't welcome the snow.
Her concern was for her greenhouses, which can collapse under just an inch of snow and can cost up to $35,000 to replace.
"Everyone's like, 'It's so pretty,' " she said. "We hate the snow."
Staff writer Faimon A. Roberts III and the Associated Press contributed to this report.
Every once in a while Mother Nature rewards the Baton Rouge area and south Louisiana with a little snow.