Most folks in south Louisiana will make it to a Carnival parade sometime this month. They'll stomp their feet to the beat of the marching units and sing along with the bands. They'll scramble for cups and beads, and they'll guzzle cold drinks and scarf down king cakes and fried chicken.
But they probably won't realize the amount of energy that goes into staging the pomp and circumstance: A lengthy list of to-dos are being checked off behind the scenes long before the first float hits the streets.
Members of the 1-year-old Slidell Krewe of Poseidon reflected on their recent first-hand experience creating a Carnival krewe. (This year will be even bigger, with 30 floats.)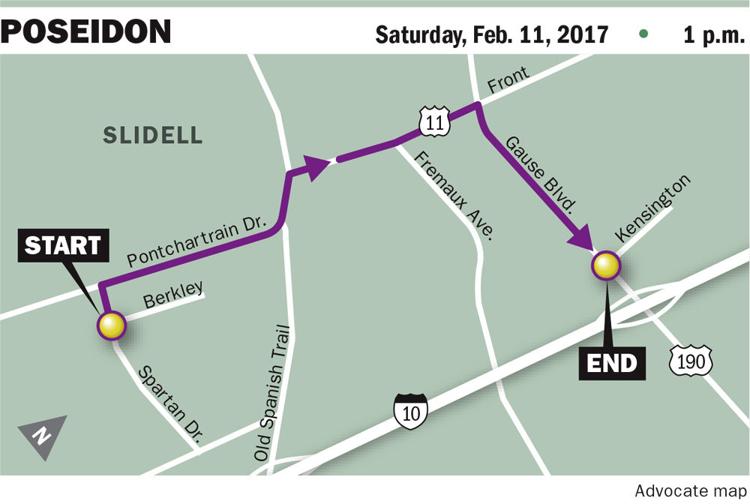 It's a labor of love, said captain Ronny Kastner and club president Jack Hutchison — with an emphasis on both "love" and "labor."
For example, when they were leading the effort to stage the first Krewe of Poseidon parade last January, the men made 1,300 calls to one another in just a few months.
That didn't include the conversations they had in person while selecting a parade theme, inspecting design sketches for floats, helping coordinate police details, ordering countless throws, having costumes made — the list goes on.
And on. And on.
"It was a huge undertaking," Kastner said. "When we decided we wanted to bring this parade to Slidell, it was going to be a two-year project. But our members asked us to expedite that, so we got it done in a year."
Doing so, however, put a tremendous amount of pressure on Kastner, Hutchison and the other seven officers of the club (who along with the president, are voted into a four-year term by krewe membership. The officers select the captain.)
"There were a lot of requirements to meet," Kastner said. "The city only allows a limited number of parades, and you are supposed to be an organization for a full year before you can parade.
"We didn't have that, but we did have tremendous growth quickly. We sat down with the city and gave them our business model and what we had. They gave us the green light."
Mardi Gras was early in 2016 (Feb. 9), and Poseidon led the Slidell parade calendar on Jan. 10. Even though the krewe was 435 members and 25 floats strong, both Kastner and Hutchison admitted there were plenty of nerves when they made the turn from Spartan Drive onto Pontchartrain to start the show.
"Only when we rounded the corner and saw the crowds, that's when we saw them," Kastner said. "The crowd was there. It was an amazing feeling."
Poseidon prides itself on a creative model that allowed for early success. The krewe is co-ed, and dues are kept low — $275 per member — compared to krewes of similar size around the metro New Orleans area. It costs Poseidon, however, $450 to put a rider on a float (costumes, floats, insurance, etc.), so the krewe holds several fundraisers throughout the year to bridge the gap.
A benefit golf tournament, fish fries and the like are fun, but the lion's share of the krewe's budget is spent on the parade — their signature event, Hutchison said. Officers also have been prudent with the krewe's cash, having some unique props made that can be re-used from year to year and purchasing costumes in bulk that, with proper care, also can be recycled.
The krewe also has parade sponsors with their business names associated with all krewe events, including the ball, which is held in the summer. Krewe members also waived signs on street corners a day or two before the 2016 parade to let passersby know when the first-year krewe was rolling.
The formula worked. In 2017, Poseidon will have more than 500 riders aboard 30 floats when it takes to the streets at 1 p.m. Feb. 11. They'll travel the traditional Slidell route (from Spartan Drive and Pontchartrain Boulevard, down Front Street and Gause Boulevard before ending at Kensington Boulevard).
The 2017 theme will be "Myths and Legends," and floats depicting unicorns, Robin Hood, Spartans, genies and the Loch Ness Monster will be highlights.
Word has spread about the krewe in its short existence, Kastner said. He noted that local Carnival historian Arthur Hardy said Poseidon was the best debut parade of 2016. Couple that endorsement with similar reviews from paradegoers last year, and much bigger crowds are expected this go-round.
Both captain and president, who have ridden in other parades on both the north and south shores, say attention to details such as masked riders, elaborate headdresses for maids, Mardi Gras Indians and more make the procession attractive beyond the tens of thousands of logoed throws members will throw.
"In one year, we're already the largest krewe on the north shore and one of the top 20 in all of Carnival," Kastner said. "But our goal isn't to be a 'super-krewe.' If we can maintain our membership, we'll be happy. You can have a great parade and a great ball with that number of people, and you can do a lot of philanthropy. And that's exactly what we're hoping for."
Carl and Holly Hodge will reign as 2017 Poseidon royalty. The Victory Belles will serve as female grand marshals, and "Big Brother" cast members Victor Arroyo of Slidell and Paul Abrahamian of Los Angeles will be male grand marshals. For information on the krewe, its parade or membership, visit the Facebook page, Krewe of Poseidon, or follow the group on Twitter, @kreweofposeidon.