During her 79 years, Carol Scheuermann worked occasionally as a secretary for a local high school, and for a local newspaper. But more than anything, the woman her family calls "Granny" has been a devoted wife, a mother of nine children and a grandmother to 23.
But a few years ago, after her husband Karl passed away, Scheuermann became forgetful. She moved in with one of her daughters, but her health continued to decline. By early 2014, she was living in a memory care center in Covington, and then another in Mandeville.
Returning home under hospice care, she fell and broke her hip. She then moved in with a son, and spent some time in a nursing home.
Scheuermann has Parkinson's disease, dementia, high blood pressure and is nearly blind. She has not walked since she broke her hip. When another memory care center where Scheuermann was staying informed the family that she would have to move, they didn't know where to turn.
Hospice Foundation of the South's Hospice House was their answer. They first heard of it through a home health nurse and social worker who had been assisting Scheuermann. In what her son, Karl Scheuermann Jr., called "a whirlwind week," they were put in contact with Kathy Busco, director of the foundation. They toured the home west of Slidell, and they moved Scheuermann in on June 15.
It was a bittersweet day for Scheuermann's family, knowing that her new home probably will be her last. Tears were shed as they recalled healthier and happier times in her life, but they all were comforted by the welcoming environment, and the staff that Karl Scheuermann Jr. said has been "so warm and caring."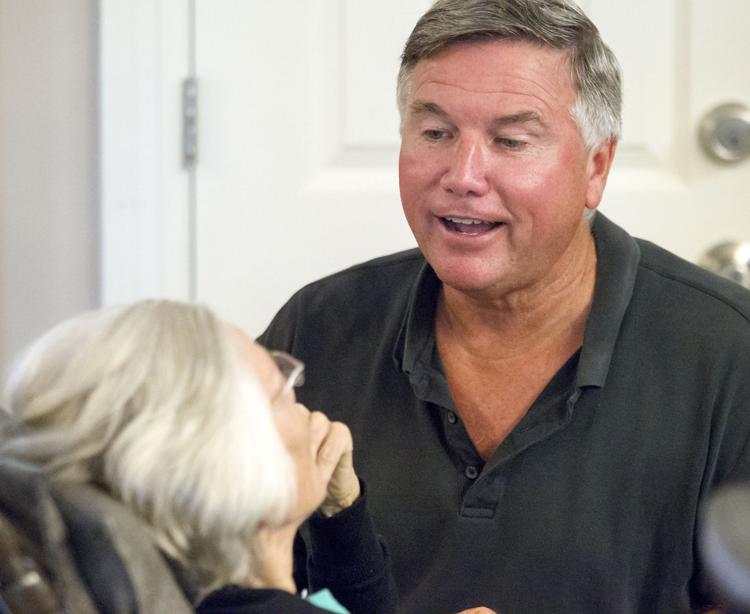 "You get to the point where you need to do something, and you don't know what to do," he said. "They don't teach any of this in high school or college. You use your network of friends and acquaintances to find out anything you can. Your choices are limited."
That's why the Hospice House exists. Opened in March 2014, it is a 3,600-square-foot home with three bedrooms, six bathrooms, a full kitchen and breakfast area, a living room, covered patios and office space.
Ninety people have spent their final days in the house. The longest time anyone has lived there is 11 months; the shortest is half an hour.
Some were surrounded by family and friends when they passed, and others only were with one of the caregivers who operate the house around the clock.
The Hospice House is non-profit home, financed through donations and fundraisers the Hospice Foundation of the South holds throughout the year. The largest is the annual spring crawfish cook-off at Fritchie Park.
The home does not accept insurance, and is not a medical facility. Home health aides from Home Instead Senior Care, volunteers and foundation staff care for the patients in their final days. The land it's on was donated by the Johnny F. Smith Foundation, and the home is paid for, though it takes $190,000 a year to pay staff, utilities and the like.
It's the only facility of its kind in St. Tammany Parish. Not surprisingly, there is a waiting list to get in the home, which often is at its three-client capacity.
"This is about giving back to the community," said Busco, the foundation director. "We don't want any of the red tape with Medicare or Medicaid. This is a non-profit service … You know you're helping the people here, but a lot of (clients) aren't cognizant (of their situation). It's truly the families you're helping. They're really grateful. One person we lost last week, the family wants to buy new furniture for the room … We know we're helping them."
Each person who comes to the Hospice House is unique, she said. One was a 91-year-old woman whose 86-year-old husband wasn't well enough to care for her. Another was a young man with pancreatic cancer who didn't to want to pass away at home, where his children would be present.
A woman with breast cancer could no longer climb the steps to her home, which was raised 19 feet above ground.
"Twenty-four-hour-a-day care is hard (on families who want to take care of their loved ones,)" Busco said. "Sometimes it's more than people realize. And when it's upon you, time is of the essence … People say 'I don't know what to do. What are the criteria, the rules, the regulations?' You just have to talk with them, and you have to listen."
That's a lot like what happened with Carol Scheuermann's family. When the memory care center where she was staying said they couldn't help her any more, the family needed a place to go, and they needed someone who understood their dilemma.
They found that place, and told Busco as much while gathering in the Hospice House kitchen. A few moments after their arrival, home health aide Denesha Strong wheeled Scheuermann in for the family to say hello.
Though she couldn't see them, Carol gazed intently in the direction of her children's voices. They held her hands, kissed her cheeks, nuzzled against her face. Karl Scheuermann Jr. prompted his mother to hum a few bars of a song they sang years ago. She remembered a few notes, and the family's smiles widened as if they had reconnected with an old friend.
Strong has helped care for Carol for four years now, and she teared up as the children hovered around their matriarch, relishing the moment they shared.
"This is a special time for families and loved ones, and to be here from the beginning to the end is important," Strong said. "She has a big family, and I don't have any grandparents left. So she's what I have. She's my Granny, too."
For more information on the Hospice Foundation of the South, the Hospice House or how to donate, go online to www.hospicefoundationofthesouth.org.