Frank Treme says his congregation at Bayou Baptist in Slidell is resolved to rebuild and move on but also feeling angry and worried after the second act of arson to strike the church in less than a year.
"They don't know why people are doing this," Treme said. "We didn't do anything to them."
Pastor Frank Treme didn't think his church could possibly be in danger when he got a call Th…
The first fire, in late October, was found to have been set intentionally, but no arrests were ever made, according to Chad Duffaut, spokesman for St. Tammany Fire Protection District No. 1.
That fire was set in the classroom wing of the church building on Sullivan Road, using paper and boxes, Duffaut said.
Saturday's fire, which destroyed the sanctuary, appears to have involved accelerants. Samples have been sent to the Louisiana State Police Crime Lab, Duffaut said.
The ATF, the State Fire Marshal's Office, the Slidell Police Department and the St. Tammany Parish Sheriff's Office are investigating along with the fire district. Crimestoppers is also offering a $2,500 reward, Duffaut said.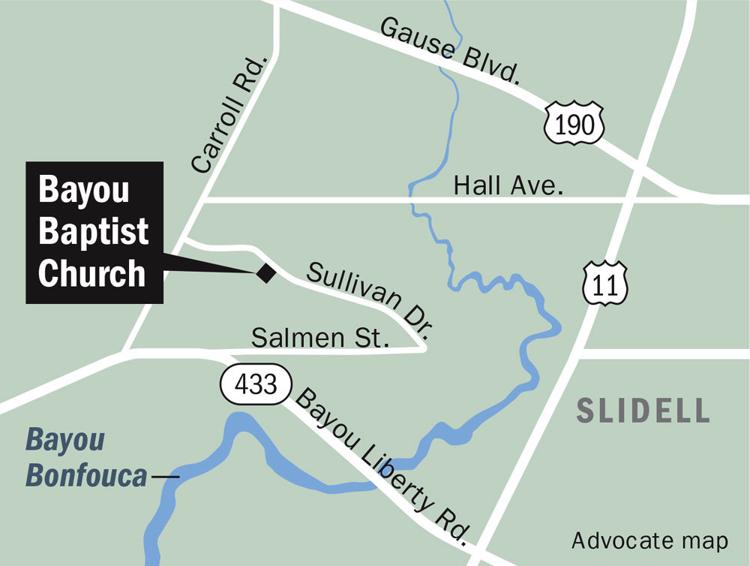 Investigators are not ruling out anything, including the possibility that the same person or people set both fires.
For Bayou Baptist, this is a third blow. The 50-year-old church took on almost 4 feet of water during Hurricane Katrina and had been renovated with the help of volunteers and donations. Last October's fire caused heavy damage to about half of the building and smoke damage to the rest.
Rebuilding this time around had just started a couple of weeks ago, church member Clarence Powe said. But since the sanctuary was slated for demolition, the fire was not a setback, he said.
Plans call for rebuilding to take five to six months, Treme said, so the congregation is hoping to move in late this year or early next. In the interim, Bayou Baptist has been holding services in a building at Covenant Baptist on Robert Boulevard.
Treme said that the congregation continues to pray for strength and guidance, and members have stayed committed. The church has even gained some members since the last fire, he said.
While it's not clear whether the fire is the work of the same arsonist, the latest blaze does seem to have targeted what was left standing, Treme said, and that brings the worry that they will try again.
"We're walking by faith. There's always that possibility, but we're here and we're staying here," he said.
Follow Sara Pagones on Twitter at @spagonesadvocat.