Cardell Hayes will appeal his conviction on manslaughter and attempted manslaughter charges in the killing of former Saints defensive lineman Will Smith and the shooting of Smith's wife, Racquel, defense attorney Jay Daniels said Thursday.
Daniels did not specify any grounds on which he and attorney John Fuller would seek to have Sunday's guilty verdicts overturned.
Criminal District Court Judge Camille Buras has set a Feb. 17 sentencing date for Hayes, who faces from 20 to 40 years in prison on the manslaughter count.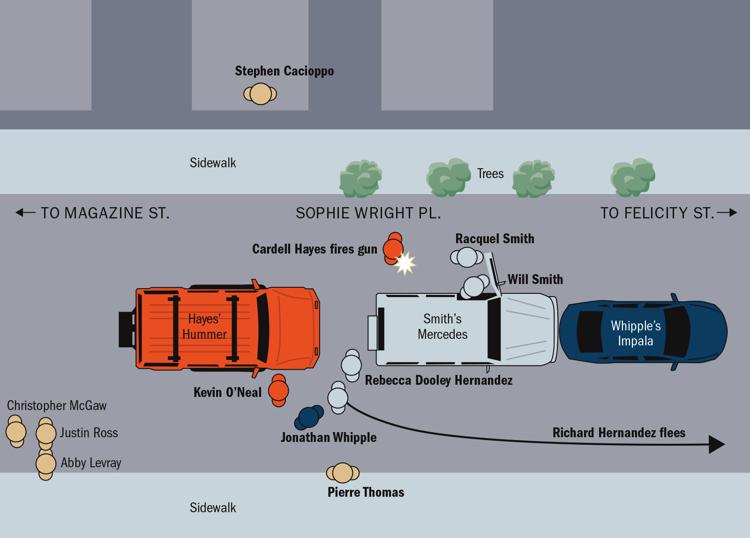 The 20-year minimum is a result of District Attorney Leon Cannizzaro's decision to file for a sentencing enhancement based on Hayes' discharging of a firearm during the late-night altercation on April 9 after a three-car crash in the Lower Garden District.
Hayes also faces up to another 20 years on the attempted manslaughter count. Cannizzaro said Monday that he believes the total maximum of 60 years is "appropriate" for Hayes.
Orleans Parish District Attorney Leon Cannizzaro said his office will seek the maximum 60-ye…
Buras ordered a pre-sentencing report on Hayes, who has no prior felony convictions, to help guide her decision.
In the meantime, the judge this week issued an order barring Clerk of Criminal Court Arthur Morrell's office from releasing evidence from the weeklong trial.
That evidence includes videos, diagrams of the crime scene, autopsy reports and other documents and recordings that the jury of eight men and four women saw and heard before convicting Hayes, 29.
The jury refused to convict Hayes of murder and attempted murder charges. But the 10 jurors who voted to convict Hayes of the lesser crimes felt that he needed to be held accountable for what one of them called "an extraordinarily bad decision."
It was a case that riveted the city. But for the 12 men and women sitting in the Cardell Hay…
An alternate juror, who said he spoke afterward with several of those who convicted Hayes, said the jurors were unaware that their verdict meant a minimum 20-year sentence for Hayes.
The alternate juror, who spoke on condition of anonymity, anticipated that some jurors would write to the judge in support of leniency for Hayes.