Update: Click here to read the latest information Friday.
---
Two workers were injured, one airlifted to the burn unit in Baton Rouge, and another is unaccounted for after an explosion at the Phillips 66 pipeline in Paradis. 
St. Charles Parish Sheriff Greg Champagne said it was hoped the final worker had "just wandered off," and the nearby area was being searched. 
Can't see video below? Click here. 
It's unclear what ignited the Thursday evening fire, but six workers were cleaning in the area when it went up. Three workers were treated on scene for minor injuries. 
While the fire is "burning clean," according to Champagne, the amount of product in the pipeline could take a significant time to burn off. 
"This could burn for hours, this could burn for days," Champagne said during a press conference, noting that workers are attempting to turn the line off at different points. "It is a large blowtorch at this point and time. It's burning clean. But it's not safe to go near it." 
The fire was originally believed to be at the Williams-Discovery natural gas plant in the area, but it was later clarified to be within the pipeline nearby, located at 15849 Old Spanish Trail, just off U.S. 90.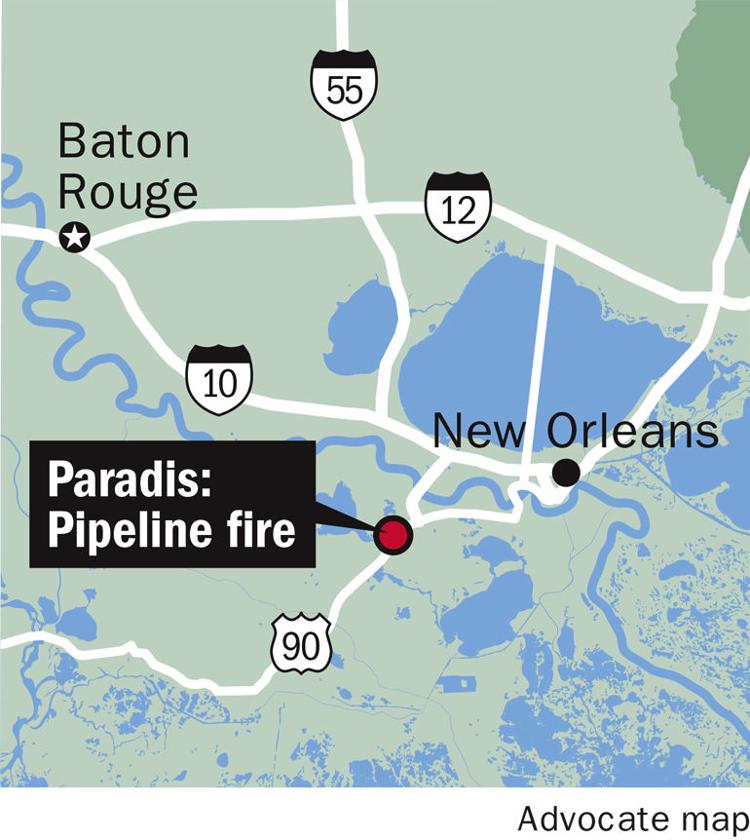 The blast occurred just after 7 p.m. and Highway 90 and Highway 631 were both closed in both directions. Traffic was being diverted. Highway 90 has since been reopened, but not for "sightseeing," Champagne said. 
About 60 area homes had been evacuated, and St. Charles officials said they were working with area fire department and Louisiana State Police. As of about 10:30 p.m. evacuation orders had been lifted for homes west of highway 635. 
A shelter was opened at the Edward A Dufresne Community Center in Luling for residents who have been displaced due to the fire. 
Champagne said the fire was not an environmental danger, but the size and heat could pose a threat in the immediate area.
"It is a very high pressure fire. High intensity. When you get close to it, it is singing," Champagne said.
Check back for more. 
-Staff writer Jeff Nowak