A 73-year-old New Orleans man known for his cowboy hat and his perfectly manicured lawn was arrested after police said he shot and critically wounded a trespasser he said he believed was reaching for a gun early Wednesday.
The shooting happened shortly before 3 a.m. in the 1900 block of Gallier Street in the Upper 9th Ward, directly across from Bunny Friend Park, where 17 people were wounded by gunmen during a gathering in November.
According to a police report read in Orleans Parish Criminal District Court, Abraham Venson was awakened by a call from a security company alerting him to a break-in at his shed — the same shed that friends said had been burglarized months before.
Venson got his gun and went outside to see two men exiting the shed, according to police. He ordered the men to stop. Police said that one escaped, but the other halted and told him, "Yeah, I'll stop."
But Venson said the unknown man then reached toward his waistband, police said. It was at that point that Venson fired once, striking the 53-year-old man in the neck. The man fell to the ground, police said. He was taken to a hospital in critical condition.
Police said the man who was shot did not have a gun.
Venson's arrest is likely to reignite the vigorous debate over whether a property owner has a right to shoot trespassers he believes to be a threat. It is at least the third case of its kind in New Orleans since 2013.
Marigny homeowner Merritt Landry faced a grand jury after he shot a nighttime teenage intruder in the head in Landry's courtyard in July 2013. The District Attorney's Office ultimately decided not to charge him, citing the teen's subsequent arrest on two burglary counts.
Then, in August 2014, an Algiers pastor was arrested for shooting a fleeing copper thief he had spotted at his church. Willie Littleton pleaded guilty to attempted manslaughter in November.
"Ultimately, the issue here is, 'Is deadly force warranted?' " Magistrate Commissioner Robert Blackburn said during a Wednesday court hearing.
Nine family members and supporters sat in the gallery as Venson appeared for the bail hearing. Venson looked toward them as he told the judge, in a raspy but sure voice, that he is a retired truck driver.
Venson's defense attorney, Halima Narcisse Smith, suggested that she is going to build a case of self-defense.
"This occurred in the crime-infested area across from Bunny Friend Park," she said. "And he's a churchgoing man, a family man."
"I understand the situation," Assistant District Attorney Michelle Jones replied. "However, he did shoot a man in the neck, and it is a serious thing here."
Blackburn shook his head before announcing that he was finding probable cause for the arrest. He then set bail at $10,000, an unusually low amount for a count of aggravated battery by shooting.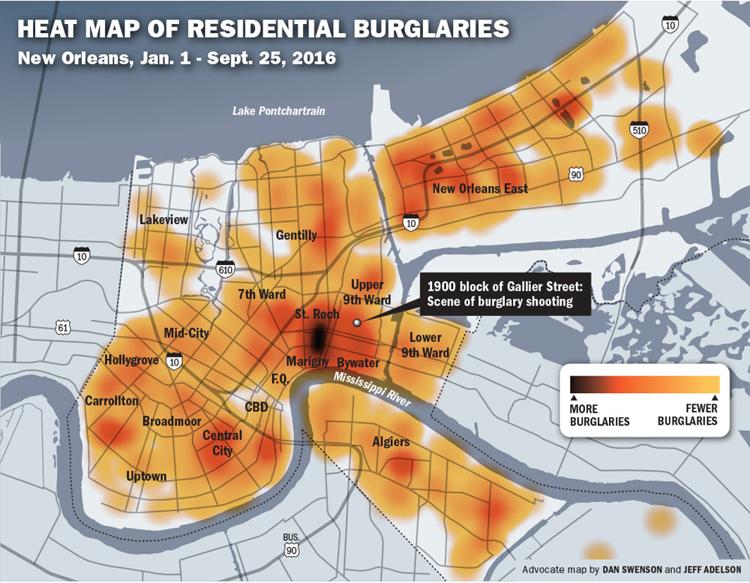 Venson's patch of the Upper 9th Ward is one of the hottest in the city when it comes to residential burglaries, according to police data.
Venson himself decried crime in the city in an interview with WWL-TV in April, at the same time Mayor Mitch Landrieu was unveiling a series of gun-regulation proposals across the street at Bunny Friend Park.
"It's very frustrating," Venson told the station then. "Sometimes, I feel like I just want to pick up everything, the whole house and everything and move it, but I can't."
Neighbors said Venson was well aware of burglaries in the area, and after his shed was broken into, he erected an iron fence around his quaint white house with its red door.
"He was telling me about they broke into his garage and stole some stuff back there. He put a fence back through there," said Alvin Campbell, 69, a friend and longtime neighbor.
"He did what he had to do and what he should have did. He works too hard for his stuff and somebody comes and just taking it ... it doesn't make sense. It could have been me," Campbell said.
Friends were united in their belief that Venson should not have been arrested.
"The law is screwed up with that. If they get away with that, they'll come back like they did. I don't know if it's the same person, but they came back again," Campbell said.
"You'd have to push him for him to do something," said James Cordier, 65, who has known Venson for decades. "I'm sure he was just trying to protect himself."
WWL-TV reporter Paul Murphy contributed to this report.
Marshall Coulter lay hooked to a respirator at Interim LSU Hospital in the early morning hou…