As work crews dismantled the trappings of another Mardi Gras on Wednesday, police were on the hunt for suspects in two of the three shootings Tuesday that left three people dead, five others wounded and a city hung over from yet another Carnival season stained by bloodshed.
Two of the shootings — one in the Central Business District, another Uptown — erupted in late afternoon as one of the truck parades rolled along St. Charles Avenue. Revelers were sent fleeing or diving for the ground.
The third, a gun melee in the Lower 9th Ward that claimed two lives, happened Tuesday night as many parade-goers returned home, some still wearing their Mardi Gras gear.
New Orleans Police Superintendent Michael Harrison said the incidents brought the number of homicides in the city this year to 30.
Can't see the video below? Click here.
---
That's the highest tally in New Orleans to this point in the year in at least a decade, according to former city crime analyst Jeff Asher. There were 27 killings over the same period last year, amid a 12-month surge in deadly violence that tapered off last summer.
Harrison noted that two of Tuesday's shootings took place near areas that have been hot spots for violent crime lately. He said both the 9th Ward and Central City have seen repeated shootings and deaths in recent months, and police have focused the attention of gang officers and other resources there. 
Harrison emphasized that the two parade route shootings apparently were sparked by antagonists who knew each other and brought their beefs to the route.
While he called Tuesday's violence "disgusting," Harrison dismissed the notion that Carnival season as a whole was more dangerous this year than others.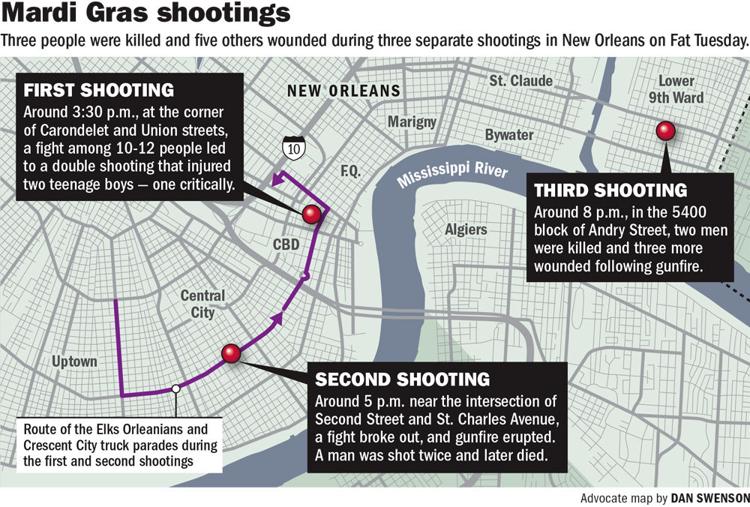 "I believe, by and large, this was a safe Mardi Gras," he said.
He added that his officers and members of other agencies brought in to bolster law-enforcement ranks were aggressive in combating unlawful behavior. They made 44 more arrests and seized 11 more illegally carried guns this Carnival than in 2017, Harrison said at an afternoon news conference.
"We sent out a strong message: Don't bring guns to parades. They don't mix," Harrison said. "Don't bring guns to areas where you're drinking. It's a bad combination."
Tuesday's Uptown shooting occurred near the same spot where gunfire left seven wounded, including a toddler, on Mardi Gras 2009. And it was about a mile from the site of a shooting that killed two young men during parades on the Thursday before Mardi Gras in 2015. 
Police have singled out suspects in both of this year's parade shootings, but they have confirmed the name of only one: 21-year-old Eddie Dingle, who is accused of second-degree murder in the killing of 29-year-old Maurice Williams along the Uptown parade route.
New Orleans police secured a warrant Wednesday to arrest the man suspected of a fatal shooting along the St. Charles Avenue parade route on Ma…
Parade-goers said they watched as a scuffle broke out at St. Charles and Second Street. Police said onlookers stepped in, trying to break it up, before Dingle pulled out a gun and opened fire. Someone gave chase as Dingle ran from the scene, but he got away, Harrison said.
Records show Dingle was jailed Jan. 11 in Lincoln Parish by Grambling State University police on allegations of illegally carrying a weapon. School officials didn't immediately respond to a request for more details on the case.
Now he's wanted in a deadly shooting that sent parade-goers scampering for the side streets or diving to the ground. 
As they fled, a 2-year-old boy named Brandon sat on a wooden perch atop a 6-foot ladder near the curb, suddenly alone amid the mayhem until a woman rushed to the ladder, wrangled him down and dove beneath a green camouflage tent, where another toddler was crying beneath his mother.
Two men were injured and one was killed in two separate shootings just off the Uptown parade route during the Tuesday afternoon truck parades …
"The kids, they come to enjoy it. They're going to be afraid next year," said Angela Harrison, who lives down the block from where the fatal shooting happened and is not related to the police chief. "They ruined it."
Her neighbor, Terrie Coyle, said she heard the pop-pop of gunfire and "hit the ground," huddling with a pregnant woman and her young daughter.
"I just wish they would stop," Coyle said. "They need to stop."
The shooting on St. Charles followed a fight involving three men, two of whom had ripped off their shirts, said a woman who works across the street and had been watching it from the neutral ground with her daughter.
Elizabeth Murray, a 21-year-old nursing student who lives a few doors from the shooting, said she heard the gunfire as she was rounding the corner from Carondelet Street onto Second, heading back to the parade route with a pizza.
Two men were killed and three more were wounded following gunfire in the Lower 9th Ward on Tuesday night, New Orleans police said. 
She saw a wave of people come running toward her, along with a man clutching what seemed like a gun at his hip, under chase.
"Some guy in a Mickey Mouse costume says, 'Is that a gun?' " Murray said. "I heard the two shots, saw him running like that was a gun."
More than three hours later and several miles away from the bloodshed along the Uptown route, a shooting outside a home in the Lower 9th Ward bloated the day's victim count.
The gunfire arrived as people had gathered to wind down after a day of watching parades and celebrating the holiday. It was aimed at a car parked outside a party near St. Claude Avenue and Andry Street and killed two men: 26-year-old Jamar Robinson and 21-year-old Byron Jackson. Three others, ages 23 to 26, were wounded.
Kenneth Robinson, the uncle of Jamar Robinson and two of the wounded victims, said it was a heartbreaking end to a day that had started beautifully, catching beads alongside his loved ones just outside the old Iberville housing complex.
"It brings the worst out of you. The tears, the agony, anger — you're just exhausted and broke down," said Robinson, standing around the corner from where the quintuple shooting occurred.
Yet, as horrified as he was, Robinson said he couldn't be all that surprised that New Orleans' violent crime problem had reached his family's doorstep. "I see it everyday on television," he said. 
Several neighbors described hearing dozens of gunshots rattle off before the electricity cut out — an outage that Entergy said was unrelated to the shooting.
"It was like, 'What the (expletive)? Are they gonna stop?' " said one of the neighbors, all of whom declined to identify themselves out of fear for their safety.
"We were six kids and three adults on the ground, and we were so scared to look out because we thought we would die."
That woman said her family couldn't help but consider moving out of the neighborhood after Tuesday night's mayhem. Three months earlier and four blocks away, one man died and five other people were wounded in a shooting at Forstall and Burgundy streets.
That attack occurred during a funeral dedicated to the memory of a recent murder victim.
"These (shooters) don't care if kids or old people are around," a neighbor said Wednesday. "They don't even think about it."
Ash Wednesday didn't bring a reprieve from the carnage. About 10:30 a.m., officers responding to a 911 call found a man who had been shot in the head in the parking lot of a corner store near St. Andrew and Magnolia streets, in Central City.
Paramedics took the man to a hospital, where he died within the hour. Authorities had not identified him as of Wednesday evening.
Police had placed 17 evidence cones, which are typically used to mark shell casings, scattered around a puddle of blood in the middle of the parking lot.
Just around the corner, workers at Heard Dat Kitchen were setting up decorations for Valentine's Day.
School was out Wednesday, and a group of children gazed at the crime scene from a nearby stoop.
Staff writer Matt Sledge and WWL-TV's Paul Murphy contributed to this report.
Two men were injured and one was killed in two separate shootings just off the Uptown parade route during the Tuesday afternoon truck parades …