The crime problem in New Orleans continued to thwart city officials on almost every front last year.
After taking a dip the year before, the overall number of major crimes reported in the city climbed by 4.4 percent in 2016, according to data released quietly by the New Orleans Police Department last month. Since 2010, that figure is up by nearly a third. 
NOPD brass blame fluctuations in the market for illegal drugs and point to other cities in the U.S. that have experienced a similar rise in crime. 
But the trend also coincides with the department's struggle to attract and retain officers. Hoping to add hundreds of new recruits to its depleted ranks, the NOPD managed to add only a handful of more officers than it lost in 2016.
In January, the official in charge of expanding the force resigned ahead of a federal monitor's report raising concerns about the quality of many new recruits, citing red flags in some of their background checks. 
In the meantime, almost all of the eight major categories of crime reported to the FBI saw an increase last year, including murder, rape, simple robbery and assault. 
The lone bright spot among violent crimes was armed robberies, which dropped by 9.2 percent. Police Superintendent Michael Harrison credited that drop to a special tactical team he created in June.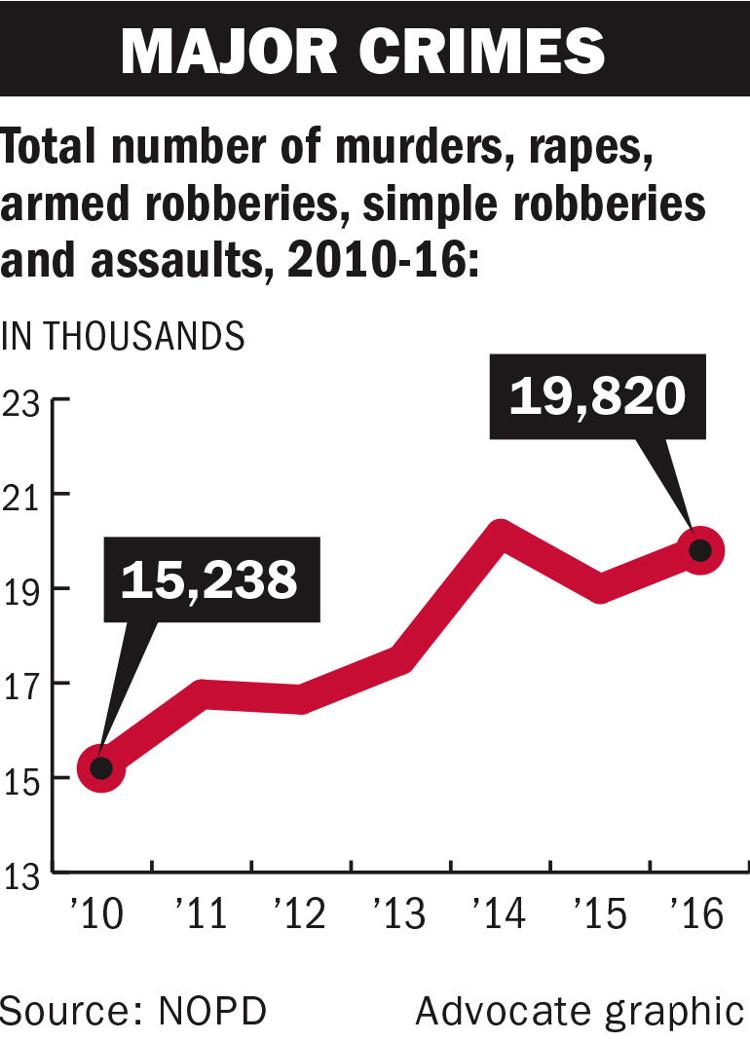 Since 2010, the overall number of major crimes reported to the FBI has climbed from 15,238 to 19,820, or about 30 percent. Last year's uptick wiped out most of the small decline seen in 2015, when most categories of crime dropped.
Police statistics for 2016 show that murders rose 6.1 percent, simple robberies rose 11.6 percent and assaults rose 25.3 percent in 2016, compared with the year before.
The city last year had more reports of rapes, armed robberies, simple robberies and assaults than it did in 2010. Police also reported 174 murders to the FBI for 2016 — just one shy of the 175 murders reported in 2010, the year Mayor Mitch Landrieu assumed office.
Rape reports rose by 31.3 percent last year. But police and advocates say that may reflect increasing confidence in the Police Department's Special Victims Section, rather than an increase in the real rate of rapes.
In 2016, Inspector General Ed Quatrevaux said the unit had made a "remarkable" turnaround after a critical report from his office. Last year was also the first full year in which the Police Department followed new FBI guidelines designed to record more categories of rape.
Police Superintendent Michael Harrison chalked up the rise in homicides and other forms of shooting violence to the drug trade.
"Last year we started seeing a double trend both in non-fatal shootings and homicides," he said. "There's a huge issue with the heroin trade right now, and the market is very competitive, and there are a lot of people using violence to compete over that market."
Following federal guidelines, the NOPD does not specifically report the number of shootings to the FBI. But those rose in 2016 as well, according to statistics compiled by Jeff Asher, a crime analyst and consultant who also works for the Jefferson Parish Sheriff's Office.
There were 486 shootings with one or more victims in New Orleans in 2016 compared with 392 shootings the year before, Asher said. That was a 24 percent increase.
Still, Harrison said he still believes that Mayor Mitch Landrieu's "NOLA For Life" murder reduction campaign is working for its target demographic of young men.
"We're still trending down in group- and gang-related violence," he said. 
Harrison acknowledged concern over what he said were "slight" increases in several other categories, but he emphasized progress on armed robberies.
"Certainly, we saw increases in other areas, slight increases — aggravated assault, aggravated battery — but they were rather slight. I think the biggest thing that we noticed in 2016 was a decrease in armed robberies, which we put a heavy focus on," Harrison said.
Although armed robberies dropped, simple robberies — which don't involve the use or threat of a weapon — rose in 2016 from the year before.
"When it comes to simple robbery, that's going to be crimes of opportunity. People are preying on people who are vulnerable," Harrison said. "I don't know that there's a trend or any specific reasoning that we can speak to that's causing that."
Property crimes represented a mixed bag for the city in 2016. Burglaries dropped 11.6 percent, thefts rose 7.7 percent, and auto thefts dropped 3.6 percent.
New Orleans is no different from other major cities, which also have seen an uptick in crime in the past couple of years, the superintendent said.
National crime statistics show that the country is still vastly safer than it was in the 1990s, but the recent rise has caused concern among many observers.
Harrison and City Hall officials often say that their efforts to improve crime response are hampered by the Police Department's ongoing manpower shortage. The NOPD has hundreds of fewer officers than it did in 2010, despite the fact that the city's population has grown since then.
It was going to be the year that New Orleans saw its Police Department start to rise up from…
Asher said that national studies do not usually show a strong correlation between the size of a city's police force and the number of major crimes. But New Orleans seems to be an exception to those studies.
"I don't know that it takes a rocket scientist to see that there's probably a correlation between the 20 percent rise in crime and the 30 percent drop in officers," Asher said.
As a new batch of Training Academy recruits became full-blown officers earlier this month, Harrison announced the creation of a second tactical "TIGER" unit. The unit, which will focus on finding and arresting the perpetrators of shootings, is an attempt to replicate the drop in armed robberies.
"The unit is designed to target gun violence, and so shootings will only be one part," Harrison said. "We believe we're going to change the mindset of people making decisions to carry guns and then commit violent crime. We hope we reach as many people as possible."
Six people mowed down in seconds in Central City. Two brothers shot to death in the Upper 9t…