Hoping the move results in the quick closure of a case that has shaken a violence-weary city, law enforcement officials Thursday offered an unusually hefty reward for information leading to those responsible for the ambush that left a Loomis armored truck service employee dead outside a Mid-City bank a day earlier.
The $50,000 reward is significantly higher than the $2,500 that Crimestoppers offers in most cases. It was made possible through $25,000 from Loomis, $20,000 from the FBI and $5,000 from Crimestoppers, officials said.
Meanwhile, Jeff Sallet, the special agent in charge of the FBI's New Orleans office, confirmed a gun battle took place between at least one Loomis employee and one attacker, as witnesses had reported Wednesday.
Otherwise, though, the FBI and New Orleans police investigators repeatedly declined Thursday to divulge any more details about the attack that occurred outside the Campus Federal Credit Union at South Galvez Street and Tulane Avenue.
Sallet didn't say whether the attackers got away with any money, and neither law enforcement nor Loomis would identify the slain man.
In what Sallet described as "a senseless and horrific crime," Loomis employees were servicing drive-through ATMs outside the Campus Federal at 2200 Tulane Ave. when more than one person wielding guns approached and demanded money about 4:30 p.m. Wednesday.
The attackers and the Loomis employees then "exchanged gunfire," said Sallet, whose bureau investigates all bank robberies and related crimes. One of the Loomis employees was struck and killed, and the attackers fled.
Sallet said he was optimistic the sizable reward would lead to arrests.
The dead Loomis employee is among more than 80 homicide victims reported in New Orleans so far this year, and Sallet said "the senseless violence in this city is unacceptable."
He pledged authorities would relentlessly pursue those responsible for the death.
New Orleans Police Department Superintendent Michael Harrison noted that tipsters can remain anonymous yet be eligible for the reward by calling Crimestoppers at (504) 822-1111.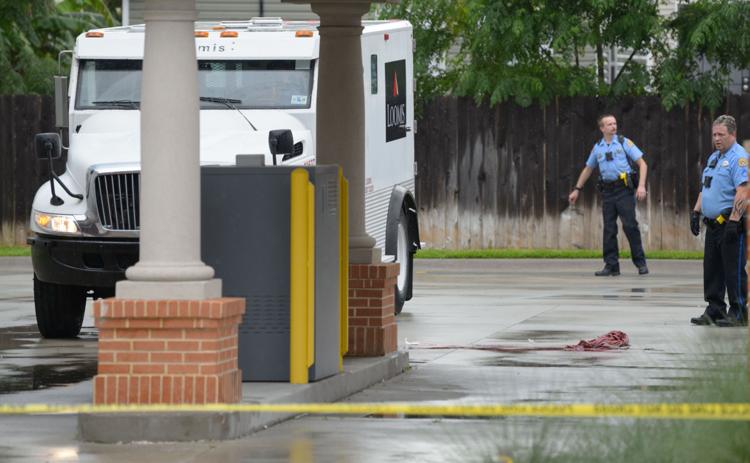 Pat Otero, senior vice president of administration for Houston-based Loomis U.S., said his firm spent Thursday focused on both the family and the colleagues of the fallen employee. He said the man's family had been notified of his death, but the company wouldn't publicly name him out of concern for loved ones who had perhaps not yet gotten the news.
Multiple social media users identifying themselves as Loomis employees expressed sorrow for their dead colleague, whom they referred to by a last name. They also sent prayers to another Loomis employee who they said survived the attack.
Wednesday's killing happened less than four years after another Loomis employee, Hector Trochez, was shot to death during a robbery outside a Chase bank at South Claiborne and South Carrollton avenues.
That killing has never been solved. But in a court filing last week, federal prosecutors said that a man named Lilbear George remains "implicated" in the hold-up. George's DNA was found on a screwdriver that was used to steal the robbers' getaway SUV, according to the May 27 filing.
George has never been formally accused in the bank holdup. But he was arrested on Lundi Gras last year, when State Police said they discovered him and three other men conducting a drug transaction in a French Quarter parking lot.
George was arrested along with Kalique Hardin, Sidney Lebanks and Basin Wells and was charged by federal prosecutors in a drug and gun conspiracy case.
In July 2014, Trochez's mother, Maria Fernandez, who lives in Florida, filed a wrongful death suit in New Orleans state court; it was later transferred to federal court.
The suit blamed her son's death on the "joint negligence" of Loomis, JPMorgan Chase Bank and the owners of the bank's Carrollton Avenue building.
Among other things, the suit accused Loomis of ignoring complaints that switching from three-man armored trucks to two-man vehicles left employees more vulnerable. It said Loomis also didn't ensure the bank Trochez was servicing followed proper safety protocols for deliveries of cash.
New Orleans attorney Matthew Sherman, who represented Fernandez, said she felt her son "wasn't given enough protection."
Records show the case was dismissed in 2016 following an out-of-court settlement whose terms were not disclosed.
Nonetheless, family members of Trochez said Wednesday's killing reopened old wounds.
"This is exactly the same thing," Trochez's sister, Claudia Trochez, said.
A niece, Franchesca Trochez, added, "It's devastating this has happened again."
Advocate staff writer Matt Sledge contributed to this report.