Vincent Lopreto expected cops might eventually knock on his door in New Orleans' Warehouse District, with authorities suspecting him of again selling knock-off paintings falsely advertised as works by the famous British artist Damien Hirst. 
So Lopreto bought a fire ladder he figured he could use to quickly climb out of his fifth-floor apartment's window in case the law ever caught up with him. However, when police showed up at his place last week, he realized he was too scared to use the ladder.
His arrest helped lead to the filing of international fraud charges against him Monday in Manhattan.
An admitted art scammer who previously pleaded guilty to selling six figures' worth of fake …
Lopreto, 52, and two men from Arizona are accused of using fake certificates of authenticity and purchase receipts to sell about $400,000 in paintings that were falsely advertised on the internet as limited-edition originals by Hirst.
Those duped by Lopreto, 34-year-old Marc Saverino and 50-year-old Paul Motta lived in the United States, United Kingdom, Germany, Italy, South Africa, Taiwan and South Korea, said the Manhattan District Attorney's Office, which secured an 11-count indictment in the case.
Two of the sales were made to an undercover investigator posing as a customer, DA Cyrus Vance's office said. All of the sales are said to have occurred between October 2015 and February of this year, beginning just 15 days after Lopreto was released from prison on a similar art fraud conviction.
As investigators zeroed in on the trio, authorities served a search warrant Wednesday at Lopreto's apartment in the 700 block of Carondelet Street in New Orleans. They seized tools allegedly used to create prints in Hirst's style.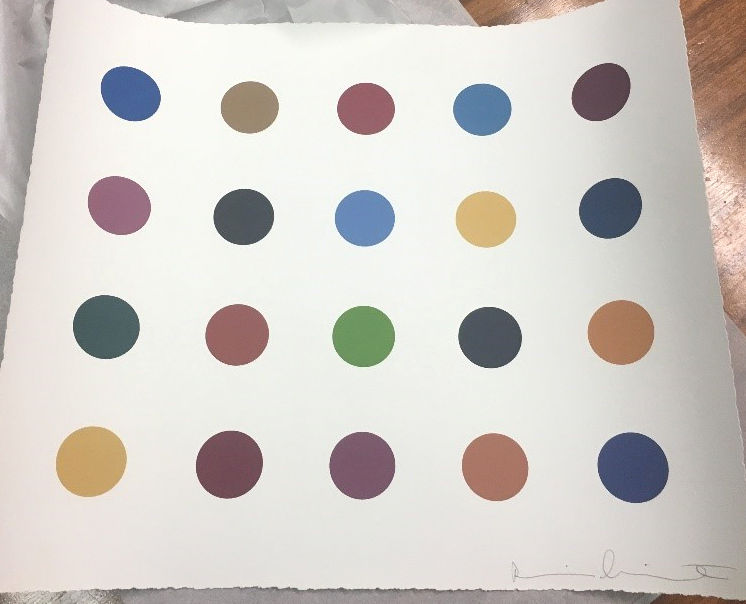 Lopreto made a number of colorful statements at the 8th Police District station and Louis Armstrong International Airport after he agreed to return to New York without fighting extradition, court documents show.
He described himself as "just a white-collar criminal" in a conversation with Officer Aaron Harrelson and added, "You won't get trouble from me," according to court documents.
In what appeared to be a remark about his co-defendants, Lopreto told a New York investigator that the official was lucky he didn't have to go to Arizona because "one of those guys is an animal."
Lopreto asked if authorities would ship his printer to New York, as happened after a previous arrest on the West Coast.
Prosecutors charged Lopreto, Saverino and Motta with grand larceny and scheme to defraud. Lopreto and Motta also face counts of attempted grand larceny.
Monday was not the first time that prosecutors have charged Lopreto with an art scam.
He and his partner in a Laguna Beach, California, art gallery pleaded guilty in Manhattan in 2014 to using fake letters of authenticity to sell counterfeit Hirst pieces online and through auction houses.
Lopreto and the partner, Ronald Bell, then testified against a Miami pastor named Kevin Sutherland, who was convicted of trying to sell fake Hirst paintings for $185,000 to an undercover cop.
After he testified in that case, Lopreto was sentenced to at least two years in prison.
Manhattan prosecutors described Monday's charges as a continuation of the scheme that involved Bell, which itself followed an earlier art fraud conviction that earned Lopreto a five-year prison sentence.
The Manhattan DA implored art buyers to run items' authenticity past the artist or an academic expert before paying hefty purchase prices. "There is no substitute for due diligence," Vance said.