In an intriguing twist, new polling shows that one of the closest contests on the Oct. 14 ballot is the campaign for Orleans Parish coroner — a race that was supposedly resolved in late August when the incumbent, Dr. Jeffrey Rouse, abruptly withdrew his candidacy.
Rouse rocked the political establishment when he announced, after qualifying for re-election, that he had decided to return to psychiatric practice rather than seek a second term. He congratulated his lone opponent, Dr. Dwight McKenna, on his "persistence" in seeking the job and becoming the city's first black coroner.
"The mental health crisis in our city is real," Rouse said, "and I am refocusing my professional energies in that direction."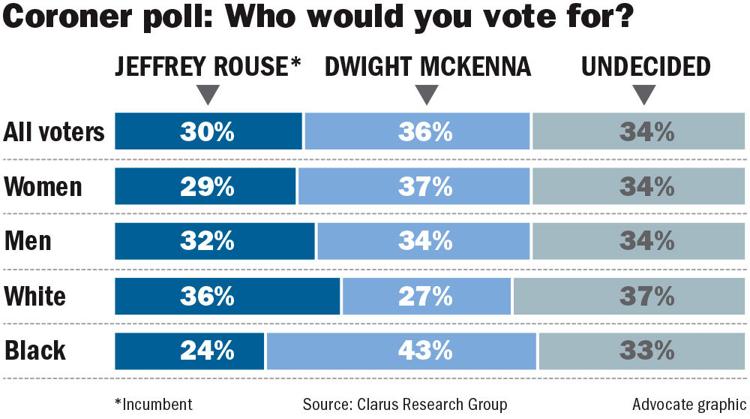 A sizable portion of the electorate appears to have missed the memo — or is still scratching its head over the most mysterious development of the election season. 
A poll conducted for The New Orleans Advocate and WWL-TV put McKenna just 6 percentage points ahead of Rouse heading into the home stretch. A whopping 34 percent of respondents said they remain undecided in the one-man race — raising the possibility that Rouse could win the election against his will.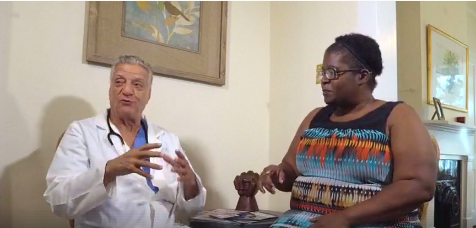 In all, 30 percent of those questioned said they support Rouse, while 36 percent backed McKenna. 
"It's a very unusual situation," said Ron Faucheux, president of the Clarus Research Group, which conducted the poll for the news organizations. "Most voters don't quite understand what's going on here. I think most politicians don't quite understand what's going on here. It's an open box for mischief." 
Faucheux's firm interviewed 500 likely voters in New Orleans last week. The poll has a margin of error of 4.3 percentage points.
Rouse's name remains on the ballot because he missed the deadline for removing it — a circumstance that underscores the last-minute nature of his about-face. Votes cast in his favor will still be counted in the official tally, and, if he is re-elected, Rouse would have to formally resign to avoid serving a second term beginning in May. That would trigger a special election for the post.  
The Advocate/WWL-TV poll suggests that "a lot of voters are probably unaware" of Rouse's decision, Faucheux said. "Or it may indicate that some voters don't want to vote for McKenna, and so they're just expressing a protest." 
"He needs to win the race, but he's running close enough at this point that, if he doesn't do something in the last week, he could risk losing it," Faucheux said of McKenna. "I would advise that he campaign in the last week." 
Rouse, 43, does not appear to have campaigned for McKenna beyond his initial endorsement. He has kept a low profile in recent months, having last tweeted on July 12. 
It's unclear whether McKenna, a 75-year-old physician, has altered his campaign strategy. He has refused to discuss his pursuit of public office and hung up on a New Orleans Advocate reporter Friday before he could be asked for comment.  
Rouse, who declined to comment on the poll, has said little about his decision beyond a statement he issued Aug. 24 in which he recounted his achievements during his first term and said the lessons he's learned would be better applied "serving patients with severe psychiatric illnesses who are involved in the criminal justice system. 
Rouse was recruited to join the Coroner's Office in 2003, when he was a young resident in psychiatry at the Tulane University School of Medicine. Under Dr. Frank Minyard, who served as coroner for 40 years, Rouse oversaw the office's psychiatric commitments. 
After defeating McKenna in a runoff in 2014, Rouse revamped the Coroner's Office, overhauling its death investigations and implementing a digital records system, among a host of other changes. 
McKenna is a general practitioner and publisher of The New Orleans Tribune, a monthly newspaper that covers the city's black community.
He has been dogged for years by a federal conviction on tax-evasion charges, which forced him to leave the Orleans Parish School Board. He ran against Minyard twice and also tried, unsuccessfully, to rejoin the School Board, having received a pardon from Gov. Edwin Edwards.    
McKenna has long maintained that he never intentionally withheld taxes and that the conviction does not diminish his medical qualifications. 
In his statement this summer, Rouse said he was convinced that McKenna's "plan for a more public role for the Coroner's Office in health education and violence prevention is the logical next step for the evolution of this office."
"In the remaining months of my term, I shall share with Dr. McKenna the many facets of this complicated job, as one physician transferring the care of a patient to a colleague," Rouse said.