"It won't be easy" could have been the theme Tuesday as a pair of consultants presented various plans to raise $9.3 billion to rebuild all of New Orleans' streets in the next three decades.
Getting the funding in place for the massive road plan has been a major initiative of Mayor Mitch Landrieu for his final two years in office. But PFM Group Managing Partner David Eichenthal and Erich Caulfield, a local consultant, said there are no easy options available.
Each item on the list of possible options would present its own significant challenges, the consultants told Landrieu's Fix My Streets Working Group.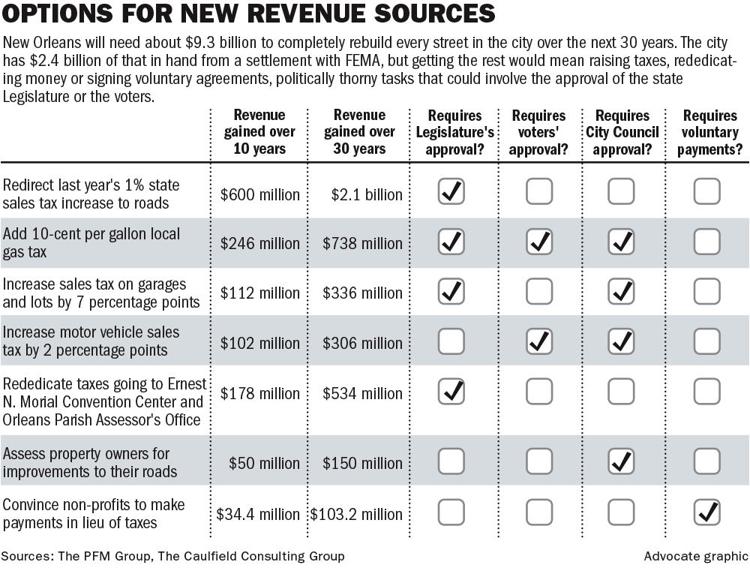 "It doesn't mean they shouldn't be on the agenda in terms of options to look at, given the magnitude of the challenge, but we don't come to this with the idea that this is going to be easy," Eichenthal said.
The proposed program would involve more than $300 million in roadwork each year for the next three decades, more than twice what some other similarly sized cities spend annually on their entire capital budget.
Nearly all of the options would require some form of higher taxes. Some represent long-standing items on the city's wish list for new revenue that have never materialized. Others would require cooperation from the Legislature or approval from voters, neither of which is ever certain. And a few would require other governmental bodies in the city to give up their own dedicated revenue sources.
"As is most often the case in the public sector, if there were easy answers people would be doing them already," Eichenthal said.
The city has a good head start on the roadbuilding effort. A settlement with FEMA for damage to the Sewerage & Water Board's pipes during Hurricane Katrina, combined with other existing funding sources, provides a $2.1 billion down payment on the effort. Issuing bonds based on taxes that already are being collected could generate another $1.3 billion over the next 30 years.
More than $2.5 billion in road, water, sewerage and drainage work is planned in New Orleans …
But that leaves billions more to be raised to complete the overhaul, including $1.1 billion that would be needed in the next 10 years.
The proposals suggested by the consultants all would be a challenge for the city. The plans wouldn't touch the property tax rate in the city but would increase other taxes to make up the revenue.
The main source of funding proposed would be to get the Legislature to leave a temporary 1-cent sales tax imposed statewide during this year's state budget crisis in place in New Orleans after it's set to expire in 2018. That would bring in about $2.1 billion in revenue by 2046, but it's unclear whether tax-averse lawmakers would want to be associated with that effort.
The Legislature could also be asked to create a 10-cent gasoline tax in the city, which would become the only municipality in the state to have a local tax on fuel, and to hike the sales tax on parking garages and lots by 7 percentage points and the tax on vehicle sales by 2 percentage points.
The consultants also urged the city to ask state lawmakers to rededicate tax money that now goes to the Ernest N. Morial Convention Center and the Orleans Parish Assessor's Office, yielding about $534 million over three decades, but neither of those agencies is likely to give up that money without a fight.
One plan would see liens put on properties adjacent to roads that have been fixed up, which would be paid back over time. That would generate about $150 million but would likely face stiff resistance.
Eric Songy, a member of the committee and an activist with the Fix My Streets campaign that prompted the mayor to create the group, said charging for those repairs would essentially be unfair.
"My streets haven't been fixed, but streets near me have been fixed. I'm paying for that now with my current taxes," Songy said. "Why should I continue to pay for theirs? If you're going to assess it to me, you should go back and assess them as well."
A final plan would involve negotiating with nonprofits in the city, particularly the city's universities, to get them to pay at least 25 percent of the property taxes from which they are now exempt.
Getting some revenue from those organizations, particularly for properties that are used for commercial purposes, has been a longtime goal of some city officials including City Councilwoman Stacy Head, but it has never gone anywhere, and it's unclear what leverage the city would have to persuade them to pay up.
With potholes, sinkholes, dips, cracks, years of patches on patches and entire blocks that c…
Voter approval for any new taxes is far from a sure thing in a city with rising property values — and tax bills — and where voters shot down a property tax hike for public safety earlier this year and where only 53 percent of voters supported a bond issue for infrastructure work that did not raise taxes.
The plans would also likely be coming up for approval while City Council members are eyeing their own futures on the November ballot, and it's not clear that the promise of better roads would outweigh voters' opposition to higher taxes.
"From the man on the street's point of view, we're taxed to death, and the man on the street wants to know that the city is running as efficiently as possible. There ought to be other sources of revenue from within the existing revenue stream," Songy said.
Deputy Mayor Ryan Berni said that attitude is the reason the streets got to be in the terrible condition many are in.
"The city's been underfinanced for a generation," Berni said.
"The streets and water and sewer system are crap. People not wanting to pay more is the reason we're in this situation to begin with."