For months, New Orleans' political establishment has been buzzing with the kind of intense, persistent speculation that only an open mayor's race can generate.
Potential candidates have held meetings, solicited contributions, met with consultants and conducted polls, and there's been no shortage of rumors about a myriad of potential contenders to replace the term-limited Mayor Mitch Landrieu.
But it appears the field assembled on the eve of qualifying is not much different from the one in place months ago.
Of course, a high-profile candidate could still turn the race on its head during the three-day sign-up period for the Oct. 14 election that starts Wednesday.
The same appears to be true for many of the City Council races as well, though a handful will see major competition, and a Tuesday announcement that a former councilwoman would be running again threw some new energy into the District C race.
Elsewhere on the ballot, there are no signs of competition at all in the contests for sheriff, clerks of court, assessor and coroner.
The declared candidates in the mayor's race made their intentions known months ago. Former Civil District Court Judge Michael Bagneris, City Councilwoman LaToya Cantrell, former Municipal Court Judge Desiree Charbonnet and businessman Frank Scurlock are the best-known quantities. Edward Bruski, a registered nurse, is also running.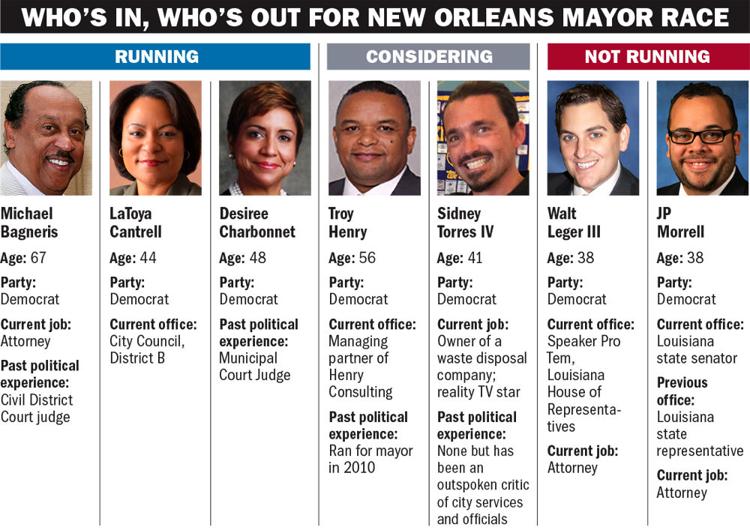 But the chance to run for mayor without having to face a powerful incumbent usually draws a far larger field, leading to endless rumors for months that new entrants were just around the corner.
One of the last of those would-be contenders formally took a pass Tuesday.
State Rep. Walt Leger has been the subject of speculation since early this year, when he spent $130,000 to set up a campaign apparatus. Though his nascent campaign then went quiet, as recently as this week many saw him as a potential contender.
That speculation ended Tuesday, when Leger announced he will not be running.
"The decision was not an easy one, mostly because it presented such an amazing opportunity to serve this great city, but also because I am certain a path to victory was clear," he said.
Also officially out is state Sen. JP Morrell, whose fleeting consideration of the race wasn't accompanied by any serious build-up of a campaign organization.
Leger and Morrell followed a long list of other rumored candidates who chose to opt out.
As long expected, state Sen. Danny Martiny and Kenner City Councilman Dominick Impastato qua…
State Sen. Karen Carter Peterson stoked such rumors in a recent interview saying she was laying the groundwork for a campaign, only to announce last week that she would pass.
Former U.S. Attorney Kenneth Polite Jr. said months ago that he would not run, but his name continued to crop up whenever there was discussion about the race.
Other possible candidates including City Councilman Jason Williams and state Sen. Troy Carter have also been discussed, but they never made the moves to set up a run.
Still toying with the idea is high-profile businessman Sidney Torres IV, who has said he will not make up his mind until just before qualifying ends Friday.
And one familiar face emerged Tuesday as a potential contender: Troy Henry, a business consultant who in the 2010 mayor's race finished a distant second to Mitch Landrieu.
His consideration of a second run is fueled by a desire to solve city ills such as violent crime, unequal opportunities for residents and gentrification, he said in a statement. "We can't continue going from one administration to the next with the same problems that continue to plague every mayor and council," Henry said.
On the City Council side, perhaps the most intriguing political jockeying will occur in Districts B and C. Cantrell's mayoral bid has left an open seat in B, and District C Councilwoman Nadine Ramsey will have to defend her seat against her immediate predecessor, Kristin Gisleson Palmer.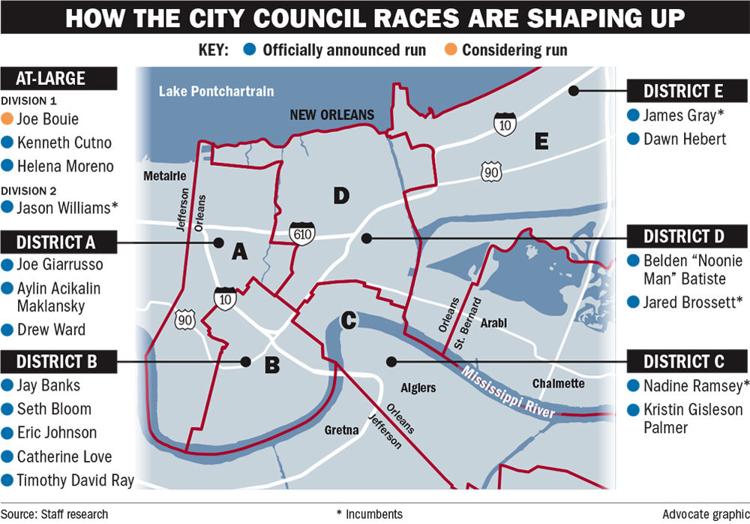 Palmer served a single term on the council and declined to run for re-election four years ago, setting the stage for the 2014 race between Ramsey and Jackie Clarkson, another former District C councilwoman who was then serving in an at-large seat.
St. Tammany Parish candidates running to fill vacancies in House District 77, the Parish Cou…
Palmer's entry into the race for a district that covers the West Bank, French Quarter, Marigny and Bywater comes after she re-emerged into politics earlier this year as a leading opponent of plans to build a new ferry terminal on Canal Street that would not include a pedestrian bridge. Officials have since committed to including that feature, and the issue gave Palmer an opportunity to criticize Ramsey for not fighting the original plans.
"Too many of my hard-fought legislative achievements from my time as a council member have stalled," Palmer said in announcing her candidacy. "I've spent my whole life getting things done for the good of the city — and we need a City Hall that gets things done. My record as a business owner, nonprofit executive and council member speaks for itself."
A packed contest is in store in District B, which covers Broadmoor, Central City, the Garden District and the Central Business District.
BOLD, the Central City political organization that long "owned" the District B seat, hopes to return one of its own to that post, with former Zulu King Jay Banks announcing his bid last month.
Urban development specialist Eric Johnson, also tied to BOLD, will also sign up, though Banks apparently has received BOLD co-founder Jim Singleton's blessing.
Also in that race are former Orleans Parish School Board President Seth Bloom, political organizer and University of New Orleans adjunct professor Timothy David Ray and researcher and veterinarian Catherine Love.
The Division 1 at-large race will pit state Rep. Helena Moreno against Kenneth Cutno, a community development and housing consultant. Incumbent Stacy Head is term-limited. State Rep. Joe Bouie is also considering the race.
No challenger has yet emerged for Councilman Jason Williams in the Division 2 at-large seat.
A three-way contest has emerged to replace term-limited Councilwoman Susan Guidry in District A, which includes the western portions of the city from Lakeview to the river. The candidates include attorney Joe Giarrusso III, who comes from a long political lineage; Aylin Acikalin Maklansky, Ramsey's former legislative aide; and writer and editor Drew Ward, who is making his second bid for the seat.
In District E, which includes most of New Orleans East and the Lower 9th Ward, incumbent James Gray is expected to face a challenge from community activist Dawn Hebert.
In the Gentilly-based District D, Councilman Jared Brossett has drawn a single opponent, Belden "Noonie Man" Batiste, a community activist and Yellow Pocahontas Mardi Gras Indian.
There appears to be little competition in other races on the ballot.
Sheriff Marlin Gusman appears poised to be re-elected unopposed after former New Orleans Police Superintendent Ronal Serpas announced Monday he will not run.
In addition, no one has emerged to challenge Clerk of Criminal Court Arthur Morrell, Clerk of Civil Court Dale Atkins, Assessor Erroll Williams or Coroner Jeffrey Rouse.
While it's not unusual for some of those seats to go uncontested, it would be rare for all those officials to coast to re-election without opposition.
There's at least a bit of competition for the 4th Circuit Court of Appeal seat vacated by Paul Bonin, who won a place on the Criminal District Court bench last year. So far, Civil District Court Judge Tiffany Chase and Criminal District Court Judge Tracey Flemings-Davillier have announced plans to qualify for that race.
But it's not clear who will run for the Civil District Court seat that Paula Brown left when she won election to the 4th Circuit last year.