Mayor Mitch Landrieu is proposing to nearly double the number of traffic cameras in New Orleans early next year, adding 55 new devices to watch for speeders and red-light runners.
The plan was announced as officials began rolling out the city's $614 million budget for 2017 early Monday. The proposal came during the city's Revenue Estimating Conference, which determines how much money the city has to spend.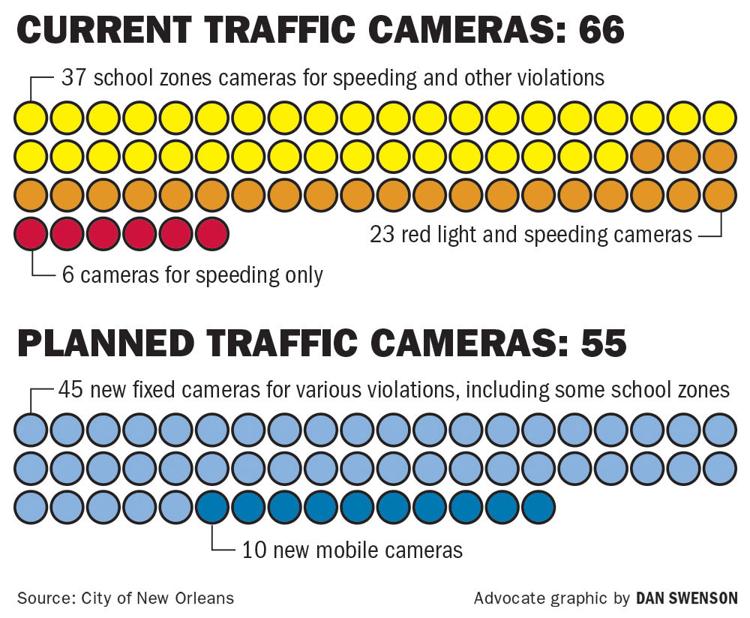 The new cameras are expected to bring in about $5 million of that sum once more than $3 million in expenses are taken into account, officials said.
The proposal includes installing 45 new cameras near schools, with a focus on school zones that already have flashing signs and are on major roads. The city will also be adding 10 mobile cameras that can be deployed in various areas and used to determine whether those sites are good candidates for a further expansion of the program, officials said.
There are currently 66 speeding and red light cameras at 42 locations throughout the city.
Mayor Mitch Landrieu will unveil his proposed 2017 budget Monday — a plan the administration…
The cameras are one of two major sources of new revenue for the budget in the coming year. The city is also expecting to bring in about $1.5 million from enforcing a 40-cent per gallon tax on hard liquor. That tax has been on the books but has not been enforced in recent years.
The city is also expecting increased revenue from several other sources. Property tax collections came in about $4.4 million higher than originally expected in 2016. About $2 million is expected from permits and fees once the World Trade Center Redevelopment begins. And about $1 million is expected from sales taxes at the Mercedes-Benz Superdome due to a change in state law this year.
Landrieu is expected to roll out the spending side of his budget in a news conference Monday morning before formally presenting the budget to the City Council. The council will then spend the coming weeks tweaking the plan.