Six weeks before Jefferson Parish voters choose their sheriff, Joe Lopinto and John Fortunato each can chart a path to victory in the March 24 election.
For more than a generation, the office of sheriff has been out of reach for ordinary Jefferson Parish politicians. 
As the appointed sheriff for the past six months, Lopinto can marshal the power of the office every day. He also can count on support from the vast majority of the parish's key elected officials, and he has raised twice as much money.
In contrast, Fortunato is far better known among voters after spending years as the Sheriff's Office's chief public spokesman. He presents himself as a seasoned cop who has done it all while rising through the ranks over a more than 40-year career at the agency.
The stakes are high in the upcoming election. The winner will complete the term of Newell Normand, who elevated Lopinto to the job last summer when he resigned to become a radio talk show host.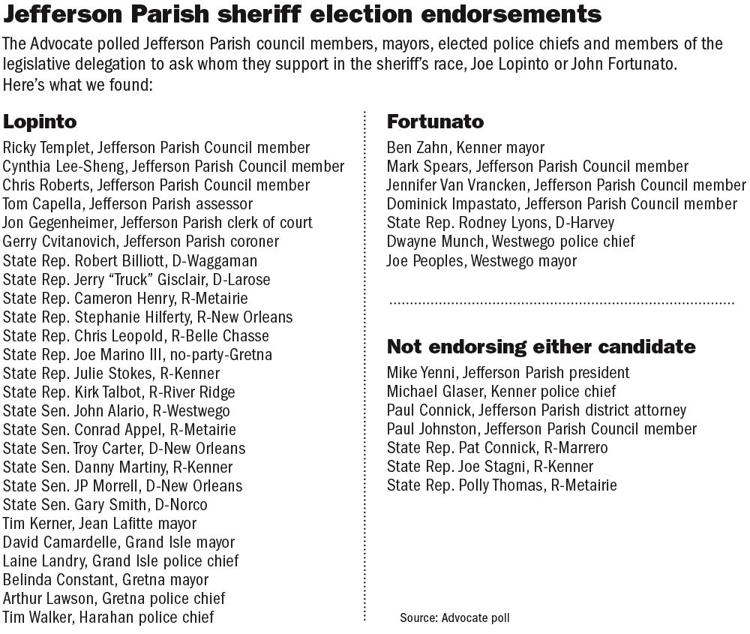 The sheriff is typically the most powerful official in Jefferson Parish, overseeing a department with an annual budget of $125 million and 1,500 employees. The salary is $180,000 per year.
Not since 1987, when Ronald Reagan was president, has the parish had a competitive sheriff's race.
The campaign so far has occurred mostly out of public view, with the two candidates raising money and appearing at sparsely attended campaign forums. Lopinto has aired one TV ad that introduced him to voters, and he's sent out a mailer as well. Fortunato began airing an introductory ad Friday night.
But the campaign's low profile will soon change.
"Both of them are going to be expending a lot of money between Ash Wednesday and election day," said Chris Roberts, an at-large councilman in Jefferson Parish who is supporting Lopinto.
Political pros who have won parishwide elections in Jefferson Parish — none of whom wanted to be identified — give Lopinto the advantage. They believe the weight of his endorsements and his bigger campaign war chest in a low-turnout election will overcome Fortunato's longer career and higher profile.
It may be worth noting, however, that Desiree Charbonnet had more money and more big-name endorsements in the New Orleans mayor's race last year but lost to LaToya Cantrell.
The number of reported crimes in unincorporated Jefferson Parish fell by 10 percent last year, reaching a record low since the Jefferson Paris…
East vs. west bank
On paper, Lopinto has another advantage: He lives on the east bank, which will likely account for about 55 percent of the voters compared to 45 percent or so on the west bank. Fortunato lives in the Plantation Estates subdivision in Marrero.
West bank candidates who win parishwide races typically have solid support from elected officials on their side of the river, but such key west bank figures as Gretna Police Chief Arthur Lawson, Jean Lafitte Mayor Tim Kerner and Grand Isle Mayor David Camardelle are supporting Lopinto. (Westwego Mayor Joe Peoples and Police Chief Dwayne Munch are among those backing Fortunato.)
The political pros dismiss the one independent poll released during the race, an October survey by the University of New Orleans that found Fortunato leading with 44 percent of the vote to 19 percent for Lopinto. They say the result simply showed that Fortunato was far better known.
A poll released last week by Lopinto's campaign showed Lopinto leading by 45 percent to 38 percent.
Lopinto has more campaign experience than Fortunato, having won election to the state House from Metairie as a political unknown in 2007 by defeating a nephew of Harry Lee, the venerated former sheriff. Lopinto won re-election in 2011 and again in 2015 before resigning from the Legislature in 2016 to become the Sheriff's Office's in-house attorney.
But Lopinto has stumbled. A newly released internal investigation found that the sheriff had asked one of his deputies to collect surveillance footage of a coffeehouse meeting involving Fortunato and two other lawmen who previously worked for the department. That contradicted Lopinto's claim that the deputy had obtained the footage on his own in an imprudent attempt to assist the sheriff's campaign.
Fortunato pounced the next day, releasing a statement in which he called Lopinto "a deceitful politician who will lie to the public for his own personal gain."
The Fortunato campaign is also accusing Lopinto of "deception" in a campaign mailer that the sheriff sent to voters in late January. The Lopinto campaign said the mailer undercut Fortunato's key argument that he's a cop's cop who knows best how to keep the streets safe.
In a side-by-side comparison, the mailer listed Lopinto as having made 351 arrests, written 604 investigative reports and prepared 48 narcotics reports during his career as a JPSO deputy. Fortunato, the mailer said, had only four arrests and no investigative or narcotics reports.
But Fortunato media adviser Greg Buisson notes that the figures go back only to 1990, when the office's computerized record system went online.
"John Fortunato began his career on the force on 1972," Buisson said. "His arrests came when he was a deputy and detective — before 1990. We're going to show in this campaign that if you want to count arrests and reports, the competition won't be close."
In an interview, Lopinto dismissed the accusation that the mailer contained misleading figures and took the opportunity to argue that Fortunato is out of touch with street policing today.
"Law enforcement has changed since the 1970s, when Jimmy Carter was president," Lopinto said. He said Fortunato "has never written a report on a computer."
A newly released internal probe says Jefferson Parish Sheriff Joe Lopinto asked one of his deputies to obtain surveillance footage of a coffee…
Stylistic differences
Both candidates are Republicans with long ties to the Sheriff's Office. But they present stylistic differences. Lopinto, 41, is sober and professorial, having earned a law degree from Loyola by taking classes at night while working as a sheriff's deputy.
Fortunato, 66, is brash and has only a high school education. Asked in an interview whether that was a handicap, he replied, "There's not a university in the world that can teach the 40-plus years of experience that I have."
In campaign appearances, Lopinto emphasizes the need to properly manage the sprawling agency and to carry out diverse duties that include collecting taxes, running the jail and awarding millions of dollars in contracts.
He was given a chance to score cheap points at a campaign forum last week sponsored by the River Region Republican Women's Club, when he was asked about a series of new laws that allowed 2,000 state inmates to be released 60 to 90 days early.
Instead of criticizing the changes, as Fortunato did, he said: "The reality is I don't have enough room (at the parish jail). We don't have room for the 20-year-old punks. We're overcrowded because we're still housing the 60-year-old punks of 40 years ago."
At the same campaign forum, Fortunato did little to draw distinctions between himself and Lopinto, an unusual approach for a challenger seeking to upset the status quo.
Afterward, standing by his car, Fortunato complained to his wife, Kriss, that the moderator had failed to ask about the internal report that exposed Lopinto's apparent lie about the coffee klatch. Fortunato didn't find a way to bring it up on his own, something a more experienced candidate likely would have done.
However, Buisson, a veteran spinmeister, argues that Fortunato's lack of political experience is a plus.
"He is at a distinct disadvantage when it comes to wooing politicians," Buisson said. "But that may be one of his greatest advantages in winning the confidence of the public."
Of 40 Jefferson Parish elected officials contacted by The Advocate about the race — members of the parish's legislative delegation, elected police chiefs, mayors, members of the Parish Council and parishwide elected officials — 26 said they favor Lopinto. Just seven said they support Fortunato, while seven said they didn't back either candidate.
Candidate for Jefferson Parish Sheriff John Fortunato didn't pull any punches in a response to a report on Joe Lopinto, referring to him as a …
'Like being a CEO'
Cynthia Lee-Sheng, an at-large council member, offers an especially coveted endorsement for Lopinto because she is Harry Lee's daughter.
"When my dad passed away, he made it clear that he thought Newell was the one to take it over," she said. "That's the way Newell felt about Joe. He rounds out all the qualifications you need to be sheriff. It's multifaceted. It's not just police work. It's managing, like being a CEO."
Those endorsing Fortunato tend to have close ties with Buisson, who has a long history of electing candidates in Jefferson Parish. Most recently, he ran Dominick Impastato's successful election in October for a seat on the Parish Council, over state Sen. Danny Martiny, who is close to Normand.
Impastato called Lopinto a "dear friend," but said, "Newell Normand and his machine around him made it clear to me both before and during my race that he has a desire to control the seat for Jefferson Parish. That is problematic for the citizens of the parish."
The importance of endorsements has declined over the years, but it matters more in a low-turnout race, said John Couvillon, a Baton Rouge-based pollster and demographer.
He is projecting 25 percent of the parish's 240,000 registered voters will cast ballots. Couvillon arrived at that figure after noting that Normand first won office in a 2007 special election with a 28 percent turnout, and that a 2013 special election that rejected keeping tolls on the Crescent City Connection generated a 23 percent turnout in the parish.
"This is an off-year election and this is a two-Republican race," Couvillon said. "Those things tend to dampen the enthusiasm of people going out to vote."
Lopinto also has the support of the Alliance for Good Government, the parish Republican Party and the AFL-CIO labor federation.
Lopinto has the money advantage, reporting having raised $448,000 through mid-December, when the latest report was filed, compared to $255,000 for Fortunato.
Lopinto has had several fundraisers since then, and businessman Shane Guidry, perhaps the biggest Republican donor in the state, is hosting two separate bird hunts, and dinners, at his Poplarville, Mississippi, ranch later this month. The cost is $5,000 per hunter.
---
A basic requirement for any Jefferson Parish sheriff is evidently a knack for coffee-shop political intrigue.