With his second term drawing to a close, Mayor Mitch Landrieu holds a 57 percent approval rating among New Orleans voters, having weathered controversies this year involving the city's drainage system and monuments to Confederate figures. 
But that support splinters sharply along racial lines, with 75 percent of black voters approving of Landrieu's job performance compared with just 35 percent of white voters, according to a new poll conducted for The New Orleans Advocate and WWL-TV.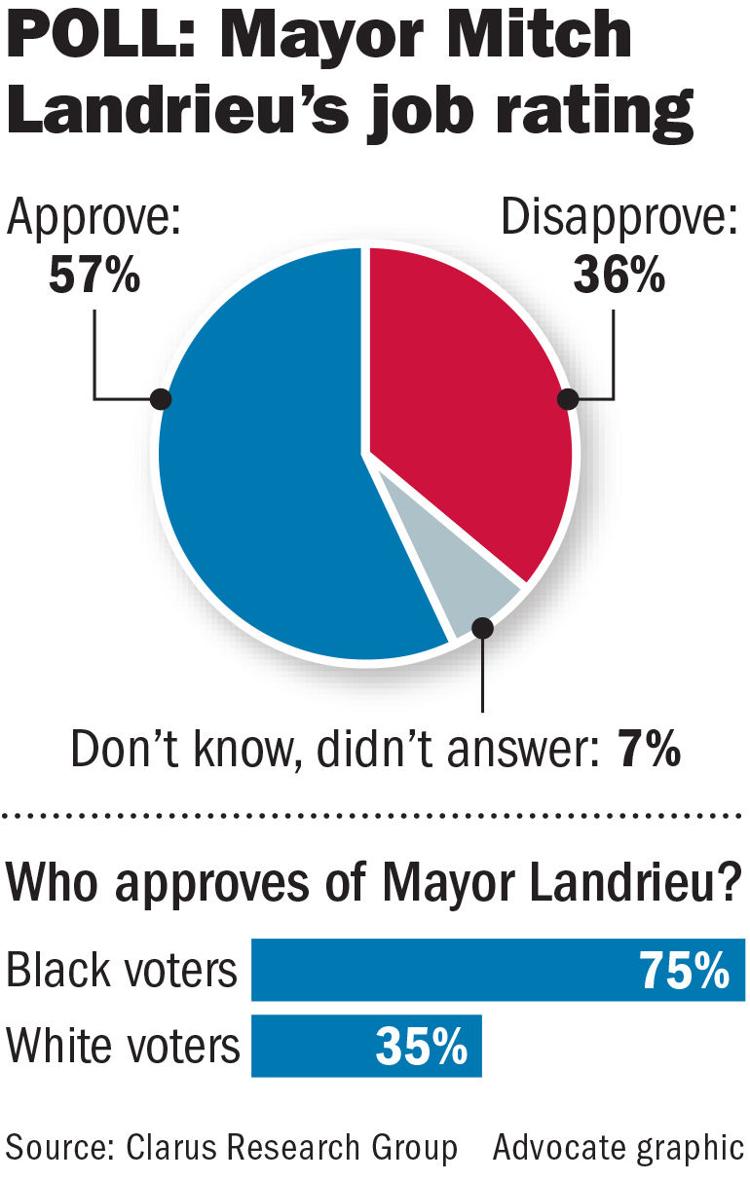 Ron Faucheux, president of the Clarus Research Group, which conducted the poll for the news organizations, described Landrieu's popularity as strong compared with other two-term mayors around the country.
"There are a lot of tough issues that have emerged recently, and that certainly complicates smooth sailing at the end of the voyage for Mayor Landrieu," Faucheux said.
Faucheux's firm interviewed 500 likely voters in New Orleans last week. The poll has a margin of error of 4.3 percentage points.
Landrieu, who leaves office in May, generated national attention this spring for his decision to remove several Jim Crow-era statues around the city — a campaign that was overwhelmingly supported by black voters but drew far less backing from white residents.
The mayor's approval rating is virtually unchanged from a survey taken nearly two years ago by a University of New Orleans researcher. And it's well above that of his predecessor, Ray Nagin, whose approval rating had plunged to 24 percent by early 2009 — a year before Nagin left office and five years before he was convicted of federal corruption charges.  
Former Mayor Marc Morial, on the other hand, left office in 2002 with a 70 percent approval rating — support he recently attributed to the progress he made against crime and poverty. 
Voters are more critical of Landrieu when it comes to his handling of specific hot-button issues, the poll found. About 53 percent of voters disapproved of his response to the Aug. 5 flooding in New Orleans and revelations afterward that not all of the city's pumps were working at the time. Landrieu was out of town when the flooding happened but later forced out several high-ranking officials at the Sewerage & Water Board. 
Just 43 percent of voters approve of Landrieu's handling of violent crime, even though the murder rate has fallen significantly during his tenure. The mayor has made murder reduction the centerpiece of his administration.   
Landrieu is barred from seeking a third term under the City Charter, a prohibition that New Orleans voters have repeatedly declined to lift. Marc Morial made a push for a third term in 1999, and his father, Dutch Morial, made two attempts at a similar charter change in the 1980s. Voters rejected each of those efforts by sizable margins.    
Landrieu has raised his national profile over the past year, drawing widespread attention for a speech he gave explaining his reasons for pursuing the removal of the monument to Robert E. Lee in Lee Circle and three others. 
And although he has denied that he has plans to run for the Democratic presidential nomination in 2020, voters in heavily Democratic New Orleans would support him overwhelmingly over Republican President Donald Trump, the Advocate/WWL-TV poll found. 
About 64 percent of the poll's respondents said they would vote for Landrieu over Trump in a hypothetical election, while 18 percent said they would not vote for either candidate. 
"These numbers are no surprise," Faucheux said. "New Orleans, in presidential elections, has become one of the more liberal cities in the nation."