Charles and Richard Meyer are betting big on Desiree Charbonnet.
The father-son duo — whose firm, Meyer Engineers, has at least seven contracts with City Hall — each gave the maximum $5,000 contribution allowed by law to the former Municipal Court judge, just days after she gave up her seat on the bench to explore a mayoral bid.
But then they threw in another $5,000 via the engineering firm. And then another $10,000 through two separate companies registered in the names of either man.
All told, Charbonnet has gotten $25,000 from the Meyers, according to the latest round of campaign finance reports.
Nor are the Meyers alone. Charbonnet, whose $869,000 war chest in the mayor's race dwarfs most of her competitors' hauls, netted more than $10,000 on average from at least 49 groups of people who gave through multiple entities or collected donations from relatives or business associates, according to an analysis by The New Orleans Advocate of campaign finance reports, corporate business filings and Orleans Parish Assessor's Office records.
Most of those groups gave more than the $5,000 individual maximum.
Neither Meyer returned calls last week about their donations to Charbonnet.
Meyer Engineers also gave a $1,000 check to one of Charbonnet's opponents, City Councilwoman LaToya Cantrell.
It's likely that none of the donations runs afoul of laws that limit campaign contributions, thanks to a workaround commonly known as "bundling." 
Under bundling, a donor can collect checks from other like-minded people or businesses — even from their relatives or firms they control — and send them all to a candidate's campaign. Bundled contributions, many from people or companies who do business with the city, make up about 56 percent of the total haul in Charbonnet's first campaign finance report.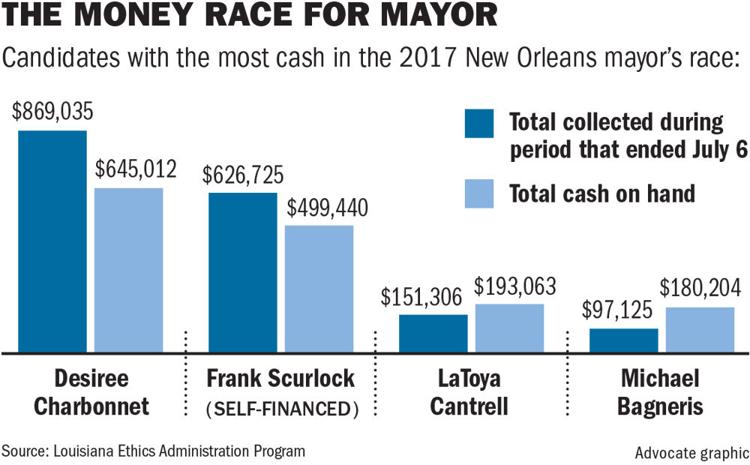 "Judge Charbonnet has been and will continue to be entirely transparent in her fundraising as required by campaign finance laws," said Kevin Stuart, who is with Teddlie Stuart Media Partners and is a spokesman for the campaign.
The two other major candidates — Cantrell and Michael Bagneris, a former Civil District Court judge — have reported more modest war chests and fewer bundled contributions.
Only four instances of bundling that go above the $5,000 limit appeared on the campaign finance reports Cantrell has filed so far. And Bagneris has only one set of donations that can be traced back to a single individual: $10,000 from businessman Frank Stewart and his wife.
Together, the three candidates received at least $463,000 from firms doing business with the city or various city agencies, totaling more than a third of the donations made in the campaign so far. About $400,000, or 86 percent, of that money went to Charbonnet.
The other 15 entrants in the mayor's race either have not yet been required to file campaign finance reports or have not yet brought in significant amounts of money. Frank Scurlock, the only other candidate whose war chest is in six figures, loaned himself all of the nearly $627,000 included in his campaign finance report.
Those doing the giving can argue that they have a right, just like anyone else, to support a candidate who shares their views or who they think is the best person in the race. But critics say big donors often expect their contributions to grant them special privileges.
"You often hear them say, 'Oh, we just want access to the people who are making the decisions. We don't want to influence them,' " said Robbie Hogan, an LSU professor who specializes in campaigns, political financing and interest groups.
Can't see video below? Click here.
"But in reality, access is the first step to having influence."
Bundling becomes illegal only if a donor pays someone else to send a donation — a violation of the law that bans contributing "through or in the name of another." Bundlers also can't coerce anyone into contributing.
Trouble is, such illegal actions often are hard to spot.
And even legal bundling violates the spirit of a law intended to limit deep-pocketed donors from wielding too much influence over a prospective officeholder, some critics say.
Charbonnet's bundled contributions have made her the target of attacks — subtle and not — from Cantrell, who has cast herself as not beholden to the "political machine" or to "powerful, deep-pocketed donors" who might expect special access in return for their donations.
"Desiree Charbonnet's tent is very large in terms of money but small in terms of who's actually in it," said Karen Carvin Shachat, a political consultant for Cantrell's campaign.
Charbonnet's windfall includes high-dollar donations from individuals and firms tied to Metro Service and Richard's Disposal, which have lucrative trash collection contracts with the city; Meyer Engineers, the Beta Group Engineering and Construction, BCG Engineering & Consulting, and Manning Architects, all of which have city contracts; and attorneys Nat and Kris Kiefer, sons of the late state lawmaker Nat Kiefer Sr. Each of those groups has given between $20,000 and $30,000 to the campaign.
Cesar Burgos, a former Regional Transit Authority chairman and ally of former Mayor Ray Nagin, kicked in another $18,000 to Charbonnet through various firms and relatives. He gave $2,500 to Bagneris as well.
The biggest bundled donations to Cantrell, who has raised a total of $337,000 since the beginning of the year, came from those connected to Reily Foods, the company that produces Luzianne, CDM and French Market coffee and tea. Members of the Reily family gave her $15,000.
In addition, the Kennedy Financial Group, which has had insurance contracts with the RTA and city agencies, gave her $11,000. But Charbonnet got $12,500 from that firm and associated individuals.
Cantrell also got $9,000 from individuals and firms connected to Woodward Design + Build, a large local firm that, among other things, is working on the conversion of the former World Trade Center building into a Four Seasons hotel. Paul Flower, who heads the firm, is well-connected in the development and business communities, groups that so far have been slow in putting their money into the mayoral race.
Cantrell also got $1,100 from the Alliance for Neighborhood Prosperity, a local group of short-term rental property owners, and $2,500 from the Committee to Expand the Middle Class, Airbnb's political action committee. Shachat said Cantrell has not given any assurances on what her policy on short-term rentals would be if she's elected, other than to say that it would be "open, fair and transparent."
Now that we finally know who's not running for New Orleans mayor this fall, the attention ha…
The bundled donations also have fueled talk that at least one campaign has been telling city contractors that donations of $20,000 to $25,000 will be required to keep doing business with City Hall — a rumor publicly repeated by term-limited City Councilwoman Stacy Head on the eve of qualifying this month. She offered no proof of the allegation. 
Charbonnet is the only candidate who has come close to raising that kind of bundled money, according to recent filings. But while the Cantrell camp hasn't directly pointed to those rumors, it has suggested that Charbonnet's haul represents "the usual suspects" and has hinted at a pay-to-play mentality.
"Most of those people who gave (to Charbonnet) at that level probably have contracts with the city, and I think basically it was impressed upon them that they should give as much as they can and give now," Shachat said.
Charbonnet, through her spokesman, dismissed suggestions that she would be influenced by a well-heeled donor or that she would solicit a contribution and promise something in return.
Her backers say many of her biggest donors also gave, in many of the same ways, to Mitch Landrieu in the 2010 mayor's race, when he jumped in at the last moment and took in more than $1 million within a month.
"No contributions were made on the basis of promises, no promises were made as to any future actions as mayor, and no one — family or friend — has been authorized to make promises on Judge Charbonnet's behalf," Stuart, the campaign spokesman, said.
The candidate in the sweat-soaked white dress shirt strode up the concrete steps of a tidy b…