Orleans Parish Sheriff Marlin Gusman and Clerk of Criminal District Court Arthur Morrell were returned to office this week after their opponents in the Oct. 14 primary were disqualified by the courts.
The sole challenger to Gusman, former Deputy Fredrick "Freddy" Brooks, was barred from running by Civil District Court Judge Kern Reese on Monday.
Morrell's only opponent, Danil Faust, was knocked off the ballot the next day by Civil Court Judge Nakisha Ervin-Knott.
Reese found that Brooks failed to file his state income tax returns for several years.
Ervin-Knott disqualified Faust for qualifying as a Green Party candidate when he was registered as a member of the Democratic Party.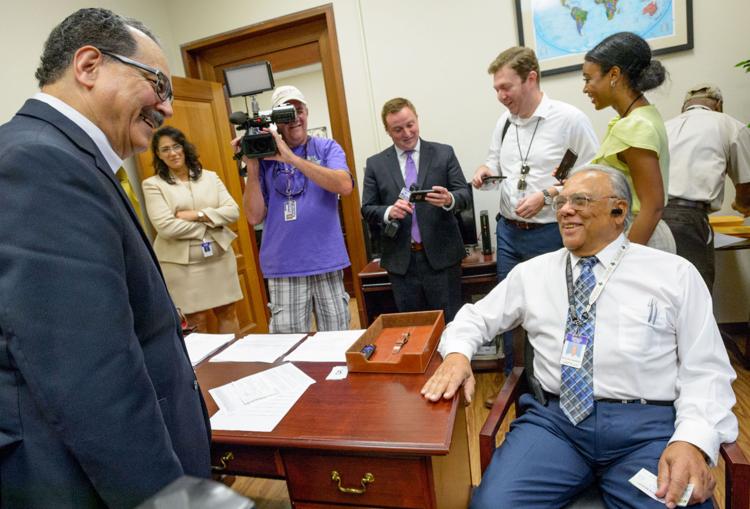 It was not a surprise that Gusman and Morrell, two experienced politicians, were able to win new terms. But it was a striking turn of events that no qualified candidates signed up to mount even a symbolic campaign for two citywide offices.
Brooks said Wednesday that he did not appeal his disqualification. A spokeswoman for the Louisiana Secretary of State's Office confirmed the race for sheriff will be removed from the election ballot.
Orleans Parish Sheriff Marlin Gusman appears to be set to cruise to a fourth full term in of…
Gusman's handling of the New Orleans jail has been criticized by advocacy groups and a federal judge. But political observers said he still retained personal popularity, and that the difficulties of running the jail likely contributed to the lack of interest in the office among other potential candidates.
In a short statement issued through a spokesman, Gusman promised to improve the jail over the next four years.
"I will continue to make public safety and service to the citizens my top priority," it said. "I will work to achieve compliance with the consent decree (requiring reforms at the jail). I hope to have a leader of our city who has public safety as the top priority."
The clerk of Criminal Court race drew little attention. Faust acknowledged defeat before the end of a 24-hour period to challenge his disqualification in a series of Twitter posts.
"It's official. I've been disqualified because of my own error in not referring to state law and relying upon federal law," Faust said.
Faust said he was "weighing his options" about what to do going forward.
"For now I get to take a bit of me time and get some overdue business taken care of," he said on Twitter.
Marlin Gusman's powers as Orleans Parish sheriff have been eviscerated by a federal judge. H…