Updates from the New Orleans area as tornadoes touched down, causing injuries and damage Tuesday.
6:30 p.m.
The National Weather Service has determined the tornado that ripped through New Orleans East was at least an EF2. 
That level storm is classified to have winds between 111 and 135 mph. It was estimated that 250 homes suffered significant damage from the storm. 
The most destructive tornado to strike the New Orleans area in recent memory touched down in New Orleans East on Tuesday, tossing vehicles, sh…
3:16 p.m.
The city has announced it will open a temporary shelter at 3 p.m. for residents who suffered damage in the tornado at the Joe W. Brown Recreation Center, 5601 Read Blvd. The city's health department, the Red Cross, the fire department and Catholic Charities will be there to assist anyone in need.
The Regional Transit authority will provide bus transportation to the shelter at the intersections of Dwyer Road and Wilson Avenue, and Dwyer and Crowder Boulevard and Dwyer and Wright Road. 
Firefighters are continuing their house-to-house survey of damaged homes from Chef Menteur to Dwyer, and from Wilson Avenue to Bullard Avenue. They are also searching one block south of Chef. 
The total number of homes and businesses currently without power is 9,200, according to Entergy. The I-10 exits at Downman and Chef Menteur remain closed.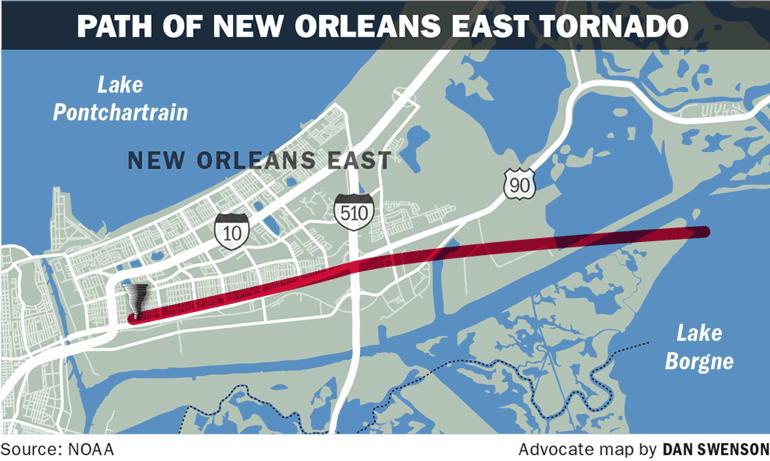 Update: 12:49 p.m.
Surrounded by the chiefs of the city's emergency response agencies, Mayor Mitch Landrieu said Tuesday afternoon that two people were seriously injured when a tornado touched down in eastern New Orleans, and dozens more had minor injuries from debris. 
He also urged residents to avoid the east entirely, saying there are several gas leaks in area and large numbers of first responders attempting to search for victims and assess the damage. 
"Please do not try to come to New Orleans East," Landrieu said in a press conference. "It is totally shut down."
Police have blocked the Interstate 10 exits at Chef Menteur Highway and Downman Road so crews can do their recovery work.
Firefighters are also conducting a door-to-door search and rescue effort, but had not yet found any residents trapped by debris, New Orleans Fire Chief Tim McConnell said. Damage was reported along Chef Menteur Highway and in the subdivisions north of the highway, between Bundy Road and Read Boulevard. 
Can't see video below? Click here. 
Landrieu said around 10,000 Entergy customers were without power and that crews were working to restore electricity. 
"Tornadoes are unbelievably powerful," Landrieu said. "They are as destructive as anything we have seen in this city... really scary."
ReNEW Schaumburg Elementary, a charter school in the 9000 block of Grant Street, sustained some damage, but there were no injuries, according to a spokesman for the school. As of early Tuesday afternoon, students were still following shelter-in-place procedures.
A unified command structure has been put in place, with a team of local, state and federal agencies responding to the scene, the mayor said. 
"I think the response has been great," Landrieu said. 
"But our team needs a lot of room to do their work."
Original post:
The National Weather Service confirmed that a tornado touched down in New Orleans East on Tuesday morning. 
There have been widespread reports of damage.
The Interstate 10 exits at Chef Menteur Highway and Downman Road were closed until further notice due to severe weather damage, NOPD spokesman Aaron Looney said.
Shortly before noon, Entergy Louisiana reported more than 6,500 were without power in New Orleans East along Chef Menteur Highway near Paris Road.
A tornado also touched down in Madisonville on Tuesday morning, the Weather Service said.
Can't see video below? Click here. 
http://www.theadvocate.com/new_orleans/news/article_65c32200-ed93-11e6-8f45-f7849c64d2fd.html