New Orleans has already received an inch of rain as Hurricane Nate approaches landfall Saturday night in the northern Gulf Coast, Mayor Mitch Landrieu said a news conference Saturday afternoon. 
As gusts from Hurricane Nate hit Louisiana's coast, Melonie Stewart, director of customer se…
Landrieu said the New Orleans area is slated to receive anywhere between 2 to 6 inches of rain over the course of Hurricane Nate, with Freddie Zeigler, of the National Weather Service, saying the worst is to occur around 7 p.m. Saturday to 3 a.m. Sunday. Zeigler also said New Orleans East could see possible hurricane force winds.
Landrieu also warned of a 3-5 foot storm surge expected at Lake Ponchartrain and 7-11 foot storm surge in Rigoles, Lake Catherine and the Irish Bayou Saturday. 
The Category 1 hurricane is moving between 22-25 mph, which Landrieu said was unprecedented in his experience. 
He urged New Orleans residents and visitors alike to be responsible in following the city's mandatory 7 p.m. curfew Saturday night, noting the need for safety while reassuring it's not likely police will arrest or detain anyone in violation. 
As Hurricane Nate bears down on the Gulf Coast, New Orleans Mayor Mitch Landrieu has ordered…
"It's gonna hit you hard. It's gonna hit you fast," Landrieu said. "If those winds start to pick up, especially in the (Central Business District), someone could catch a stop sign to the head." Landrieu said. 
Nate is approximately 50 miles south of the mouth of the Mississippi River and about 140 miles south of Biloxi, Mississippi with maximum sustained winds of 90 mph, the NHC said.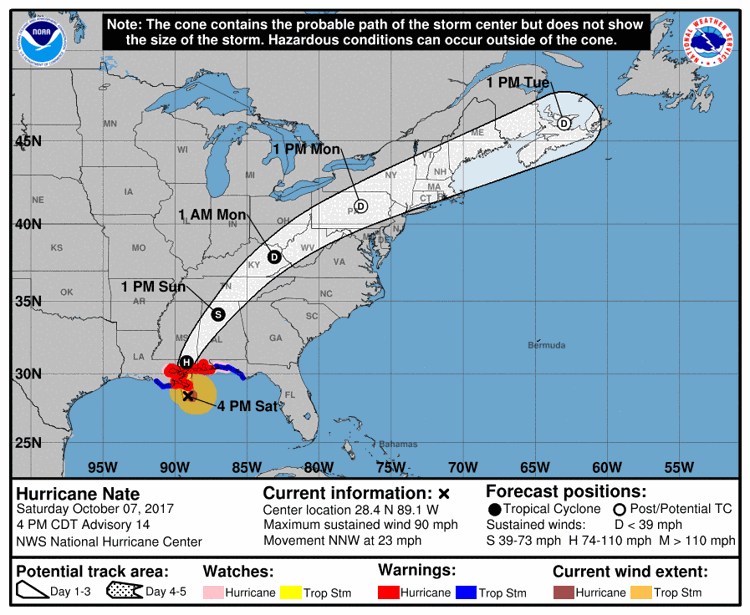 Some strengthening is possible before landfall, and Nate could still become a Category 2 hurricane Saturday evening. Rapid weakening, however, is expected after landfall. 
A turn toward the north and a slight decrease in forward speed are expected during the next several hours, followed by a turn toward the north-northeast later Saturday. A motion toward the northeast is expected on Sunday. 
The NHC said Nate will pass near or over the Mississippi River during the next few hours before making landfall along the coasts of southern Louisiana or Mississippi Saturday night. 
After landfall, the center of Nate is expected to pass over portions of Mississippi, Alabama and Tennessee through Sunday night.
Can't see the video below? Click here.
---
Gov. John Bel Edwards said Saturday that Hurricane Nate is gaining strength as it moves quic…
New Orleans area residents should prepare for likely flooding and perhaps up to a week witho…