One of Josh Guillory's first actions as Lafayette's mayor-president looked like an overture to racial inclusion.
Within two weeks of taking office, Guillory announced a new position called "chief of minority affairs," devoted to "ensuring that we treat all of our citizens fairly." A press release boasted that it was a first for Lafayette Consolidated Government.
But some Black residents found the title puzzling, and possibly insulting.
"Why would a mayor need a director of minority affairs? If you are the mayor of the whole city, and all the people in the city, do the Black people need to go through somebody to get to you?" said John Milton, pastor of Imani Temple No. 49.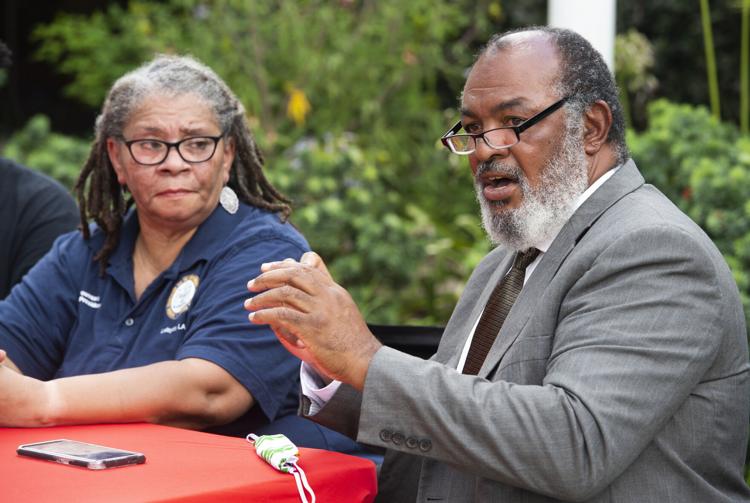 The press release announcing the appointment did not say what affairs the new chief would oversee beyond those involving minorities. And if the title itself was disconcerting, Guillory's appointment of Carlos Harvin, a former political opponent, aroused further suspicion. 
Harvin, who helped establish the church Milton now leads, ran an unsuccessful primary campaign in the race for mayor-president last year. The lone Black candidate in a field of five, Harvin garnered five contributions totaling less than $300. He finished a distant fourth.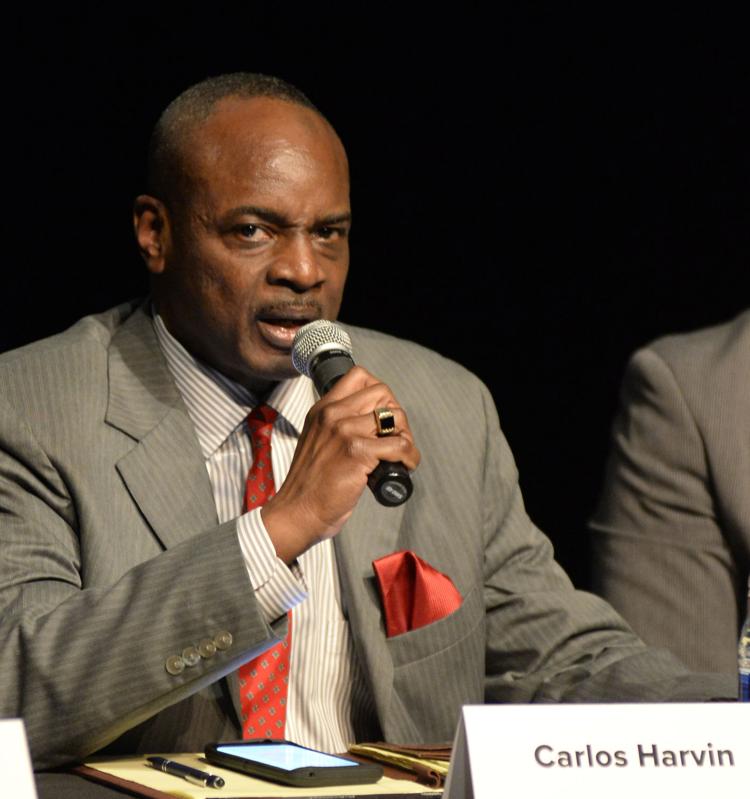 Harvin then appeared on Guillory campaign fliers in Guillory's runoff against Carlee Alm-Labar, who was far more popular in Black precincts on the city's north side.
When Guillory appointed Harvin to the new position, many Black residents assumed it was a reward for running a sham campaign to split their vote, said Kenneth Boudreaux, a former councilperson who represented part of the north side for 12 years.
"It became evident that this was a personal agenda on his part, for his sake. He used the community to achieve it," Boudreaux said.
The Advocate spoke with more than 15 Black political leaders, clergy members, community organizers, civil rights activists and others about the creation of the minority affairs position, Harvin's job performance and Guillory's track record among Black residents.
While some of those interviewed questioned Harvin's motives, others defended his integrity. Harvin has done his best within an administration that shows willful disregard toward the concerns of Black residents, said Alton Gatlin, pastor of Gethsemane Church of God and Christ.
"A lot of things (Guillory) has done, especially concerning minorities, has been in a Trump-like fashion. That makes Mr. Carlos's job very difficult," Gatlin said. "He has to be the liaison between a mad and upset and disappointed community, and a mayor who seems to have his head so high that he cannot see the people he is supposed to be serving."
The Guillory administration denied the Advocate's request first request, on Aug. 28, to interview Harvin about the purpose of the position and his tenure thus far. Guillory's spokesman, Jamie Angelle, accused the Advocate of "inflaming racial tension" when denying the request.
Additional emailed queries concerning Harvin's agenda and initiatives received no responses. A second request to interview Harvin, as well as Guillory, went unanswered. 
After the election, Guillory tried to calm fears that he had installed Harvin as a gatekeeper.
"Look, I don't know where that came from, but dispel it. Carlos is here to be a leader. To bridge the gap," Guillory told KLFY.
Whether or not that's true, Harvin's influence has not stopped Guillory from repeatedly offending Black residents in his first eight months in office.
During that time, Guillory antagonized two popular Black officials, leading to their resignations. He stunned north side residents by suddenly announcing the closure of four recreation centers. He then shunned Black family members of a fatal police shooting victim.
Guillory finally took steps to soothe nerves after the summer's back-to-back outrages over the rec center closures and the police killing of 31-year-old Trayford Pellerin, but only after he faced prolonged and furious criticism.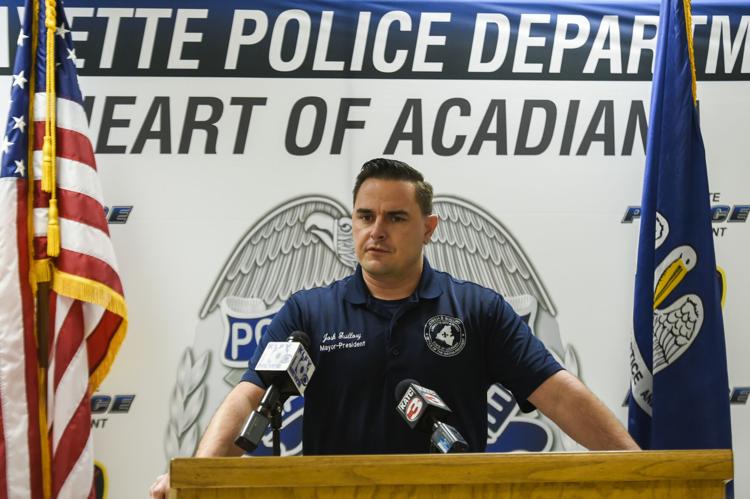 Guillory agreed to a councilperson's plan to keep the rec centers open for another year. And two weeks after his first statement on Pellerin's killing, Guillory met grieving relatives face to face.
The extent to which Harvin is helping to guide Guillory out of a self-dug hole is unclear. Also uncertain is whether Harvin has the credibility he needs to be the guide.
Guillory has already undermined Harvin at least once, by not consulting him before the rec center decision. Though Harvin said he learned about the decision from the news media, it was left to him to defend and explain Guillory's decision the next day.
The deployment of Harvin as a spokesperson on such matters has reinforced Harvin's image as "the secretary to Black people," as civil rights activist Devon Norman put it.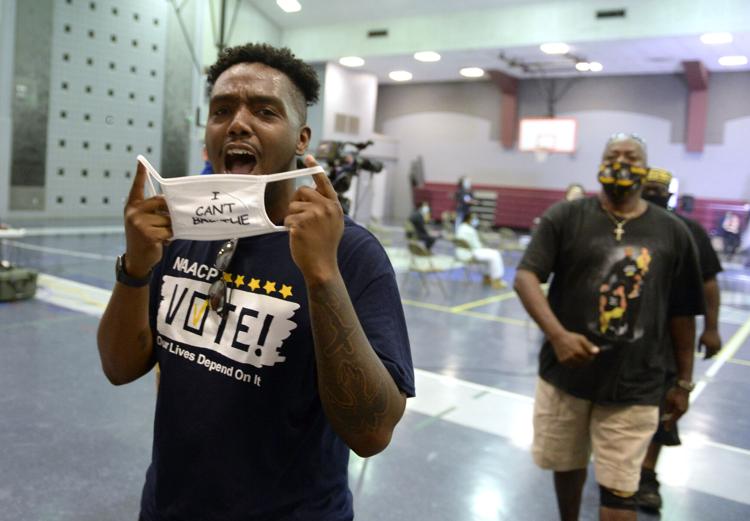 "When you're trying to prove as the mayor-president that you're not racist, you don't hire somebody to speak to the Black community," Norman said.
Ravis Martinez, a political consultant and entrepreneur, said Harvin's appointment backfired. Suspicion among Black residents that Harvin's job was political payback is deep enough that the hire alienated a critical mass of the constituents Harvin was to represent, Martinez said.
That Guillory conducted little, if any, outreach before giving the job to Harvin was doubly insulting, Martinez said.
"You create a position without input and then you slap us in the face again with appointing someone who is seen as giving the vote away, or selling the vote out for a job," Martinez said.
Murky role
Prior to jumping into the race for mayor-president last year, Harvin was among a broad coalition of Black leaders who composed a detailed policy agenda. The document proposed strategies for 13 areas of improvement, including economic development, housing and education.
Harvin was asked to leave the group after becoming a candidate, and it is not clear if he is pursuing those priorities now that he is a government official. Harvin has not publicly discussed a set of concrete objectives, and several people interviewed for this article are not sure what he does. 
"I don't know what his duties and responsibilities are supposed to be," said City Councilman Glenn Lazard. "If he's being held out as someone that's supposed to bridge the gap between the minority community and LCG, then I would like to be kept more in the loop."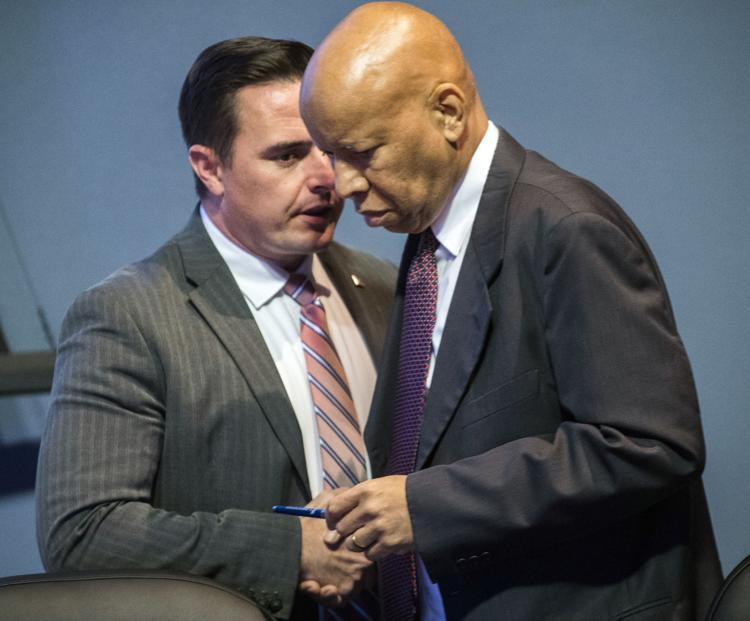 Lafayette Consolidated Government denied the Advocate's public records request for a formal job description for the chief of minority affairs, claiming that a job description is "considered part of an employee's confidential personnel file."
Personnel files are considered public records under state law, with exceptions for certain personal information. The Advocate's request did not seek records for any individual employee.
Despite the lack of clarity around his role, Harvin has not been sitting on his hands since being hired. He spearheaded the creation of Lafayette's Health Equity Task Force, and through it helped set up coronavirus testing sites on the north side.
But, like Harvin's position, the task force's mission and agenda is ill-defined. At least one member, Tina Shelvin Bingham, left the committee in frustration.
"At month four, we were still reviewing our mission statement. That's when I was like, 'You know what? I think this might be the time for me to be done,'" Bingham said. "Usually the mission has already been defined, and at month four we are at the point of putting some stuff into place."
Bingham enjoyed a productive relationship with the previous administration of Joel Robideaux, which supported her projects with the McComb-Veazey Coterie, a neighborhood organization. Under Robideaux, for example, the city-parish helped Bingham's group secure a grant to build a community center and state designation as a cultural district.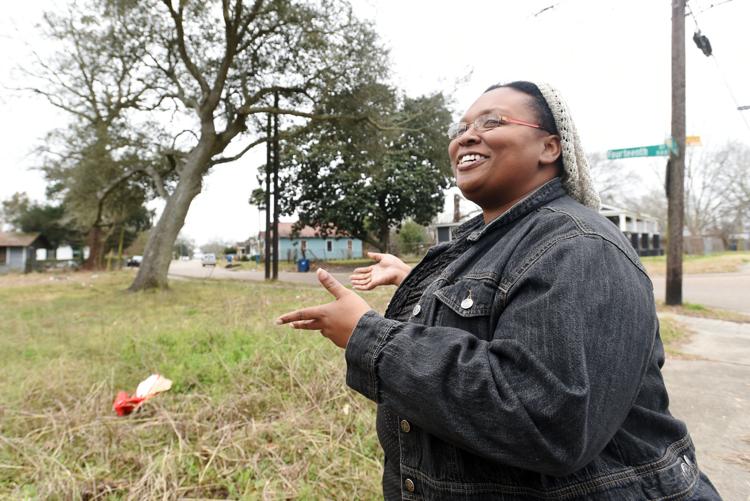 Guillory's people, including Harvin, have not shown interest in such partnerships, Bingham said.
"I'm not sure what he's advocating for," she said, referring to Harvin. "Nobody knows unless you're in the inner circle. More people are not in the inner circle than are."
A zero on the first day
Guillory's administration got off on the wrong foot with a number of Black community leaders on its very first day, when a Lafayette Police secretary emailed members of a civilian-police committee to say it was suspended until further notice. No explanation was given.
Residents used the committee to channel concerns and information, which police took seriously, said Alzina Dural, a Quiet Town neighborhood organizer. Dural said the Jan. 6 email caught her off guard.
"Right off the bat, you got a zero for that one," she said.
Efforts to restart the committee have sputtered, in part because of COVID-19 protocols, but also because confidence in Lafayette Police among Black residents has plummeted. Dural said her neighbors are now afraid to call police even when they need help.
"It's like, 'Figure it out yourself, help yourself.' Ain't no more, 'See something, say something,'" Dural said. "The streets ain't talking no more."
When the streets did talk, it was often to the former deputy police chief, Reggie Thomas, who resigned after Guillory eliminated his position. Guillory said the position was a waste of taxpayer money, but Thomas had built relationships across the city over 30 years in the department.
"It was either take a big demotion for no reason, or you're out," said Thomas, who said he learned of the cut from news reports.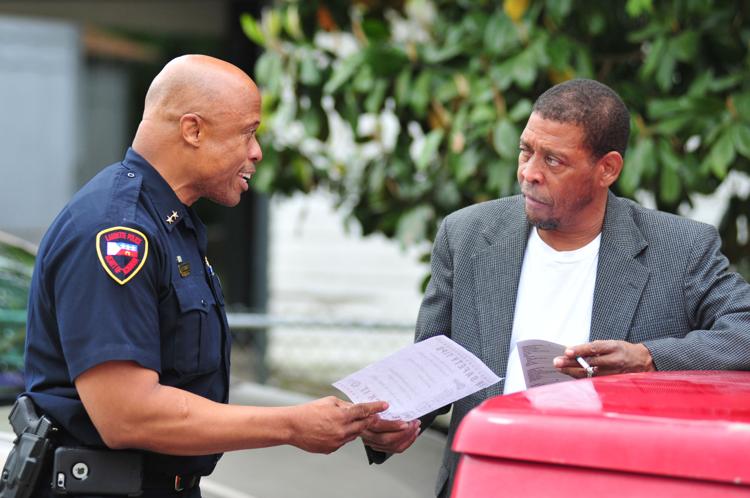 Thomas, who led the committee that Dural was on, said he had wanted to organize a community walk with two groups starting from opposite ends of the city that would meet downtown.
"My goal was to bring both groups together, and then work on city issues together. To show that both groups can work together, and everybody can be friends," Thomas said.
The longtime parks and recreation director, Gerald Boudreaux, abruptly followed Thomas out the door in June after more than 40 years in local government. Boudreaux, who is Kenneth Boudreaux's brother, later told reporters he left over differences with Guillory.
"I respect the office of the mayor-president. But you cannot get elected and think you know everything about every department," Boudreaux said.
Boudreaux did not respond to an interview request. 
Fading fire
Harvin's history in Lafayette starts in 1993, when the Catholic Diocese of Lafayette closed the Holy Rosary Institute high school for Black students. The closure drew protest from George Stallings, an excommunicated priest from Washington, D.C. who had rejected the Vatican and started a new denomination. It was called the African American Catholic Congregation, and its places of worship were called Imani Temples.
Stallings was controversial even among allies, especially because of allegations that he had sexually abused adolescent boys, including one case that was later settled. But his forceful denunciation of racism within the Roman Catholic Church resonated with Black Catholics in south Louisiana, and Harvin was instrumental in delivering that message.
A Washington, D.C., native, Harvin helped launch the expansion of the new church, first by setting up a temple in Virginia. Stallings then dispatched Harvin to the fledgling temple in New Orleans, after the first pastor died.
Holy Rosary closed in Lafayette a year later, leading Harvin to once again help the Congregation expand. Imani Temple No. 49 attracted hundreds of followers in its first few months with Harvin at the helm. 
In addition to African-centered worship rites, the Congregation adopted liberal reforms such as a celibacy-optional policy for priests, promotion of women to priesthood and allowance of birth control. Harvin told an Advocate reporter at the time that he had found his calling.
"Everything I had been longing for as a Black Roman Catholic, I found at the Imani Temple. It wasn't just a denomination, but a Black thing," he said.
Harvin returned to Washington in 1998 to reunite with Stallings, but they fell out the next year. A decade later, Harvin returned to Lafayette, where he founded the non-denominational New Beginnings Christian Church. He spoke out for removing the Confederate monument in downtown Lafayette and was a founding board member for the Lafayette Charter Foundation.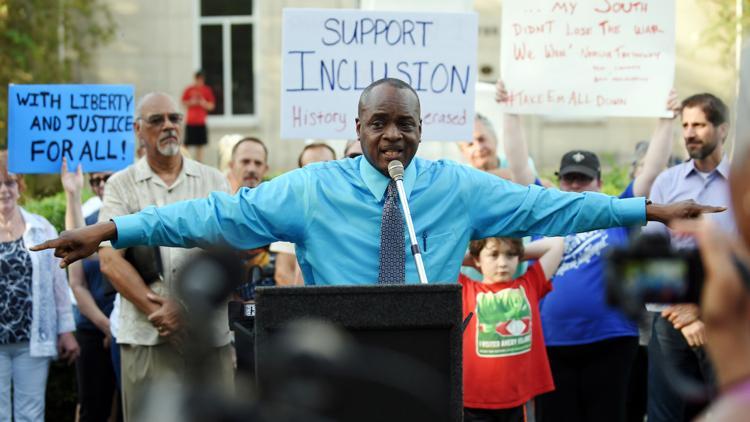 Harvin bounced around jobs, eventually falling into financial hardship. A month after he became minority affairs chief, a court ordered Lafayette Consolidated Government to garnish 25% of his wages to settle a small bank debt. During his campaign, Harvin told the Advocate he had fallen behind after trying to start a business. 
Boudreaux, the former councilperson, asked Harvin directly if his endorsement of Guillory was pretext for a job when Harvin appeared on Boudreaux's weekly radio show on July 26.
Harvin gave a circular answer. He said he had not actually endorsed Guillory — and that, in fact, it was the other way around. By asking him to appear on a campaign flier, he said, it was Guillory who endorsed Harvin.
Boudreaux demanded to know how Guillory's "endorsement" of Harvin squared with the rec center closures. Was that Harvin's agenda?
Harvin said the rec center decision blindsided him, but he also credited Guillory for apologizing to him.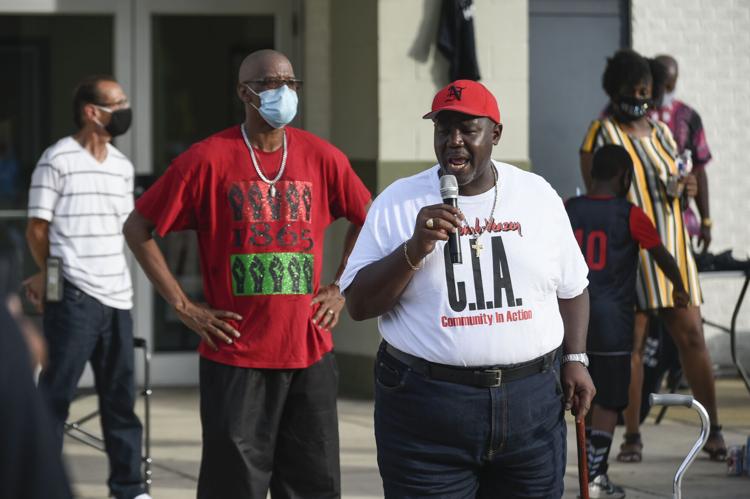 "I got a text from him, and he apologized for not sharing that announcement with me beforehand. One of the things with Josh Guillory, whether people agree or disagree with him, he was straightforward in saying, 'Hey, I should have run this by you.' I respect that," Harvin said.
Harvin struggled to answer forthrightly throughout the blistering 90-minute interview, in which Boudreaux suggested Harvin had lost his way.
"I knew Pastor Carlos Harvin of Imani Temple No. 49, of the African American Catholic congregation who came here to fix the Roman Catholics. You remember? That's the Carlos that won my heart over," Boudreaux said to Harvin. "I know it's in you. The question is, can we get it out of you?"
Guillory at a precipice
Guillory took only 16% of the runoff vote in majority-black precincts, nearly mirroring the share of White voters in those precincts. Yet only about one quarter of Lafayette Parish voters are Black, and Guillory easily won the runoff election. Despite Lafayette's racial partisanship, Guillory is not entirely without Black supporters.
Cory Levier, who has helped organize protests after Pellerin's killing, posted a Facebook video of himself planting Guillory yard signs a month before the primary. Levier said in the video that Guillory's promise to create a minority affairs position was one reason for supporting him, although the new job was not part of Guillory's formal platform.
Levier said Guillory personally told him of his plans.
"He agreed to create this position, and when he got into office, he did it. I'm proud of that. That means something to me," Levier said.
Levier said some of his friends think Harvin is morally compromised, but he does not. Still, even Levier said: "I can't look you in the eyes and say I think he's done an awesome job."
"Bishop Harvin is a wonderful guy. His demeanor, his spirit, is unwavering in the face of adversity," Levier said. "But in some ways, based on his responses, based on his actions, there is a lot of room for improvement."
Levier said he continues to support Guillory, a fellow U.S. Army veteran who he knows from military circles. He said Guillory can improve his standing among Black residents if he learns from the collective pain that Pellerin's death triggered, and "if he develops into someone who, before jumping into the fire, he considers the opinions and thoughts of others."
"If he becomes someone who is more inclusive, a leader who is empathetic, more compassionate, more aware of our story as Americans, I think this will strengthen him," Levier said.
Guillory's ability to show those qualities will be closely watched as he grapples with anger over the Pellerin shooting, which Guillory inflamed with his first statement the next day.
Bystander video showed police firing on Pellerin outside a gas station convenience store, as he walked away from them and reached for the door. A person in the video said Pellerin held a knife.
Guillory's first statement sympathized with law enforcement and said nothing to Pellerin's family. It referred to Pellerin as "a knife-wielding suspect" who threatened the lives of people inside the store.
Two days later, Guillory admitted his omission of Pellerin's family was a mistake. But he did so after meeting with local pastors, not with Pellerin's family. A Pellerin family lawyer, Ronald Haley, criticized the clergy confab as a cynical attempt to "control these Black folks, get them back in line."
"It has nothing to do with Trayford and his family," Haley said then.
Haley has since had better things to say about Guillory. The mayor-president showed real empathy when finally meeting Pellerin's family, Haley said, and he praised Guillory's promise to allow them to see body camera footage.
Guillory reinforced that commitment by fighting a temporary restraining order to restrict the family's access to footage, and the order was dismissed. Guillory's willingness to attend and speak at Pellerin's funeral "shows a 180 that he's taken from when he first gave that statement," Haley said after the funeral.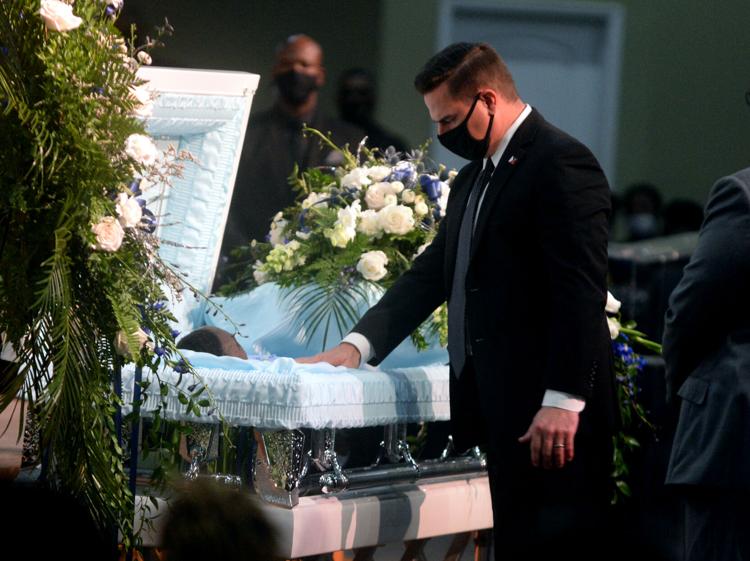 Yet little is still known about the circumstances surrounding the shooting, and the Pellerin family lawyers — while praising Guillory's show of good faith — say the private viewing of footage is only their first step. Additional demands may be forthcoming, they said.
Arrangements for the private viewing are still in the works. The officers who shot Pellerin are subjects of a Louisiana State Police homicide investigation, and the viewing will be done in a way that conceals their identities.
Not everyone was pleased with Guillory's presence at Pellerin's funeral. Lines of people walked out of the Philadelphia Christian Church auditorium as Guillory stood to deliver brief remarks, which stuck mostly to condolences and Bible verses.
Among them was civil rights activist Jamal Taylor, who said afterward he is grateful that Guillory is taking initial steps to help Pellerin's family. But Taylor said that was not enough for him to listen to Guillory.
"I want to see the results first," Taylor said. "I have been around too frequently when the answers are not as honest as they need to be."