Youngsville Mayor Ken Ritter recently rear-ended another vehicle as he prepared to enter a roundabout in the city. He said he saw a break in traffic within the circle and accelerated before checking to be sure the person driving the vehicle in front of him had also decided to enter the roundabout.
That hasn't changed his opinion of the traffic-control devices.
"Despite having an accident in a roundabout within the last month, I still think they're great," Ritter said with a chuckle.
Youngsville is a rapidly growing, prosperous city known for its housing developments, good schools, recreation facilities and, yes, roundabouts.
The city's identity has evolved from a small community of sugarcane farmers to a destination for young families. Its population has exploded in the past two decades — with just 2,617 residents in 2000 compared to 14,184 residents in 2019, according to data compiled by the Lafayette Economic Development Authority.
Even with all that growth, the city still doesn't have a single traffic light.
That's not by accident.
Instead of traffic signals at major intersections, Youngsville leaders have chosen to construct roundabouts.
There are seven key roundabouts in the city, and two more will be constructed in the next two years.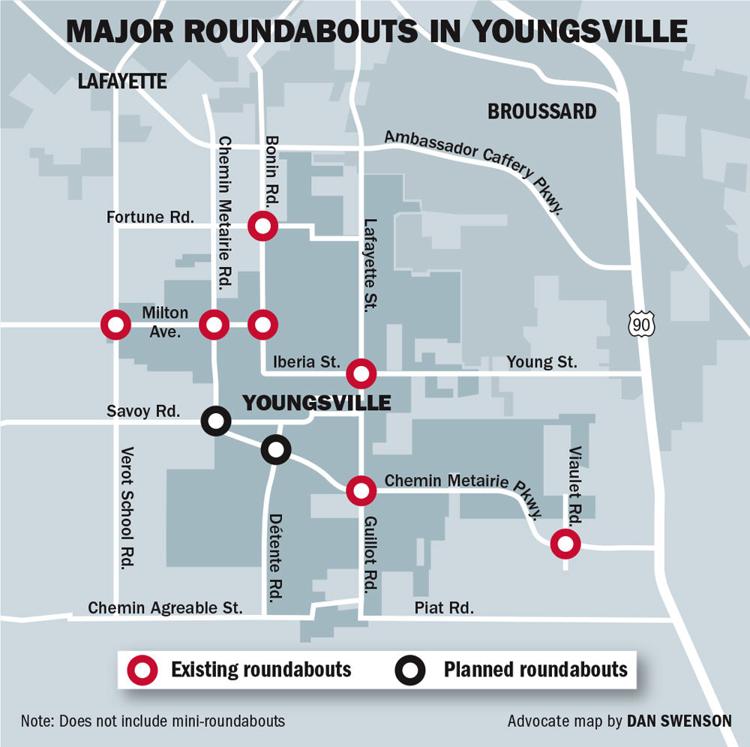 Why roundabouts
Modern roundabouts have been proven to be safer than traditional intersections that use traffic signals or stop signs.
Replacing a traditional intersection with a roundabout leads to a 35 percent reduction in crashes overall — with a 76 percent reduction in injuries and more than a 90 percent reduction in fatalities from crashes that do occur, according to the U.S. Department of Transportation's Federal Highway Administration.
That's what convinced Tony Tramel, former director of traffic and transportation for Lafayette Consolidated Government, to bring the concept to the area.
"In my business, we design for an efficient, safe and convenient movement of persons and goods," Tramel said. "And with most traffic devices, that's contradictory."
A traditional intersection could be made safer by prohibiting left turns, but it's less convenient. It could be made safer by reducing the speed by 10 miles per hour, but that's less efficient.
"Here's what makes roundabouts different," Tramel said. "They get to do all three at the same time. It's safe, convenient and efficient."
Tramel presented national research and statistics about modern roundabouts to Acadiana leaders in the early 2000s.
He worked with Lafayette engineers to design the first modern roundabout in the state at the intersection of Ridge Road and Rue de Bellier. The project went to bid in 2003, the same year Wilson Viator took office as mayor of Youngsville.
"People were asking me to put in red lights," Viator said. "But after attending a meeting with Tony Tramel, I decided to put in roundabouts instead."
Viator's constituents were skeptical of the roundabouts at first, but they felt differently after seeing how roundabouts were utilized in the 2008 Chemin Metairie Parkway project.
"It was hard to get people used to them, especially some of these Cajuns, and I'm one of them myself," Viator said with a laugh. "People said I was going crazy, but once people got comfortable with them, they worked well. I had so many people coming to me saying 'You did the right thing. You made the right decision.'"
Why Youngsville
About half of the existing roundabouts in Lafayette Parish are in Youngsville.
There are 13 modern roundabouts in the parish, seven of which are in Youngsville, according to the Louisiana Department of Transportation and Development.
Work is underway in Youngsville for two more roundabouts, both along Chemin Metairie Parkway.
Construction is scheduled to begin on the first, at the parkway's intersection with Détente Road, this summer. Construction is scheduled for the second, at the parkway's intersection with Savoy Road, next summer. Each is expected to be completed within a year.
"We've thought about alternatives to roundabouts," Ritter said. "But when you think about the cost of traffic light operation and maintenance, it can be as expensive as the initial construction of a roundabout."
The initial cost of designing and constructing is the primary reason there aren't more modern roundabouts.
Youngsville's roundabouts varied in cost between $250,000 to $1.2 million each, according to the Louisiana DOTD. A traditional traffic signal costs between $50,000 and $200,000 to design and construct, according to the Federal Highway Administration. 
After the upfront cost of construction, however, a roundabout has a return of about $13 for every dollar spent during its 20-year lifespan, according to the highway administration. That's due to lower operating costs and reductions in serious crashes, injuries and death, according to a case study by the administration.
Between state-funded roundabouts at highways and the increased tax revenue due to the city's explosive growth, it's no surprise that Youngsville is home to so many roundabouts.
"We've been tickled pink with them," Viator said. "I still get compliments on them. They call me the roundabout mayor, which is fine by me. I've been called worse."
Youngsville's roundabouts 
Here's where you'll find modern roundabouts in Youngsville, excluding mini-roundabouts in private developments:
East Milton Avenue (La. 92) at Verot School Road
East Milton Avenue (La. 92) at Chemin Metairie Road
Chemin Metairie Parkway at Guillot Road (La. 89)
Chemin Metairie Parkway at Viaulet Road
Lafayette Street (La. 89) at Iberia Street
East Milton Avenue (La. 92) at Bonin Road
Bonin Road at Fortune Road
Chemin Metairie Road at Détente Road (construction to begin summer 2019)
Chemin Metairie Road at Savoy Road (construction to begin summer 2020)