Stanley "Buckwheat" Dural Jr., an accordionist, organist, singer and songwriter who, under the name Buckwheat Zydeco, championed traditional southwest Louisiana Creole dance music on the world stage, died early Saturday of lung cancer at Our Lady of Lourdes Regional Medical Center in Lafayette. He was 68.
His longtime manager, Ted Fox, confirmed his death.
Dural's zydeco was firmly rooted in the dance halls of his native Lafayette, but it was not confined to them. His ambition and reach were much broader.
His performance during the 1996 Summer Olympics closing ceremony was broadcast to a television audience reportedly in the billions. He was featured at both of President Bill Clinton's inauguration celebrations. In February 2014, Jimmy Fallon selected him to open the final episode of "Late Night with Jimmy Fallon"; the host gleefully strummed a guitar alongside Dural's glittering accordion.
He broke new ground for zydeco, both stylistically and commercially. In 1987, Island Records, home to the likes of U2 and Bob Marley, released Buckwheat Zydeco's Grammy-nominated "On a Night Like This," the first zydeco album on a major label.
More recently, the globe-trotting Dural was the first zydeco bandleader with his own YouTube channel, Buckwheat's World.
He was a "cultural ambassador in the truest sense," said Michael Tisserand, author of the 1998 book "The Kingdom of Zydeco," which will be reissued this fall with a new foreword by Dural. "He brought this traditional music to the biggest stage it ever enjoyed. It took someone with his talent, range, sense of showmanship and charisma to take it that far."
"He'd play songs by Bob Dylan and the Rolling Stones, and stretch the music beyond its original shape," Tisserand said, "but always with the sense of celebration, excitement and cultural pride at the heart of zydeco."
Stanley Dural Jr. was born in rural Lafayette in 1947, one of 13 children. His parents were farmers. In a video installment of "Buckwheat's World," he recounts how, as a 5-year-old, he would cry when his three older siblings left to work in the fields. They finally let him go along — to pick cotton.
"When I found out what they was doing out there, that was the worst mistake I ever made," Dural said. "I did a lot of hard stuff coming up. I'm glad I did, 'cause this stuff" — making music — "is easy."
His father, Stanley Dural Sr., was an amateur accordionist who played traditional Creole songs around the house. In his youth, Buckwheat — the nickname referred to his braided hair, which was reminiscent of the "Buckwheat" character in the old "Our Gang"/"Little Rascals" comedy series — rebelled against his father's music.
He took up piano, keyboards and the Hammond B3 organ and gravitated toward funk and rhythm & blues. After cutting his teeth in local clubs, he joined guitarist Paul "Lil Buck" Sinegal's band, Lil Buck & the Topcats.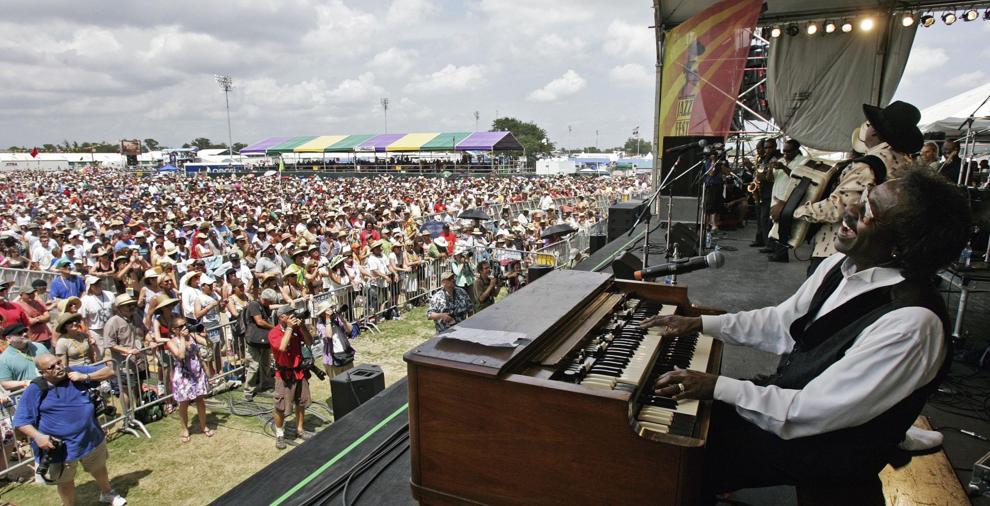 In 1971, he founded his own 15-piece funk and soul band called Buckwheat & the Hitchhikers. Five years later, he was invited to join zydeco legend Clifton Chenier's Louisiana Red Hot Band as its organist. That experience changed his opinion of zydeco.
He learned how to play the piano-key accordion and eventually left Chenier's band to form his own under the moniker "Buckwheat Zydeco." He released his first album on a small, independent label in 1979, then graduated to larger indie labels in the 1980s.
James Brown's attitude and hairstyle were as much of an influence as was Chenier. Dural cut a colorful, charismatic figure onstage, one that matched the joyous exuberance of his music. In that regard, he was well-suited to become zydeco's biggest crossover success.
New York-based producer Ted Fox, who set aside a career in journalism to manage Dural, sought out promotional opportunities to introduce Buckwheat Zydeco to a wider audience. Fox convinced Island Records founder Chris Blackwell to sign Dural, whose music turned up in scores of movies, TV shows and commercials. He toured relentlessly. 
To the larger musical world, "Buckwheat Zydeco" came to embody a unique form of regional roots music, a strain of authentic Americana. The New York Times called Dural's propulsive, finely tuned Ils Sont Partis band — the name is a horse-racing expression that translates as "they're off!" — one of the best in America.
Many better-known "mainstream" artists sought him out for collaborations, including Robert Plant, Keith Richards and Willie Nelson. Eric Clapton invited him to be the opening act on a North American tour and to join him from a two-week stand at the Royal Albert Hall in London. He shared stages with U2 and the Boston Pops.
Yet he always returned home to perform at El Sid O's and other southwest Louisiana dance halls. His global success "did not affect his sense of community in the least, unless it deepened it," Tisserand said. "And it enhanced his sense of responsibility to the music his father played."
While touring, Dural sometimes discovered that he had been advertised as a "Cajun" act. He was quick to set the record straight: He played Creole dance music.
But he also reached well beyond the traditional zydeco repertoire. Blues, R&B and rock seeped into his sound. He recast the Rolling Stones' "Beast of Burden" as a zydeco romp. "On a Night Like This," the title track of his major-label debut and the song he performed for Fallon's farewell, is a Bob Dylan composition.
His 2009 Alligator Records release "Lay Your Burden Down" featured Dural's takes on Led Zeppelin's "When the Levee Breaks" and Bruce Springsteen's "Back in Your Arms."
His willingness to do hard, dirty work, forged during his childhood, never subsided. Two days after the star-studded Olympics closing ceremony, he was back home in Carencro, personally changing out the radiator in his tour bus. 
For decades he was a staple at festivals throughout Louisiana, including Festival International de Louisiane in Lafayette and the New Orleans Jazz and Heritage Festival. During the 2006 Jazz Fest, the first after Hurricane Katrina, he, Allen Toussaint and Irma Thomas joined Paul Simon onstage for a celebration of Louisiana's musical bounty and resilience.
Among his more than two dozen albums was an acclaimed 1994 collection of songs for children, "Choo Choo Boogaloo."
After several previous nominations, he finally won a Grammy in 2010 for "Lay Your Burden Down."
Dural inspired legions of younger players by demonstrating that zydeco music could take them around the world. His own Tomorrow Recordings label released albums by next-generation acts Sean Ardoin & Zydekool and Lil Brian & the Zydeco Travelers.
In recent years, Dural rediscovered the Hammond B3 organ. His 2005 album "Jackpot!" contained a three-song "encore" of "Organic Buckwheat," a.k.a. Dural, on organ. He played shows devoted to the funk and R&B of his younger years, in addition to touring with Ils Sont Partis.
He battled numerous ailments but always returned to the stage as soon as possible. In January 2013, he announced he had been diagnosed with cancer in his left lung and a vocal cord. Performances were postponed as he underwent treatment.
He eventually recovered enough to resume touring. He performed at the 2016 Jazz Fest in April, but the cancer soon forced him off the road again. Clifton Chenier's son C.J. Chenier, a formidable zydeco bandleader in his own right, stepped in to front Ils Sont Partis this summer.
He was hospitalized again several weeks ago as his condition deteriorated.
Survivors include his wife, Bernite Dural; two sons, Sir Reginald M. Dural (who played rubboard and keyboards in his band) and Stanley Paul Dural III; and three daughters, April Germain Dural, Stacie Durham and Tomorrow Lynn Dural.
Funeral arrangements are pending.