PORT HILL, Prince Edward island, Canada — When Claude Henry Arsenault returned to his hometown of Port Hill after a more than a 30-year absence, he didn't know what to do with himself.
A friend, also an Arsenault, took him to an archaeological site where the provincial government had just begun excavating the remains of the one-time home of one of their ancestors. The site was where Pierre Arsenault, the founder of the first settlement in the area, lived some time between 1728 and 1758, before the Acadian expulsion by the British.
When Claude Arsenault visited the site at Pointe-aux-Vieux on the shore of Malpeque Bay, it changed his life.
"I became intrigued," he said, saying it took over his body and soul. "I became enthralled with it. It has become the reason I live."
In the 10 years since he first learned of the dig, Claude Arsenault, now 71, has become an expert volunteer. He's helped uncover hundreds of artifacts, from dozens of mini-balls for shooting birds and small game to a stone with a hole in it.
MONCTON, New Brunswick — Louisiana and its Cajuns put their food, music and culture on display in a grand way Friday with the opening of the L…
Arsenault, who was attending a family reunion as part of Congrès Mondial Acadien, said Saturday that unearthing a religious artifact with a painting on it was a profound experience that gives him goose bumps still today as he talks about it.
"I felt the whole entire world stand still," Arsenault said. "I felt like I had been struck by a bolt of lightning. It was an immediate connection with an ancestor."
Officials stumbled upon the Pierre Arsenault site in 2017.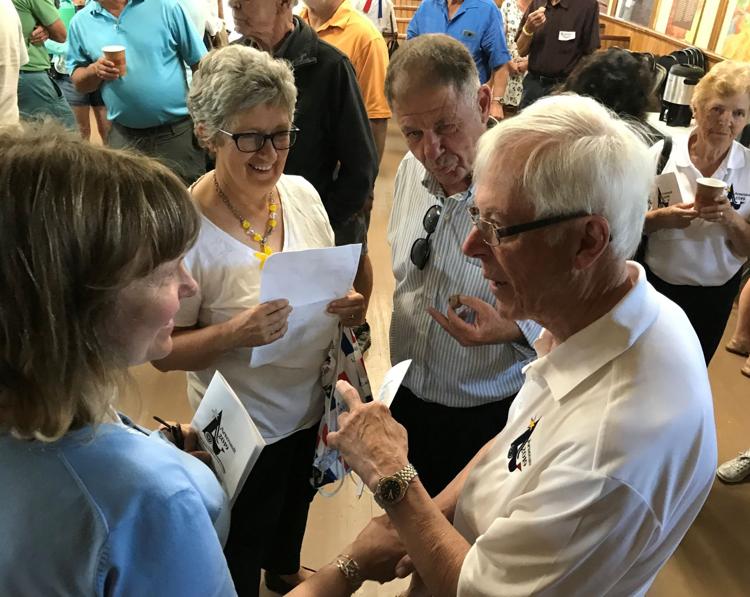 Helen Kristmanson, Director of Aboriginal Affairs and Archaeology with the provincial government of Prince Edward Island, talked about the accidental discovery of the site in a presentation to the family reunion Saturday. She said she was working with Mi'kmaq Indians who had lived across the bay on Lenox Island when strong winds forced their boat ashore at Gillis Point.
As Kristmanson and the others walked along the beach, someone noticed an indentation in the ground. Upon inspection, she identified artifacts that told her it was an early Acadian site.
Samuel Holland in 1764-65 made a map of the area, noting homes and settlements of the Acadians who had been removed by the British.
Kristmanson's site was on the map identified as a settlement founded by Pierre Arsenault, his son, Charles, and family friend Jean Lambert. It started with 17 people in two houses and grew to more than 32 homesteads with more than 200 residents, including Richards, Poirriers and Blanchards.
The house, by the time it was discovered, had collapsed into the cellar, most of the wood rotted away. Unlike Acadians from areas like Grand Pre', Nova Scotia, where the British burned the homes as they expelled the Acadians, the homes on Prince Edward Island were spared. The artifacts left behind are largely small pieces of pottery and glass.
The Arsenault house was next to a church and cemetery that were lost to storms and erosion, Kristmanson said, "And we nearly lost the  house as well."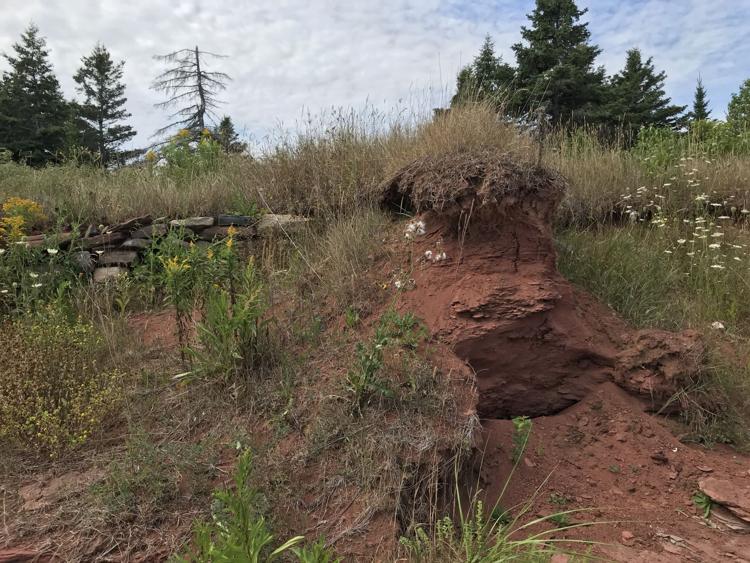 In December of 2010, three big storms hit the coast within three weeks, claiming about 15 feet of the Arsenault site. The excavation, she said, became a salvage operation.
Although much was lost, much was saved, and the remains of the home, including animal bones and broken glass, provide insight into how the early Acadians lived. An ink well proves someone in the home was able to read and write. Animal bones show they ate small game, fish and song birds.
"I want you to understand how precious this information is for me and for you," Kristmanson told dozens of Arsenault descendants from Canada and the U.S., in a packed King George Hall.
MONCTON, NEW BRUNSWICK, CANADA — In case the British didn't already know it, the descendants of the Acadians they drove out of New Brunswick, …
Excavation at the home is complete.
Kristmanson's team recovered more than 16,000 artifacts including more than 1,000 hand-forged nails, door brackets, knife handles made of bone, straight pins, window glass and evidence they had access to goods from Europe, including stemmed glasses.
The site, she said, was filled in and planted to remove evidence the archaeological team was ever there. A stone mason in 2011 built a stone wall on the shoreline to protect the site from further erosion.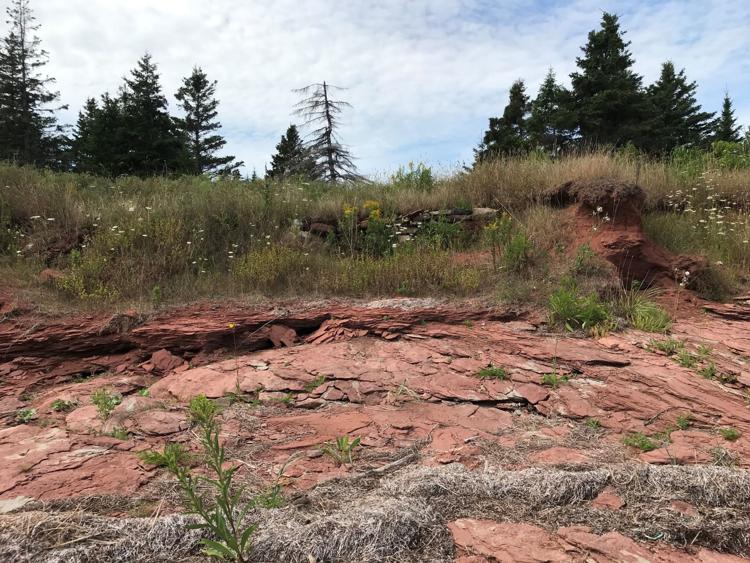 This is one of several archaeological sites, including homesteads of the early Acadians, the Canadian government has excavated. While money is tight, the government pays Kristmason's salary and one staff archaeologist. She relies largely on volunteers and students.
In Louisiana, there's only one project to try to find an early Cajun settlement headed by Marc Rees, a professor at the University of Louisiana at Lafayette.
Rees is searching along Bayou Teche for the first camps, homes, or the graves of Josephe "Beausoleil" Broussard and his brother Alexandre and others they led to Louisiana in 1765 following the expulsion from Acadie.
It's called the New Acadia Project.
"It has been recorded forever that this is where they settled," Rees said recently.
MONCTON, NEW BRUNSWICK, CANADA — A day of meeting Broussards from the United States, Canada and France ended with a somber, touching tribute t…
Historian Carl Brasseaux pointed out in a 1987 book that a priest buried more than 30 people at three camps from the first group to arrive in New Acadia in 1765.
"Unfortunately, there's no map," Rees said.
So the first step is searching for and identifying sites that may be the Broussard camps and graves. Field work started in the summer of 2014, he said, with more than 24 archaeological sites identified along a 10-mile section of Teche Ridge between St. Martinville and New Iberia.
"They have a footprint. They found something," said Donald Arceneaux, who splits his time between Lafayette and Idaho and is on a committee supporting the New Acadia Project. "We haven't found a house or buried remains."
When Rees finds something, he marks it to do further research as Kristmanson did, Arceneaux said. "And it's not cheap."
Arceneaux is among the Louisiana residents who made the trek to Canada for Congrès Mondial Acadien and attended Kristmanson's presentation.
Back in Louisiana, Rees has discovered anomalies in the ground using remote sensing, anomalies that could be unmarked graves that he hopes to further study. He found prehistoric sites that are 1,300 years old because the high elevation of Teche Ridge made it the best place for natives to live 1,300 years ago and for the Acadians 250 years ago.
Projects like this move slow. But two things that aren't helping are a lack of funding — it's almost entirely funded by private donations — and a reluctance by some landowners to allow Rees to study their property.
What many don't understand is, under Louisiana law, Rees could find the remains of an early Acadian home and you can still build on the land. The government can't take your land or prohibit you from building on it, he said.
MONCTON, NEW BRUNSWICK, CANADA — The cities of Lafayette and Moncton commemorated their twinning Friday in a tangible way with the unveiling o…
"Our findings cannot stop your project unless graves are found," he said. 
Donations to the project can be made by making a check payable to the Acadian Heritage and Cultural Foundation, Inc. and mailing it to P. O. Box 53597, Lafayette, Louisiana, 70505, care of New Acadia Project.