Oct. 12 is an important election day in Louisiana and Lafayette Parish. Competing for the attention of the 152,330 registered voters in Lafayette Parish that day will be Festivals Acadiens et Créoles and an LSU-Florida match-up at Tiger Stadium.
UL Lafayette has a bye week.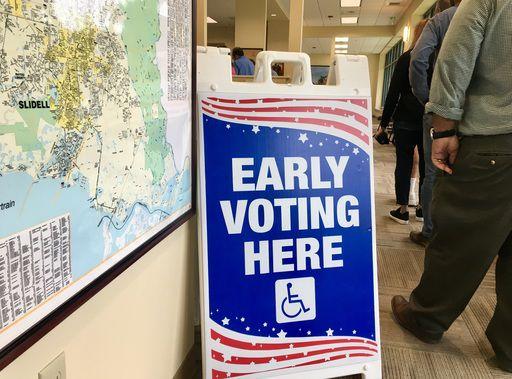 Early voting in Lafayette Parish is from 8:30 a.m. to 6 p.m. Saturday through Oct. 5, except Sunday, at the Lafayette Parish Registrar of Voters Office, 1010 Lafayette St., in downtown Lafayette.
Lafayette Parish Clerk of Court Louis Perret said, after researching gubernatorial elections over the past 20 years, he expects voter turnout for the Oct. 12 election to be 45-50 percent in Lafayette Parish, largely because of interest in local races for Lafayette City Council, Lafayette Parish Council, mayor-president and school board.
The average turnout in Lafayette Parish the last 20 years for similar races, he said, was 42 percent. Turnout for the November 2016 presidential election was nearly 69 percent in Lafayette Parish. Perret said turnout for presidential races tends to be a little higher than those for governor.
The Oct. 12 ballot is a long one containing local races such as mayor-president, parish council and city council, school board and the re-dedication of part of a library tax for drainage, roads and recreation, as well as state races, including governor, attorney general, state legislators and four constitutional amendments. 
By law, voters have up to three minutes to cast ballots, Lafayette Parish Registrar of Voters Charlene Meaux Menard said Friday.
This is the first election since voters approved a charter amendment splitting the nine-district Lafayette City-Parish Council into a five-district Lafayette City Council and a five-district Lafayette Parish Council. Voters in the city of Lafayette, for the first time since 1992, will be casting ballots for both a city council representative and a parish council representative.
Menard advised voters to check out the Geaux Vote section on the Louisiana Secretary of State web site to find out which new city and parish council districts they're in because the district lines were redrawn. There are 77 different ballots throughout the parish, she said.
"You can live on this side of the street and your neighbor across the street may not have the same ballot because the district dividing line goes down the middle of the street," Menard said.
Free on-street parking will be reserved during early voting and will be clearly marked for early voting on West Convent Street between Buchanan and Lafayette streets, across from First Baptist School, and on Lafayette Street between Convent and Barry streets, in front of the Alexandre Mouton House.