Dylan Moran, 4, isn't exactly sure what it means to be the grand marshal of a Mardi Gras parade, but he knows it involves two of his favorite things — candy and toys.
"I'm excited," Dylan said. "I like throwing candy and toys."
The Youngsville boy has such an infectious smile and cheerful disposition that most people would have no idea how much he has overcome in the past year and a half.
Dylan was handed a life-threatening leukemia diagnosis in June of 2017, just a few weeks after his third birthday. He spent two months in the hospital — most of that spent a medically induced coma — as doctors worked to remove a tumor from his chest and save his failing organs. Once he was out of immediate danger, Dylan had to relearn how to walk and talk. He had to catch up with his class after missing a year of preschool.
"He could have died," said his mom, Alicia Moran. "He should have died. One more day could have killed him."
Youngsville's Mardi Gras parade highlights a different nonprofit organization each year through its grand marshal.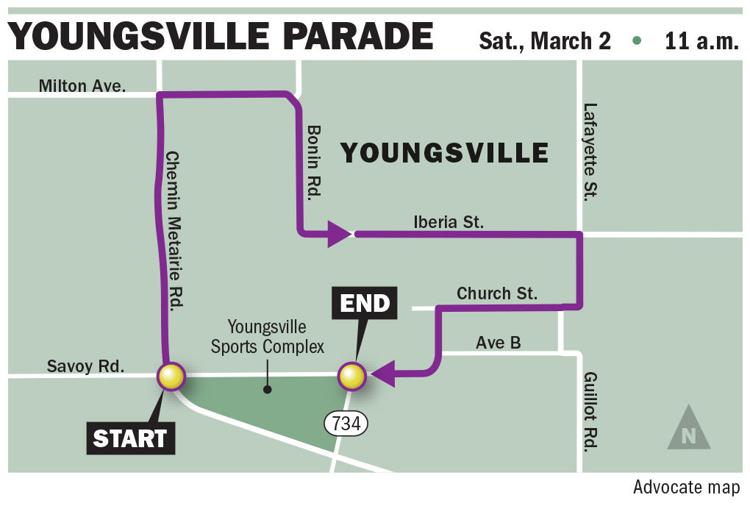 Dylan will represent Dreams Come True of Louisiana, which provides dreams to children in south Louisiana who are overcoming life-threatening illnesses.
"Dylan will be leading the parade," said Youngsville Mayor Ken Ritter. "Some communities do a celebrity grand marshal, but this is what we do here: We raise awareness for different causes. We're really excited about him. He's a great little guy from a great family, and it's going to be a great way to raise awareness for the organization, especially since the executive director is right here in Youngsville."
Becky Prejean, executive director of Dreams Come True of Louisiana, instantly thought of Dylan for the role of grand marshal when the Youngsville council chose to highlight her organization for this year's parade.
"He has a very outgoing personality," Prejean said. "I think 99 percent of his healing was because nothing was going to slow him down. From the start, he's been like 'Who's sick? I'm going to overcome this. This isn't going to slow me down.' He's just so full of life, so full of love."
The Moran family spent a week at Disney World in December because of Dreams Come True of Louisiana. It was the first time in recent memory that Dylan, his four siblings and his parents could focus solely on having fun without worrying about medical needs or financial burdens.
Dylan remembers the sugar rush more than anything else from the trip.
"I liked the candy," Dylan said. "I like to eat candy."
Dylan also appreciated getting a picture with his favorite character, Pluto, and riding on the calmer attractions with his siblings.
"The slowest ride was my favorite," Dylan said.
Mom laughs at his comment. "That's definitely right," she said. "He didn't like any of the fast rides."
Although he's in remission and his hair has grown back, Dylan continues to undergo chemotherapy treatments. He'll be undergoing treatments for the next three years. 
The leukemia diagnosis has been rough for the busy family of seven, but it's also strengthened their bond.
"We had to be intentional in making sure the other kids didn't get overlooked, and it's been a real challenge to make sure they still feel loved," Moran said. "He has a twin sister, and that was hard too because they were separated for so long. We really relied on our faith and God to give us wisdom in how to keep our family strong."
Dylan and his twin sister, Hadley, are the youngest of the five children. Their older brothers Jaiden, 13, Gavin, 11, and Landon, 8, will be in the parade alongside the twins.
Although Dylan may not know exactly what he's in for as the grand marshal of the Youngsville Mardi Gras parade, he will certainly appreciate that it's a slow ride.
"I don't think he even understands what he's in for, but he's going to love it," Moran said. "He loves music and dancing and candy and all of that. He's going to be thrilled."
See Dylan and his family in the Youngsville Mardi Gras parade, which rolls at 11 a.m. March 2 with the same route as last year — starting and ending at the Youngsville Sports Complex at 801 Savoy Road.
Learn more by visiting youngsville.us.