The carefree revelry of Mardi Gras is tarnished with sadness for some who spent last year's holiday with Anthony Bourdain as he filmed one of the final episodes of CNN's "Parts Unknown."
Bourdain, 61, took his life in June, less than two weeks before the "Cajun Mardi Gras" episode aired.
"I could see that he was very tired when I met him," said Jolie Meaux, who cooked for Bourdain last year. "I made a mental note of that. I almost wanted to tell people that he looked so exhausted. Maybe that's the mom in me. He just looked so tired. And then he killed himself, so obviously he was very tired in one way or another."
Meaux, a bartender-turned-realtor who shares her passion for cooking through weekly dinners and a blog, made shrimp stew in Grand Coteau for Bourdain during the fais do-do segment of the episode.
Although she was initially star-struck, Meaux found common ground with the celebrity chef, world traveler and TV personality during their 30-minute conversation. They both understood the grueling demands of the service industry, documented regional cuisine and had daughters who were about the same age.
"My first reaction after I heard the news was that I felt really bad for his daughter," Meaux said. "I was very upset because I know he loved his daughter just like I love my daughter. How dark of a place would you have to be in? How desperate must you be when you have a little one like that?"
Herman Fuselier, a journalist and radio host who recently became executive director of the St. Landry Parish Tourist Commission, woke up sad on Friday when he remembered what he was doing at this time last year.
A Carnival float that was taken from the Covington Lions Club parking lot Sunday was found Monday in Slidell, according to a St. Tammany Paris…
Bourdain interviewed Fuselier about the history of Creole culture for the episode during a meal at Laura's II in Lafayette.
"It was all really exciting and happy back then when we were filming," Fuselier said. "But the way it all panned out since then has just been sad."
Although he worked with producers for months before Bourdain's arrival in Acadiana, Fuselier didn't have the opportunity to spend time with Bourdain outside of the interview.
"They shot the interview in real time for about 45 minutes," Fuselier recalled. "And he said he needed a smoke break and left. And I never saw him again."
Bourdain ate the stuffed, baked turkey wings, rice dressing, green beans, potato salad and a roll at Laura's II.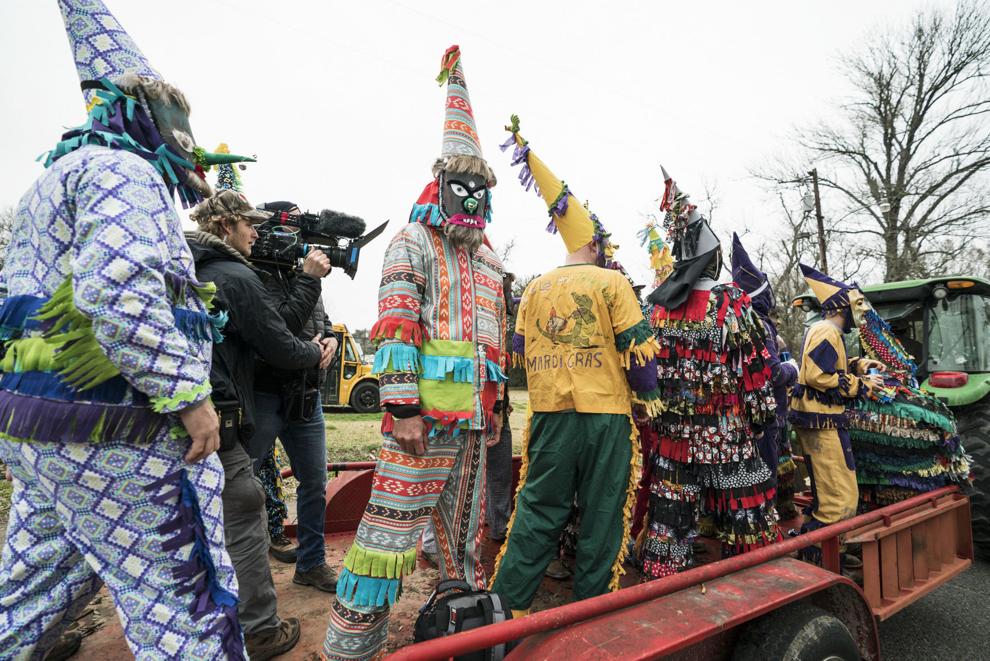 Madonna Broussard, the restaurant's owner, said she only had a short conversation with Bourdain, who told told her not to change a thing. Tourists have visited the second-generation restaurant just about every week since the June 12 episode aired.
"We get so many people coming in here and asking us where he sat and what he ate," Broussard said. "It really means a lot to me that we're on people's radar because of his show."
According to Meaux, the chef-turned-storyteller was the same in person as he was on camera.
"He wasn't playing a role," she said. "He was sarcastic with that kind of dry humor you'd seen on TV — very intelligent. He had this sadness in his eyes. He was very empathetic but he still had that New York wit. He was exactly what you thought he was."
Bourdain visited Acadiana twice — in 2011 for an episode of the Travel Channel's "No Reservations" and in 2018 for the episode of "Parts Unknown." 
"I think it kind of made some people look inward on the culture," Fuselier said. "For so many of us who grew up around the food, the language, the art, the music and all of that and take it for granted, it takes someone of Anthony Bourdain's stature to appreciate it for us to take a second look."
Zulu, Rex, Elks Orleans and Crescent City parades roll through the streets of New Orleans on Tuesday, starting at 8 a.m. Krewe Cam sponsored b…
Some have been critical of how Bourdain depicted Cajun and Creole cultures, but others have found his take on south Louisiana to be spot on.
"I think it was realistic," Broussard said. "He showed the different cultures. A lot of people thought that it was way off. Some people felt that it looked a little gender-biased or a little racial or like it didn't play well for us. It definitely shed a light on the differences we have here in cultures and traditions, and it's something I really and truly admired."
Broussard, Meaux and Fuselier said they don't have anything special planned in his honor for Mardi Gras, but they plan to remember him as they celebrate the holiday with friends and family.
"I'm pretty sure his name will come up in conversations as it has over the past week or two," Fuselier said. "As his name comes up, I'm sure we'll have a toast in his honor as we remember what it was like to have him here. He's certainly on a lot of people's minds right now."