It's tough to think of a breakfast more Cajun than a link of boudin drizzled in cane syrup with a mug of coffee.
That's why the folks at Bayou Teche Brewing in Arnaudville used those iconic flavors to create their latest beer — a breakfast stout that will be released just in time for Mardi Gras.
"We were drinking at the brewery one afternoon and decided we should do a breakfast stout," said Karlos Knott, president of Bayou Teche. "And someone said, 'How about boudin?' And right away, we knew that was it. We're from here. When you go to business meetings here, you don't bring doughnuts, you bring boudin."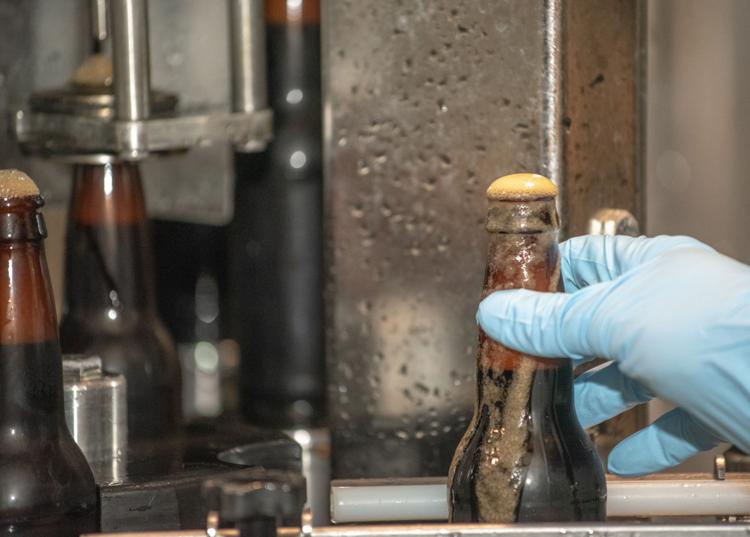 Bayou Teche employees bottled the new Cajun breakfast stout Wednesday and will host a release party for the beer Saturday at the brewery.
"People have been overwhelmingly excited," Knott said. "I've had a few question the sanity of doing it, but overwhelmingly, people have been excited. This is our region's take on the whole breakfast stout thing."
Breakfast stouts are hot right now in the craft brewing world.
Knott said he's "seen it all" — from stouts that feature pancakes and doughnuts to Lucky Charms cereal and even bacon.
But no one has used boudin in a breakfast stout until now.
"It's a stout, so the first thing that hits you is the roastiness of the coffee," Knott said. "Right after that, you'll get hit by the rum flavors from the fermented cane syrup. And finally, you'll get the boudin flavor — really, you'll notice the spices more than the meat — which plays well with the hops. You'll get that black pepper, cayenne, salt and sage from the boudin."
Bayou Teche Brewing's Cajun breakfast stout is made with boudin from Russell's Food Center in Arnaudville, Steen's cane syrup from Abbeville and Art's coffee from Carencro. 
The cane syrup and boudin are added to the mash near the beginning of the brewing process. More boudin is added near the end of the boiling, and the beer is finished with coffee at the end of fermentation process.
Knott recommends pairing the Cajun breakfast stout with oysters or cracklins.
You can taste the new brew for yourself Saturday at Bayou Teche Brewing, 1106 Bushville Highway in Arnaudville.

Get a pint of Cajun breakfast stout for $5.50 or a pour of the beer in a commemorative mug for $10. You can also take home a four-pack of the new brew for $11.
Saturday's event kicks off at 11 a.m. Stick around for live music by Gritz'n'Gravy at 2 p.m. and a cochon de lait (pig roast), cracklins and cush cush (cornbread with milk). 
Learn more by visiting facebook.com/bayoutechebrewing.