How does someone visualize the cosmos? For junior and senior high-school students across Louisiana, that is the challenge — and theme — of the 2019 George Rodrigue Foundation of the Arts contest. The deadline for artwork is Jan. 18.
"For George Rodrigue, the cosmos was a constant source of inspiration," the foundation said in a statement. "During his decades-long career, Rodrigue interpreted his fascination with the universe through the swirl (or spiral) symbol, which embodied the intangible concepts of hope, creativity, energy, and infinity."
The foundation wants students to explore the cosmos in their own way through an original work of art. Maximum size is 18 by 24 inches, and media allowed are paint (oil, acrylic, watercolor), pastels, charcoal, graphite, pen, color pencil, collage, ink, mixed media and digital media. What is not allowed: frames; three-dimensional sculpture or photographs; and signatures on the front of the work.  
Works will be judged on concept and design, technical skill and creativity.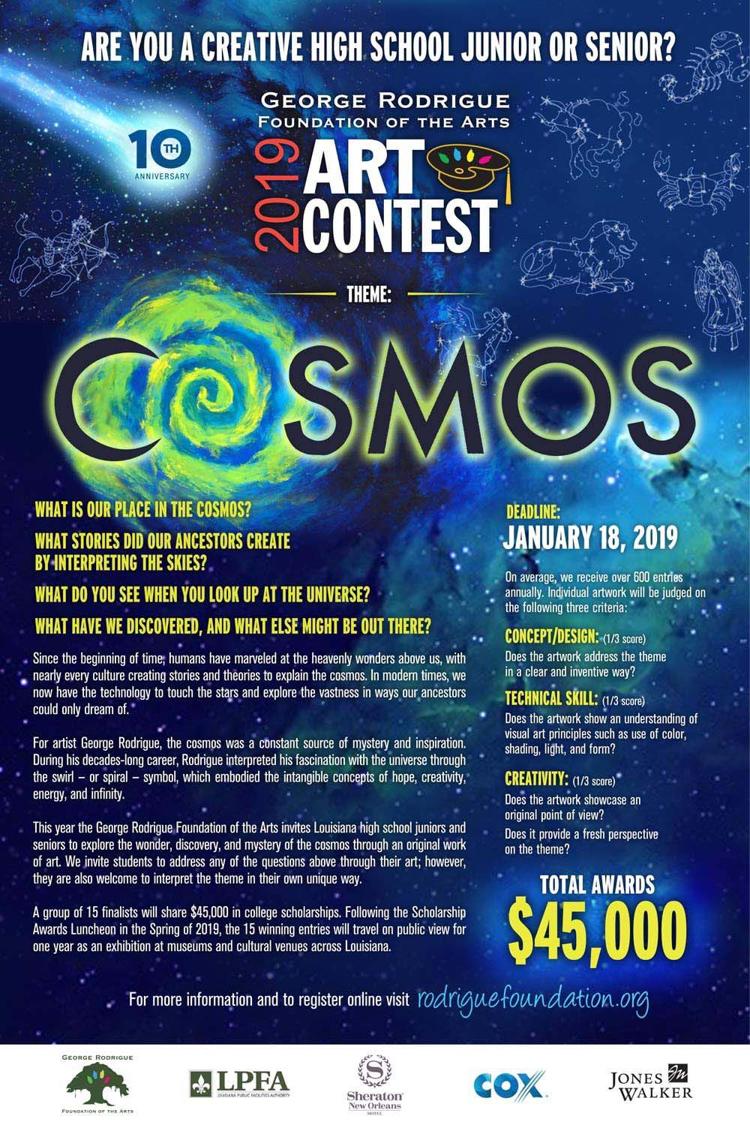 Judges will choose 15 finalists, who will share $45,000 in college scholarships.
Following the Scholarship Award Ceremony this spring, the 15 entries will travel for a year as an exhibition at museum and cultural venues across the state.
Since the first contest in 2010, the foundation has awarded more than $407,000 in college scholarships. The aim of the competition is to encourage Louisiana's talented high school students, while also honoring artist George Rodrigue's legacy. Rodrigue, a native of Louisiana, was known for his moody landscapes of Cajun country and for his iconic Blue Dog paintings.
The contest is just one program of the foundation, which "advocates the importance of the arts in development of our youth," according to its mission statement. Other programs include George's Art Closet, which grants supplies to schools; Louisiana A+ Schools; Rodrigue Print Donation; and student exhibitions.