Nothing says Thanksgiving like smoked turkey ale and sweet potato stout.
Those are just two of the brews found in Bayou Teche's Thanksgiving sampler four-pack, which is available at the Arnaudville brewery throughout the holiday season.
"People really like them," said Karlos Knott, who owns the brewery. "Everybody has a different favorite."
Knott's team was inspired to create the holiday brews at the suggestion of a regular customer.
"I'm like, 'That is the best idea I've heard yet,'" Knott said. "He didn't come up with the flavors, but he came up with the idea. So we kind of rushed the brewing through so we could have it ready for Thanksgiving."
The Thanksgiving four-pack includes the following flavors:
Cold turkey, a smoked ale brewed with poultry seasoning, salt and lactose
Cranberry sauce, a sour ale brewed with cranberry sauce
La patate, a stout brewed with sweet potatoes
Great pumpkin, a sour ale brewed with pumpkin pie filling
Knott's favorite is the sweet potato stout.
"You always have cranberries and you always have turkey, so those were two we had to have," Knott said. "And then we wanted to toy with a sweet potato beer, and it just seemed like now was the time to do it. And the pumpkin — when they told me they wanted to do a pumpkin sour, I'm like, 'This doesn't sound like it'd work,' but I think actually now that I've tasted it, it worked great."
Now, Knott's team is wondering what other holiday-inspired brews might be worth trying out. They've already seen success with an apple pie beer for Independence Day.
"We made an all-American lager. We basically made a beer and put a bunch of apple pies in it. You could even taste the crust," Knott said. "It lends itself to other ideas down the road. Maybe there's a July Fourth hot dog beer. Then, we'd just need two others."
The Thanksgiving four-packs are available for $10 at the brewery. Next year, they're considering a retail release ahead the holiday season.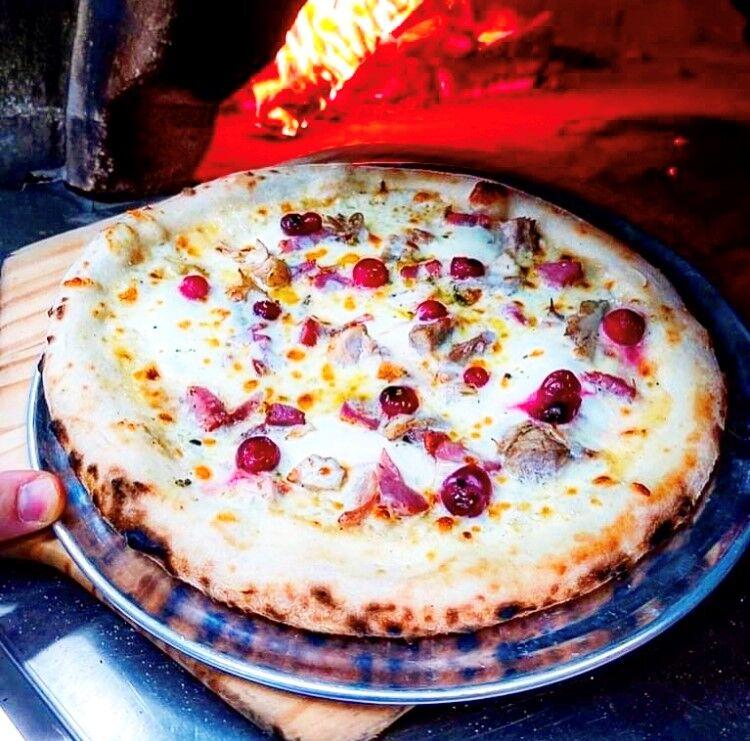 While you're at the brewery, be sure to check out Cajun Saucer, the Knott's wood-fire pizza operation.
The holiday brews pair especially well with the space turducken pizza, which features smoked duck, chicken confit, turkey tasso, pickled cranberries and thyme.
"It's out of this world," Knott said. "It's a real fun pizza, both for us to make and for people to eat."
Bayou Teche Brewing is located at 1002 North Lane in Arnaudville. Learn more by visiting bayoutechebrewing.com.